Miami's move into NFT world sure to be followed by other schools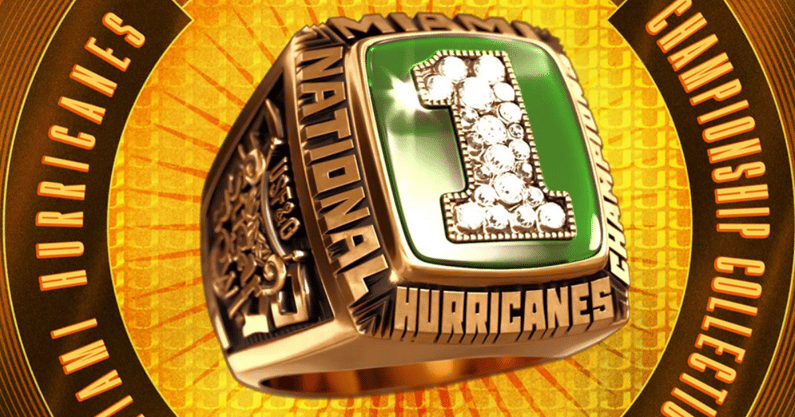 You can't tell the history of college football without a chapter on Miami, whose rise in the 1980s led to five national titles with a colorful cast of characters and shook up the sport. Thus, it's fitting that UM has become the first school to create an NFT (non-fungible tokens) marketplace celebrating its tradition.
An NFT is a unique piece of digital content that is an officially licensed collectible. Miami's first NFT offerings through Canes Vault are three versions of the 1989 national championship ring. The auctions started this week, and there already is a bid of $5,500 in the 1-of-1 auction that includes a replica physical ring and an infinite object with NFT.
Jason Layton, Miami's deputy athletic director and chief financial officer, told On 3 that the school plans to drop at least 200 unique NFTs over the next year. The aims are to grow the fan base and tap into a new revenue stream for the athletic department.
Miami's foray into the NFT space is likely just the beginning for blue-blood college programs. Numerous other schools could launch their own NFT because they have a rich story to tell and a loyal, well-heeled fan base. Among others, think Alabama, Notre Dame, Ohio State and USC in football; North Carolina, UCLA, Indiana, Kansas and Duke in men's basketball; and Tennessee and UConn in women's basketball. 
Expect a wide variety of exclusive NFTs from UM, including memorable moments and some paying homage to former players who have opted into the program. Florida state law prohibits current athletes from participating. 
Layton said Miami began looking into NFT possibilities as the space began exploding in popularity in March. "We really got excited about it being a new digital platform that we can really build a lot of storytelling, talk about our great history, our brand, kind of bring some of those great moments to life," he said.
Capturing iconic moments in the NFT space is a concept just beginning to blossom. The last-second pass from Cowboys quarterback Roger Staubach to Drew Pearson in 1975 — the play that launched the term "Hail Mary" into the sports vernacular — has been memorialized in an NFT that will be auctioned Saturday with a starting bid of $20,000. "It is amazing how it has survived the test of time," Pearson told me by phone. "It's amazing that this still has an opportunity to have value associated to it 45 or so years after it happened."
Determining the exact value of a sports-related NFT remains a sizable challenge until the market becomes more concrete over time. Mike Provenzale is the sports operations supervisor with the Dallas-based Heritage Auctions, which will put the "Hail Mary" NFT up for bid.
"There are not a lot of comps for NFTs right now in determining value. When someone brings us a Babe Ruth-signed baseball, we can look at thousands upon thousands of results to compare it to and say this is where this would sit, value-wise, right now," he told me. "But with NFTs, it's kind of a little more nebulous. . . . There are people who (purchase) it for fun, there are people who do it for an investment, there's people who do it just because they're passionate about certain players, a certain team, a certain sport. It just takes time for the market to settle down and figure out what's important. It's starting to head in that direction."
Female athletes have 'huge' NIL opportunity
No surprise that UConn women's basketball star Paige Bueckers ranked first on ESPN's list of most marketable college basketball players. But it's especially noteworthy considering next year will mark the 50th anniversary of Title IX. (The second-ranked athlete, Emoni Bates, is a 17-year-old who has yet to even commit to playing in college, much less take the court.)
Bueckers, a 19-year-old sophomore point guard, is an immense star, boasting 901,000 followers on Instagram, 336,000 on TikTok and 56,800 on Twitter. She has trademarked "Paige Buckets" and could make more than $1 million this season in NIL deals, industry analysts say.
"Female athletes have a huge opportunity because of how active they are with some of these things," said Jim Cavale, CEO and founder of INFLCR, which helps 170 NCAA Division I athletic departments assist their athletes in maximizing their NIL value. "I'm talking about social media and taking initiative with their brand. Women's sports also have a lot of native brands that want to reach youth through female athletes. And I think that she could become one of the faces of what I'm talking about as far as female athletes having a big first year in NIL."
Other NIL-related insights . . .
The announcement of the partnership between BYU and Built Brands — in which all 36 walk-on football players will have their tuition paid for in return for promoting the company — had a resounding impact in the social media world. A video has been viewed more than 3.2 million times, making it the most-viewed BYU athletics social media post in history. There were 96 million total impressions. Instagram video views totaled 103,000. Facebook video views totaled 44,000. The total reach was 14.25 million. BYU's athletic department said that achieving that degree of digital reach through paid social and sponsored articles could otherwise cost $10 million.
Amid the sprinkling of top basketball prospects deciding to sign pro contracts with Overtime Elite, there is at least one highly regarded recruit who has said, "Don't show me the money." At least not yet. Simeon Wilcher, a 17-year-old who is the nation's No. 2 combo guard entering his junior year at Roselle Catholic in New Jersey, has turned down a "high-six-figure offer" to play with Overtime Elite the next two years, reports Adam Zagoria. Wilcher's father, Sergio, told NJ.com: "He's still a child, a 17-year-old junior, and you're still learning how to navigate life in itself, all the way around. … Yes, I do believe my kids are going to play basketball for money, so you have to have a different type of sense of who you are before you go in the world. You have to learn how to say 'no' because you can spread yourself too thin. You have people who are trying to get at you and take what you have and take advantage of that situation." Overtime to date has signed 15 players from the U.S. and overseas for its first season in 2021-22.
In the perfect match department, Alabama freshman cornerback Ga'Quincy McKinstry, whose nickname is "Kool-Aid," secured a partnership with the flavored drink company. "Creative," Cavale said. "It's got some awesome potential."
Quick hits . . . 
Fox Sports announced that Clay Travis will serve as a special correspondent this season, interviewing top players, coaches and fans for weekly segments on Fox Sports' college football pregame show, "Big Noon Kickoff," FS1's "The Herd with Colin Cowherd" and Outkick.com. Travis will be taking an Outkick-themed bus around the South each weekend. Early stops include Bowling Green at Tennessee (September 2); Georgia-Clemson in Charlotte (September 4); Texas at Arkansas (September 11); Alabama at Florida (September 18); and the SEC championship in Atlanta (December 4). Worth noting: Fox doesn't own the broadcast rights to any of those games. "Every week, the biggest game in college football in the south, we're gonna have the Outkick cruiser," Travis told "Fox & Friends." "It's gonna be like the Madden-mobile back in the day. A huge bus, awesome tailgates, Fox Sports pregame show and Fox News plus a documentary about southern tailgating and the experience of southern football for Fox Nation."
As detailed by Forbes, Learfield's inaugural Intercollegiate Fan Report delivers insights on some 182 million college sports fans worldwide to help stakeholders better understand the marketplace. Among the interesting nuggets: College sports fans are 1.6 times more likely to have incomes higher than $100,000 compared to the overall U.S. population. And of the 42 percent of college sports fans who are female, 31 percent of female "Known Fans" have income greater than $150,000.
As the season fast approaches, here is sage advice from Mack Brown in an interview with the SEC Network's Paul Finebaum: UNC quarterback Sam Howell is "going to make more money than the rest of them, and they all understand that," Brown said. "I have told them, 'It's more about your ball than you're branding because if you ain't playing good ball, brother, you ain't going to get branding. They're not going to pay you. They're going to be paying the guys that play good."
Big East commissioner Val Ackerman, speaking Thursday on a Drake Group/LRT Sports panel about NIL and athlete compensation, directed pointed criticism at the NCAA when asked if its enforcement arm needs reform. "No one is happy with enforcement," she said. When asked if it should be outsourced, she said: "There is nothing nimble about (the NCAA). Trying to get a big idea through the system is painfully, painfully difficult."