NEW Intel: How will Duke finish out its 2023 class?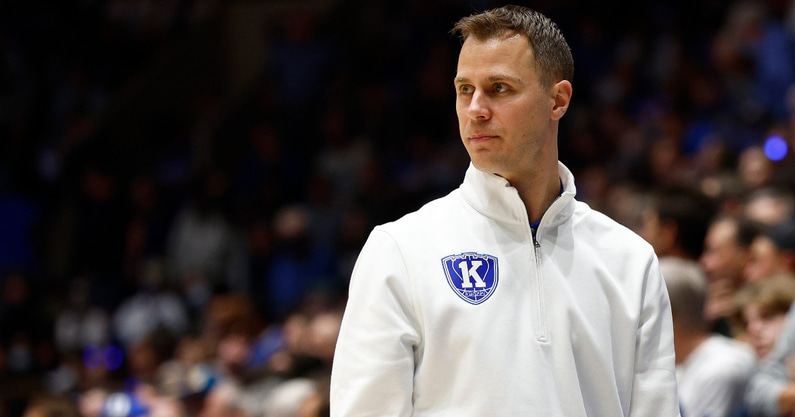 For those who wondered what recruiting would look like as Duke transitioned from Mike Krzyzewski to Jon Scheyer, well, early returns look positive.
In his first full cycle as head coach, Scheyer already has four players ranked in the 2023 On3 Consensus top-25 committed. Forward Mackenzie Mgbako, post Sean Stewart, guard Jared McCain, and point guard Caleb Foster comprise the class to this point. Duke's 2023 class is currently ranked third in On3's team rankings.
There is some positional versatility in this class. Mackenzie Mgbako is a smooth shooter who can toggle between both forward positions. Sean Stewart is a rugged post who can play the four and five depending on the lineup type. Jared McCain is a score-first guard but can get a team into sets. And as a 6-foot-5 point guard, Caleb Foster shoots it well enough to play off the ball as well.
Duke's depth chart
In 2022, Duke brought in a seven-man freshman class that ranked No. 1 overall in the 2022 On3 recruiting rankings. The interesting part is figuring out who will be in Durham for multiple years.
Guard Tyrese Proctor, wing Jaden Schutt, and center Christian Reeves each should expect to be in town for multiple years. Heading into the season, one would think four-star forward Mark Mitchell would be on the multi-year plan.
That leaves On3's No. 1 ranked Kyle Filipowski, and On3 consensus five-stars Dariq Whitehead and Dereck Lively. All three could go either way. However, at this point, one would assume that at least two of the three depart early for the first round of the NBA Draft.
How will Duke close?
That leaves one spot open in the 2023 class. We know movement could still happen, transfers out, and further roster management.
With Dereck Lively and Kyle Filipowski each potentially moving on, expect Duke to be on the look for a true five. They are in luck because the five is a little deeper in 2023 than initially thought.
We know Duke has offered only two centers in 2023, On3's No. 21 JP Estrella and No. 8 Xavier Booker. One source told me recently, at this point, to look for 6-foot-11 JP Estrella to be at the top of the recruiting board. Estrella is originally from Maine and will play his senior season at Wolfeboro (NH) Brewster Academy.
Estrella has taken official visits to Tennessee and Marquette. He has an official visit set with Iowa and is setting a date with Duke.
Estrella is ranked No. 21 by On3, which is 20 spots higher than where the industry-standard On3 Consensus has Estrella, at 41.
Estrella's scouting report
JP Estrella has good size, and he moves extremely well, both vertically and laterally. The 6-foot-11 post is competitive on the block; he understands angles and has good footwork on both sides of the ball. He can step out and comfortably knock down shots off the catch and is a good area rebounder. The native of Maine works hard on the defensive end. He will need to continue adding weight, which should lead to improved lateral quickness. There is a lot to like here as a stretch big who can finish over his left and right shoulders with toughness around the basket and some pop.