Intel: The latest on 2023 No. 1 prospect GG Jackson's recruitment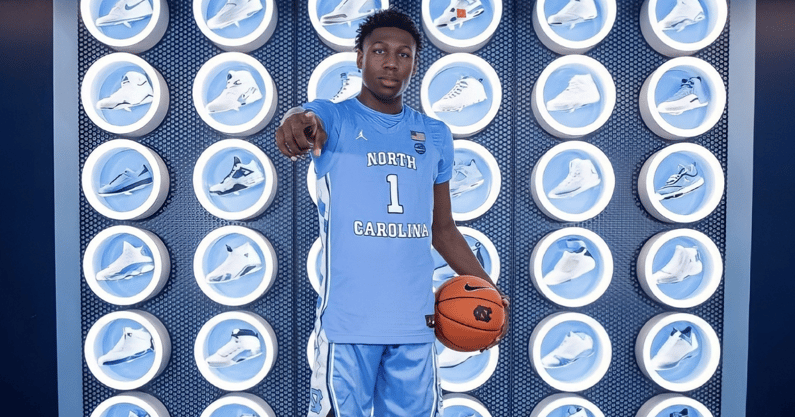 GG Jackson is the 2023 On3 Consensus No. 1 player in the 2023 class. After taking official visits to South Carolina, Georgetown, North Carolina, and Duke, the 6-foot-9 forward committed to the Tar Heels in April.
Jackson's recruitment
As On3 previously reported, the original plan for Jackson was to graduate high school early and commit to Frank Martin and the University of South Carolina as a member of the 2022 class. Jackson and his family worked with the University's admissions office, and he did the coursework necessary to graduate.
On his official visit, Jackson told Frank Martin's staff that he would be coming to South Carolina. Jackson and his family met with the athletics administration to conclude his official visit. The administration told the Jacksons that Frank Martin would not be fired. Jackson told the administration he would be coming to play for Frank Martin at South Carolina.
Following his official visit to South Carolina on February 18, Jackson told the media about his plan to publicly commit to a school after his playoff run. The five-star won a state championship on March 3, and then on March 14, South Carolina parted ways with Frank Martin.
Jackson continued his plan to commit. After Frank Martin was fired, North Carolina became the favorite to land GG Jackson. He committed to the Tar Heels in his school's library on April 27.
GG Jackson wants to be part of the 2022 class
On May 30, On3 reported there was talk about GG Jackson reclassifying to the 2022 class.
That chatter has recently picked up significantly. Multiple sources close to the situation say that Jackson will not be in high school next season.
Intel suggests this picked back up after UNC gained a commitment from Northwestern transfer Pete Nance. Nance took UNC's final available scholarship, and he plays the same position as Jackson. Sources suggest Jackson had that position and scholarship earmarked for himself, and UNC taking Nance was a major surprise.
Jackson can still graduate early; he has completed all the coursework and has already been accepted to the University of South Carolina. If Jackson is put off by UNC and how they handled their roster, this leaves him a couple of options.
Jackson's potential options
The first option is the G-League. Sources have said Rod Strickland flew Columbia multiple times to meet with Jackson and his family, making a push to get him into the program for next year.
However, Rod Strickland just took the head coaching job at Long Island University. Strickland was the main person recruiting Jackson to the G-League. While sources tell On3 that the G-League still wants Jackson and is still pushing for him, do they have a strong enough relationship?
The second option is to follow through with the original plan and enroll early at South Carolina. Intel indicates people close to Jackson strongly want him at South Carolina. The issue at hand is the administration — the same one who told the Jacksons that Frank Martin would remain as head coach.
However, there is a lot of pull toward South Carolina. The campus is fifteen minutes from his home. His mother went to the school. There is a local pull and some NIL opportunities in place. Also, he has already been accepted to the school to enroll early.
A third option could be Oregon. Former South Carolina associate head coach Chuck Martin is now an assistant in Eugene. Martin has a very close relationship with the family, and it was Martin who first introduced the idea of graduating early and saw it through.
Jackson has his eye on the NBA as a one-and-done prospect. And with a December birthday, he will qualify to enter the 2023 NBA Draft. Playing on a team predicted to do well with the talent surrounding him is appealing. Also, there is the Nike angle, with both NIL and starting a relationship for the future.
Two options trending right now
With no open scholarships at North Carolina, Jackson will have to decommit from the Tar Heels under if he wants to be part of the 2022 class. Intel suggests South Carolina and the G-League are the two main options.
As things stand today, do not be surprised if GG Jackson follows through with his original plan and becomes a Gamecock, giving first-year head coach Lamont Paris a massive recruiting victory.