New Orleans Saints release grim injury update on key starters vs. Bills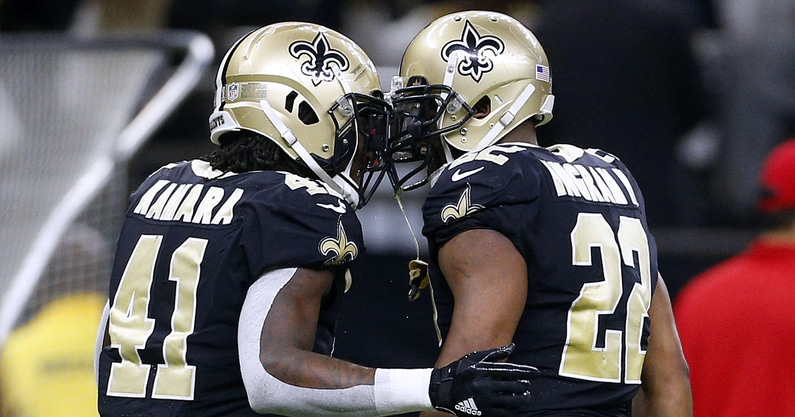 On the eve of their Thanksgiving night cap vs. the Buffalo Bills, the New Orleans Saints updated the injury status for three key players.
New Orleans is in desperate need of a victory over a Bills team that has shown vulnerability as of late, but the Saints will be without their star running back, while their newest addition in the backfield is listed as questionable.
"For Saints-Bills: RB Alvin Kamara (knee) has been ruled out, as has OT Ryan Ramczyk. But Mark Ingram is questionable," NFL Insider Ian Rappaport Tweeted on Wednesday.
The loss of Kamara may not be a surprise, but it's a tough pill to swallow for New Orleans Saints fans, nonetheless. The star running back has been on the Saints' injury report with a knee injury dating back to Week 10. He has missed each of the last two weeks and was a non-participant on both Monday and Tuesday.
Ingram's name listed on the injury report should cause major concern. The former Alabama ball-carrier did not participate at all in practice Tuesday. Ingram was present at the media portion of practice Wednesday, took part in stretching, but did not appear to be fully participating.
"Meanwhile, the Bills have everyone good to go," Rappaport added, giving another blow to New Orleans Saints fans wishing for the upset.
On the defensive side of the ball, there are serious question marks as well, which is concerning considering the high-powered Bills' offense led by Josh Allen. Two key defensive linemen, Marcus Davenport (shoulder) and Tanoh Kpassagnon (ankle) were also ruled out for the Thanksgiving game.
Who else do the New Orleans Saints have at running back?
While the entire state of Louisiana is hoping Ingram will be able to suit up on Thursday night, there's clearly a chance that won't be the case.
The Saints' roster contains two other running backs in Dwayne Washington and Tony Jones Jr. New Orleans activated Jones from injured reserve ahead of Week 11 once they ruled Kamara out. However, he played just 10 snaps and had three carries.
Washington has been used sparingly this season. He has just four carries and two targets in 2021. Of those four rush attempts, three have come in the past two weeks, as well as 1 of the targets. However, Washington has played just 8 snaps in total during Kamara's absence.
The New Orleans Saints are going to need some magic to win a game they desperately need as a bevy of teams are fighting for the NFC wildcard spots.