NFTs the future of college sports NIL deals: Nick DeNuzzo guest blog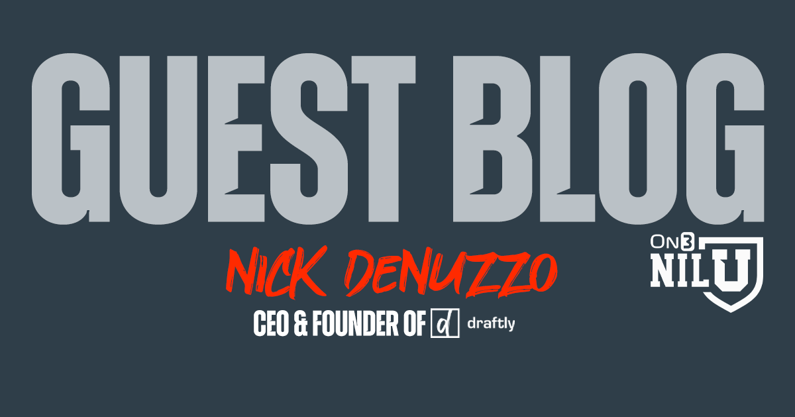 Humans are fundamentally tribal creatures. The desire to connect with one another and belong to communities is encoded deeply in our DNA.  Nowhere is this desire felt more acutely than in college sports.  Unlike professional leagues which are focused on the product on the field or court, college sports are centered around the traditions, pageantry, and overall collegiate family.  It is simply all about community.   
Fans want to be able to directly contribute to the teams and athletes they know and love.  For many fans, their love of college sports and specific teams runs deep in their psyche.  They have a deep emotional attachment that transcends distance, time, and money.  In particular, they want to feel like they are a member of the "team" and directly contribute in some way shape or form to the community.    
This is where Non-Fungible Tokens (NFTs) come into the picture . . . 
So What are NFTs?
Since the NCAA lifted its Name, Image, and Likeness (NIL) restrictions in July 2021, college athletes have signed hundreds of millions of dollars of Name, Image, and Likeness (NIL) deals, including NFT deals.  
NFTs, or non-fungible tokens, are blockchain-based assets that allow college athletes to easily monetize their NIL, build their brand, and authentically connect with their fans in new and unique ways.  NFTs also have the ability to empower fans to be closer to their favorite athletes and teams by owning a players' or teams' NFTs that often carry extra utilities and benefits beyond the art the NFT depicts (merchandise, IRL events, customized content). Read More. (I've also broken out a broader description below) 
These NFTs are already taking the sports world by storm.  Both the NBA and the NFL have rolled out their own NFT Platforms: NBA Top Shot & NFL All Day.  Nor is this trend restricted to just American sports.  European NFT platform Sorare has created a fantasy sports and digital collectible NFT platform for various soccer leagues around the world.  Even Tom Brady launched his own NFT platform called Autograph in partnership with DraftKings.  
More specifically, NFTs are starting to impact the college sports landscape as well.  Increasingly players are realizing that NFTs are a great way to monetize their Name, Image, and Likeness in the digital age. Prominent College Athletes like Jack Coan (Notre Dame QB), Blake Corum (Michigan RB), and Collin Gillespie (Villanova PG) have all dropped NFTs.  Lastly, we are starting to see NIL Collectives create their own NFT drops as well in order to build a community and raise funds to support their athletes. 
Why Should College Athletes Create NFTs?
Straightforward & NCAA Compliant  – Monetizing an Athlete's NIL Rights using NFTs is compliant both with the NCAA & State laws.
Low Time Commitment – The entire NFT process is a relatively low lift for any college athlete, even during the busiest times of his or her season.
Direct Control Over NIL – Athlete is intimately involved with the art creation for their NFT as well as the utilities that they choose to include with their NFT drop. Utilities are perks and benefits for owning an NFT.  Receiving signed merchandise, access to exclusive video interviews, and attending In-Real-Life events and experiences are all examples of NFT Utility. 
Royalties – On top of earning money on initial NFT sales, athletes who make NFTs generally receive a percentage of sales whenever their NFT sells on the secondary market, in perpetuity.
Authentic Community Engagement – In addition to providing exposure to the cryptocurrency community, NFTs enable athletes to directly connect and engage with some of their most passionate fans
Long-Term Potential – Much like physical sports trading cards, NFTs can increase or decrease in value overtime.    
Education – Along with producing NFTs, athletes have an opportunity to educate themselves on the value and growth potential of cryptocurrency, along with the technology behind the blockchain and their own NFTs.
Interested in Creating Your Own NFTs?
Reach out to [email protected]
Grant Frerking, president of On3 NILU, recently interviewed Nick DeNuzzo. Watch the full interview:
Draftly Mission & Ethos
Draftly seeks to help foster community and help sports fulfill their unifying promise for an increasingly divided world.  
Sports have always been able to transcend "the game," serving as a way to reflect on who we are as a society and offering a chance to see both our progress and shortcomings. Sports organizations, teams, and players have embraced this role and have influenced and improved their communities as a result. 
It is our belief that in 2022 and beyond, we will see college athletics continue to make progress, focusing more on the welfare of athletes, society, and the planet. Programs around these areas will increasingly be seen as not just something to enhance brand value, but as a necessary step to protect the long-term viability of college athletics.
Detailed Description of NFTs
NFTs are unique crypto tokens that are managed on a blockchain. The blockchain acts as the decentralized ledger that tracks the ownership and transaction history of each NFT, which is coded to have a unique ID and other metadata that no other token can replicate. 
This process gives NFTs the attributes of originality and scarcity that makes them so attractive when coupled with digital media.
NFTs are coded with software code (called smart contracts) that governs aspects like verifying the ownership and managing the transferability of the NFTs. Like any software application, NFTs can be further programmed beyond the basics of ownership and transferability to also include a variety of other applications and functionality, including those linking the NFT to some other digital asset. 
For example, a smart contract could be written to automatically allocate a portion of the amounts paid for any subsequent sale of the NFT back to the original owner, thus giving the owner an ability to realize the benefits of the secondary marketplace. 
Thus, when someone makes (or "mints") an NFT, they are writing the underlying smart contract code that governs the NFT's qualities, which are added to the relevant blockchain where the NFT is managed. 
Many blockchains can be used to manage NFTs, including Ethereum (with its long established ERC-721 and ERC-1155 smart contract standards), Polygon, and Solana, all of which use a similar process. Notably, certain NFT marketplaces only function with certain blockchains, and so the choice of blockchain to use for an NFT can have real commercial implications for the seller.
Why Now?
Now is the perfect time for College Sports NFTs due to three important parallel trends. 
NCAA Rule Changes that went into effect on July 1st, 2021 permitting college athletes to monetize their Name, Image, and Likeness and make money through business transactions while still in college.  
Explosion in NFT Technical Infrastructure and Customer Adoption in 2021.  In the United States, we are on the precipice of experiencing mass adoption of crypto and NFTs in the general public. 
Covid Restrictions Created an Intense Desire to Merge of the Physical and Digital Sports Worlds.  Leagues, individual athletes, and their partners are making digital collectibles, video clips, and enhancements to physical collectibles available for sale and trade.
To further reinforce the argument of the coming mass adoption of NFTs, one needs to look no further than the world's dominant social media companies. Most of these web2 platforms, such as Twitter, Facebook, and Instagram, have either announced or launched NFT integrations into their core services.  
For example, Twitter has rolled out an NFT Profile Picture verification system, which allows Twitter users to verify their NFT ownership onchain. This is significant.  NFTs are about to propagate through a 400 million user social network at the speed of a mind virus. Never doubt the power of mimetic desire. Everyone's favorite actor, influencer, thinker, writer, gamer, and personality is about to spin up an NFT profile pic. This will cause an influx of new crypto users.
NFT features will only get better and competition will make it so. Because it's not just twitter.
Meta is planning to add profile NFTs to Facebook and Instagram 
Twitter's 400 million users…
Facebook's 2.6 billion users…
Instagram's 1.4 billion users…
The entire digital world is about to get NFT features. How does this help crypto?  NFTs are the gateway drug. The first digital property people own. They teach the basics of wallets and private keys and DeFi markets. There's no going back after that.
Lastly, we've seen traditional companies from apparel manufacturers, professional sports teams leagues, to even musicians start using NFTs.  Simply look at Nike's recent purchase of RTFKT (a web3 sneaker startup) in December 2021 and Addias announcing that it bought space in the metaverse as evidence. 
What is Draftly? 
Draftly solves this problem by creating the tools for athletes and fans to create both physical and digital college communities around NFTs.  
Creators (Athletes & Teams in this case) realize they can connect directly to their most avid fans instead of relying on intermediaries that extract massive amounts of value from their hard work.
In its current evolution, that's what NFTs stand for: A direct line between creator and fan, leading to a stronger relationship between value created and value captured.  To some people, NFTs seem frivolous and toy-like. But NFTs are important because they offer radically better economics to creators and developers versus existing Web 2 platforms.
For the college athletes, we help them monetize their NIL, build their brand, and authentically connect with their fans by creating NFTs.  This allows them to build a community that will stay with them for years to come and not just for the week or month following a big game. 
We then empower fans to be closer to their favorite athletes and teams by owning these players' and teams' NFTs. More than just images and videos, Draftly's NFTs carry extra utilities and benefits beyond the art the NFT depicts.  Furthermore, fans are able to earn rewards for owning and using Draftly NFTs. 
What Does Draftly Actually Do?
Draftly aims to bridge the gap between college athletes and their fans, as well as help athletes and teams express themselves through custom & unique NFTs and art.  Ultimately, we facilitate the connection between Athletes and their fans.   
On a more functional level, Draftly helps athletes create and sell NFTs through a functional marketplace.  Fans are able to purchase both Athlete and Team specific NFTs.  These NFTs give them access to a variety of utilities including: exclusive to team-specific digital communities, access to IRL events & experiences, the ability to interact with the players, and a variety of other future benefits.  Moreover, in the future, fans will be able to use their NFTs to play fantasy sports games and get rewarded for their participation.