NIL Can Help a Lot More Than Just Athletes, Just Ask Ohio State's Harry Miller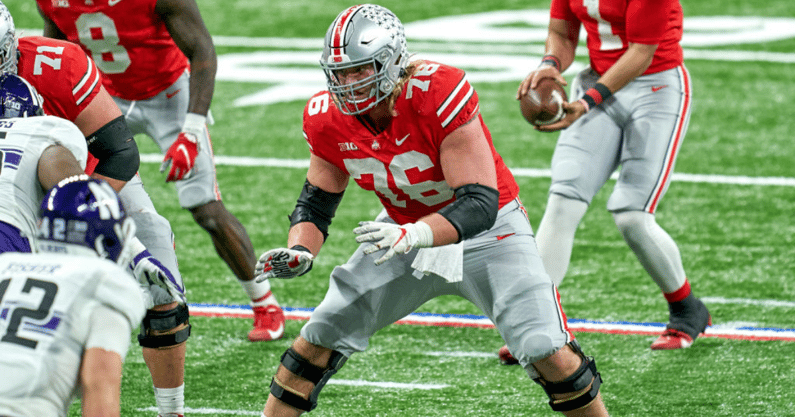 In the short six months since the NIL era began, we have seen so many different uses of athletes utilizing it. Contrary to what many said, not one of them is destroying college athletics. In fact, many of which are creating opportunities and assisting those who are in need. Need an example? Harry Miller, a junior offensive lineman at Ohio State University is the perfect one. Since July, he has been donating his earnings off of his various ventures to a charity in Nicaragua to help those in need with humanitarian relief. As a member of the Allstate AFCA Good Works Team, which is a group of 22 student-athletes selected annually who demonstrate great work off the field through civic involvement and volunteering, Miller was able to send a sum of money to a charity of his choice. On top of that, Harry started a site to sell clothing and merchandise with his name on it. Those earnings mixed with donations from Buckeye nation have allowed Miller to send thousands of dollars to Nicaragua.
It was refreshing to hear Harry's outlook on NIL and the advice he offered for current and future athletes looking to capitalize. Never settle for just any deal that comes your way. I have seen so many athletes accept offers and deals while having no previous knowledge about the brand, how much the deal should be valued, or what even is required of them in the long run. As Miller said, "don't be so eager to get money that you compromise on things that are really important." There will be many opportunities that become available. For Miller, that was to find a way to continue helping a cause that he has been passionate about for many years. Every NIL journey will be unique. Go in the direction that is best for you. But, all roads will lead to the same foundational elements to have sustainable success. Have a strong social presence and be powerful in your personal branding. If you look at the top earners of NIL so far, the vast majority have those two elements perfected.
The story of Harry Miller is yet another example of the many ways that has brought positivity from the NIL era. It isn't just the athletes who are benefiting from this era, there are families, friends, communities, and those across the world who are receiving help that they otherwise wouldn't have gotten.