No. 1 recruit Naasir Cunningham signs with Overtime Elite, keeps college eligibility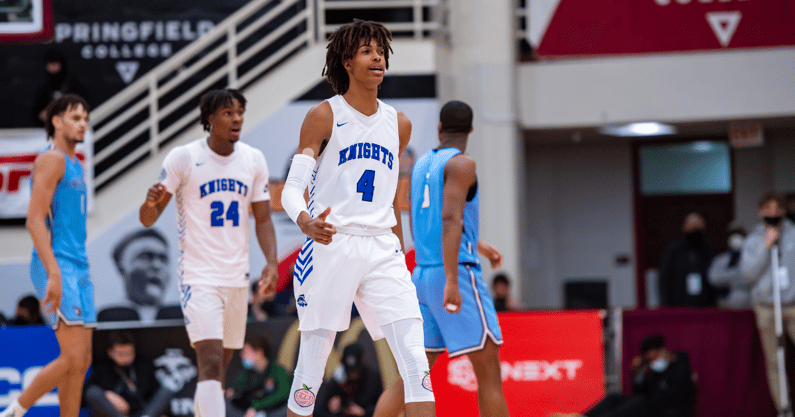 Naasir Cunningham – the No. 1 prospect in On3 Consensus for the Class of 2024 – is signing with Overtime Elite and will keep his college basketball and NIL eligibility.
Cunningham will not get paid by OTE. That means he's eligible to make money off his Name, Image and Likeness in high school while also still maintaining his amateur status to play for an NCAA team. NIL experts told On3 that the deal provides him with additional earning potential over the next two years while also pointing toward a lucrative pro career.
"This is best place for me to develop as a player, while getting the right education to fall back on at the same time," Naasir Cunningham told ESPN's Jonathan Givony. "I want to be the best basketball player I can – an NBA draft lottery pick – and hopefully one of the best in the league. Overtime is going to put me in a position to become the best player I can."
The news means Cunningham of West Orange, N.J., is the highest-ranked recruit to sign with OTE. He ranks as the No. 1 player in the country, according to the On3 Consensus, a complete and equally weighted industry-generated average that utilizes all four major recruiting media companies. He's also the top-ranked small forward and No. 1 player out of New Jersey.  
Naasir Cunningham's OTE deal a 'game-changer'
Naasir Cunningham – who spent his first two years of high school at Gill St. Bernard – has already received scholarship offers from the likes of Duke, Kansas, UCLA, Rutgers, St. John's, UConn, LSU, Maryland, Texas Tech, Creighton and many others. He has only seen his stock increase in 2022 after scoring 23 points and grabbing 11 rebounds in a win over Class of 2022 No. 2 recruit Dereck Lively II at the prestigious Hoophall Classic.
"This is an absolute game-changer in the high school basketball grassroots space," On3 national basketball analyst Joe Tipton said. "Cunningham will be able to keep his college eligibility intact while earning money through the power of NIL. This is extremely significant. I would expect others to make this move as well."
Mit Winter, a sports attorney at Kansas City-based Kennyhertz Perry LLC, agreed with Tipton. 
"I do think NIL played a big role in Cunningham's decision," Winter said. "Without the NCAA changing its NIL rules, which now allow players to maintain their college eligibility if they've entered into NIL deals while in high school, Cunningham would have been faced with a decision to either (a) take the OTE salary and lose his college eligibility or (b) make no money while playing for OTE in order to maintain his college eligibility. Now, he can forgo the salary, take advantage of OTE's unique basketball training and facilities, maintain his college eligibility, and still make money through NIL deals with OTE and other businesses."
Expect more deals like this
Winter also believes we'll see more deals like Naasir Cunningham's in the future.
"With respect to OTE, I think it will help them with recruiting players to their program," Winter said. "Now that players can maintain their college eligibility and get paid through NIL deals, it makes OTE more attractive to high school athletes that may want to play in college. They aren't closing that door by signing with OTE.
"More and more high school athletes are seeking out specialized training and competition that they might not have access to with their hometown high school. The ability to be paid through NIL deals, while taking advantage of the training and other opportunities, will be a big draw. We've already seen this phenomenon with prep schools and other basketball academies. I think that trend will just be accelerated now that potential NIL deals are added to the mix."
Another thing to keep in mind, Winter said, is that many of the prep schools and other academies are not part of state high school athletic associations. That means most don't have to follow the state association's rules regarding NIL. Currently, only nine states –  Alaska, California, Kansas, Louisiana, Nebraska, New Jersey, New York and Utah – allow their student-athletes to participate in NIL without jeopardizing their high school eligibility.
"It's another consideration that I think is driving more and more players to consider the academy/prep school route," Winter said. "It might become less of a factor as more state associations change their rules to allow athletes to maintain their high school eligibility if they enter into NIL deals. But there are still only a small number of states associations that have amended their NIL rules to allow this."
OTE has done other NIL deals
Naasir Cunningham joins OTE's 19 returning players – a group of elite talent seeking an alternative and accelerated path to a professional career. He is the eighth five-star recruit to join OTE. 
Every contracted OTE player is offered a six-figure salary of at least $100,000 per year. Furthermore, players also earn bonuses and shares of equity in Overtime. In addition, players will participate in revenue from use of their NIL. This includes sales of custom jerseys, trading cards, video games and NFTs. This year's players have the option to choose a scholarship or salary option. 
Overtime previously signed NIL deals with high school and college players, such as Class of 2023 Duke commit Jared McCain. And OTE scholarship players, like Naasir Cunningham, will be eligible for NIL deals as well, including other third-party companies. Overtime is a sports media company that lists Jeff Bezos, Kevin Durant and Trae Young among its investors. Overtime has a massive online following of more than 65 million followers on different social media platforms.