On3 5-Star Countdown: No. 1, QB Devin Brown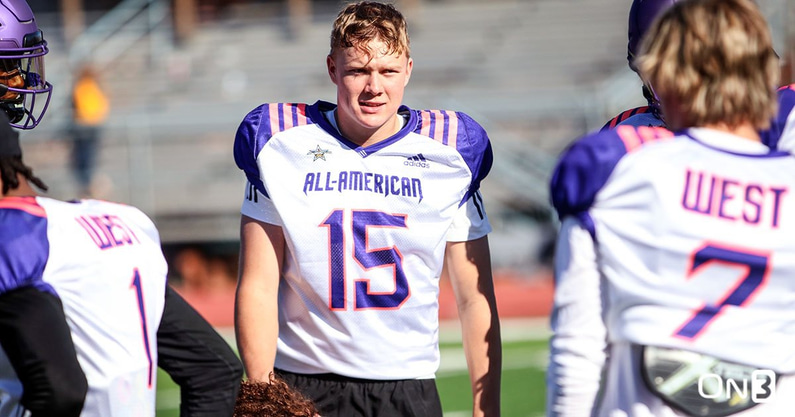 As college football heads toward the proverbial end of the 2022 recruiting cycle, On3 will soon release its final rankings for this year's senior class.
At the top of those rankings are 32 five-star prospects, each of whom was among the most heavily recruited high school football players in the country this year. Next up on the countdown is the No. 1 prospect in the 2022 class, Draper (Utah) Corner Canyon quarterback and Ohio State signee Devin Brown.
After checking is at No. 28 in On3's previous rankings, Brown has ascended to the No. 1 spot in the rankings.
The player evaluations not only include their full senior seasons, but their performances in the practices and games of the Under Armour All-American Game and the All-American Bowl in San Antonio. The final batch of five-stars has some significant movement from the previous rankings, including 15 newly minted members of the club. It also is headlined by a new No. 1 overall player.
Devin Brown Scouting Summary
One of the more live-armed passers in the 2022 cycle. Generates considerable zip on the ball with the ability to drive throws downfield and from the far hash to the boundary. The ball pops out of his hand and comes in hot. Stretches the field vertically with his considerable arm strength. May have the most high-level, small window throws of any 2022 quarterback as a senior. At his best when he can sit back in the pocket and push the ball vertically. Has light feet with average to above average mobility. Transferred from the Phoenix area to Utah powerhouse Corner Canyon for his senior season. Is putting up big passing numbers as a senior. Has a bit of a gunslinger mentality, leading to a higher interception total. Can miss read defenders, leading to picks. Showing some more rushing ability in the red zone as a senior. Put forth a strong showing at the Elite 11 Finals prior to his senior season. — Charles Power, On3 Director of Scouting and Rankings