One-on-one with Tony Bennett (Part 1)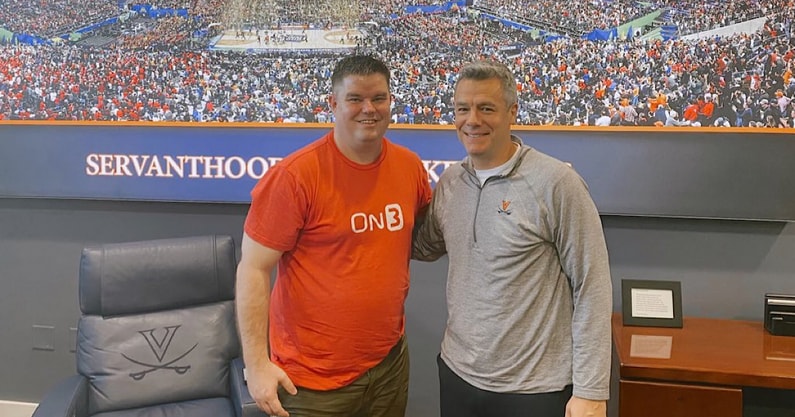 Twice Tony Bennett has been named the Naismith College Coach of the Year. Twice he has been named the AP National Coach of the Year. He is a four-time ACC Coach of the Year and the 2007 winner of the PAC-10 Coach of the Year.
Virginia head coach Tony Bennett also holds the NCAA record for career three-point field goal percentage. The No. 35 pick in the 1992 NBA Draft shot a staggering 49.7 percent on 584 career attempts.
Between stops at Washington State and Virginia, Bennett has had 11 players drafted into the NBA. For the 2021-22 NBA Season, Virginia had eight players on opening day rosters, tied for 12th among all college programs.
As a head coach, Bennett has led four teams to Sweet 16s, two to Elite 8s, one to a Final Four, and won one NCAA Championship. He has won 385 career games as a head coach and carries a .720 win percentage.
His resume is long, but I felt like I needed to brush over it. What he has accomplished as both a player and a coach place Tony Bennett among the elite of what he does.
I made the trip to Charlottesville, Virginia, last week to spend the majority of the PM hours with the program. Part of that time was a 30-minute in-depth conversation with Tony Bennett. With the length of this conversation and the detail Bennett provided, I broke it down into multiple parts.
Read Joe Tipton's sit down with UNC head coach Hubert Davis
Here is part one of One-on-one with Tony Bennett.
You've made ten NCAA tournaments between Virginia and Washington State. How does this 2022-23 team compare to the teams that you've had previously?
I think it's early. You know, you find out so much when you get into real competition, and I just go a year at a time.
I think compared to our last year's team; it's, it's predominantly the same team, but with the addition of a quality transfer in Ben Vander Plas, who's played a bunch of games. And then we have four quality incoming new guys, so that's more depth. I think one of the areas we really thought we had to address is to try to improve our depth and hopefully get a little more quality stretching the floor from the outside.
Now we have to prove that we're improved in those areas, but I think there's a little more depth, and I think, some more threats to stretch it with the returning experience. And I think the guys have improved there too. So to compare it to other teams, that's hard to say. We'll get a good feel early; with all the games we're playing, we got such a great schedule. And I feel like the league will be very good, with the rankings of some of these teams and the amount of returners will make for a high-quality league.
I always tell our guys in practice; if you get good at the little things, the sky's the limit. But if you don't get good at the little things that help you win, this is too good of a level and you'll, you'll fall short.
It seems that with all of your best teams, you've had great leadership from the point guard position. All the way back to Derrick Low, and Malcolm Brogdon, and Ty Jerome. How does, how important is Kihei Clark to this team?
He kind of surprised us when he decided to return, but there is no substitute for experience, and that young man has had an unbelievable amount of experiences. He's a fierce competitor, and I always start with that, and that's what drew us to him when he was playing with the Oakland Soldiers at Peach Jam. He's just a warrior.
He brings a competitive spirit that's really important, and his game is continuing to evolve and improve. His shot has improved, and then, you pair him and Reece (Beekman) as Reece has improved, and you have two guys that can play on the ball or off the ball.
Last year we didn't have as much depth, so those guys played a ton. This year, there's gonna be times when you're not gonna have to play them as much. Kihei's a guy that's won, a guy that's competitive and not afraid to challenge his teammates, and has the respect for his players, and that's what you want. And he's really invested, and he's become better in his leadership, and I like seeing that.
Does Head Coach Tony Bennett recruit high school senior Tony Bennett to this year's team?
Yes. And I offer him two million in NIL. I mean, that sounds pretty arrogant, but what I like, and I go back to it, you just like complete guards, guards that can put the ball in the hole and are competitive and tough.
So I think I'd give myself a good look, and I wouldn't pass myself by. I would have been one of those guys that we would've taken a chance on, and we would've been in good shape.
To further that thought a bit, does the NCAA career three-point shooting percentage leader Tony Bennett start for your national championship team?
Well, of course, he absolutely does. I'll tell you what made that team so good is you had Kyle Guy and Ty Jerome. They could shoot and were fiercely competitive, and Kihei (Clark) we needed as a freshman because he could heat up the ball. We needed a guy to attack defenses on the ball, and he was the perfect compliment to it.
But I think I would've been a nice addition and would have started; Kihei might have come off the bench. Ty and Kyle wouldn't know what hit them.
So, I got to know about the five pillars. I hear about them from talking to some of your recruits, and I see them in your office. Tell me about the five pillars.
Those were established some 40 years ago by my father. They just are what we believe makes for a great basketball team and a great basketball player.
They're actually biblical pillars. I've said it before, my father was a man of faith, and he decided that somehow he wanted faith to play out in his job as a coach. He asked, What would make for a great team? Ok, one that's humble. A team that has sober judgment, they don't think too highly of themselves, and is not too lowly. A team who knows who they are they have an identity. One that's passionate, plays hard, that's tough and loves what they do. A team that's unified, a team that serves each other the way they play on the court. And then a team that's thankful. So those pillars stem from that.
And it suggests what I like about them in a different way, a way that's counter to the culture of the way people say you have to have to do it to build a championship program.
A lot of programs highlight great stuff, but those pillars are our North Star, so to speak; they guide us. We're all grown and learning in those, and there's a legacy, but are we recruiting young men that are about those things?
Where is our team strong? In what areas are we weak? What do we have to address? And they really help guide us. And you can't go wrong when you stay true. Those five pillars have withstood the test of time too. They really have. And they'll carry far beyond basketball. That's big time.
**Stay tuned to On3 over the next couple days for Parts 2 and 3