Penny Hardaway, Jon Scheyer check in on Bronny James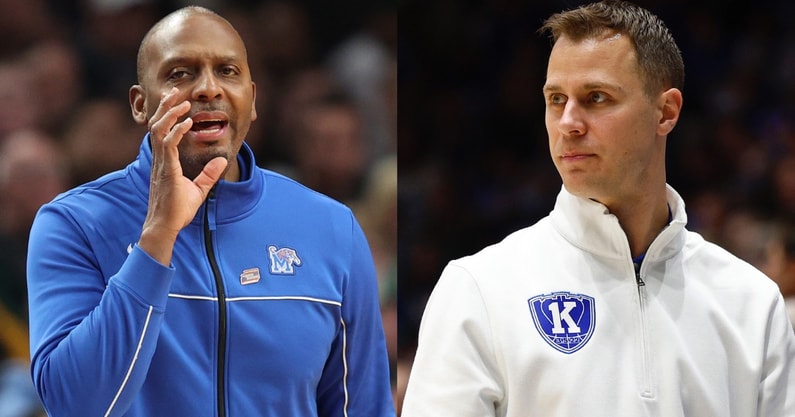 Over 150 NBA scouts and college coaches lined the sold-out court 3/4 watching class of 2023 standout Bronny James. James is On3's No. 49 ranked player in the 2023 class, but he is so much more than just a basketball player. Lebron James, Jr. is a cultural icon.
Bronny James is the most valuable high school player ever
James is ranked No. 1 on On3's NIL 100. His 11.9 million followers across all platforms give James a $6,400,000 On3 NIL Valuation. That is the most among amateur sports.
On3's NIL Valuation is the industry's leading index that sets the standard market NIL value for high school and college-level athletes. A proprietary algorithm, the On3 NIL Valuation signifies an athlete's value at a specific moment in time.
Bronny's game
Through five games at Nike's Peach Jam, Bronny James is averaging 17.8 points, 5.6 assists, and 5.2 rebounds per game. He is shooting 45.5-percent from the field and 43.8-percent from three on the week.
James' high-level play has continued to build a buzz throughout the week. It culminated on Thursday with a 25-point, 10-rebound, 5-assist game on 4-of-5 from three.
James is a tough guard who makes winning plays. You hear his name, Lebron James, Jr., and you get excited. His dad is one of the five best players ever to pick up a basketball. Bronny is not his dad.
Once you start looking at the younger James through the lens of individuality, you begin to see what he is as a player. James is a sturdily built 6-foot-2 guard. He can handle, shoot, and pass, and he is a good point-of-attack defender.
Over the past year, James has become more confident and comfortable in his own game. His vision is apparent, his jump shot is falling, and his toughness is obvious with the way he rebounds and defends.
CLICK HERE to subscribe to the On3 YouTube channel
Bronny James recruitment
Bronny James does not talk to the media or do interviews. In speaking with college coaches, there is intrigue there. As we mentioned previously, over 150 college coaches and NBA scouts were watching this game.
Nate Oats (Alabama), Jerod Haase (Stanford), Jerome Tang (Kansas State), and Porter Moser (Oklahoma) joined Penny Hardaway and Jon Scheyer as head coaches sitting courtside.
It is speculation whether or not James will go to college or go the pro route. Rumors have been flying about, G-League, taking a year off and train, one-and-done, and even the NBA changing their age limits.
It is still to be seen what Bronny James's path will be, but rest assured he has the overall public along for the ride.