Player analysis: Highly-coveted 2023 G Matas Buzelis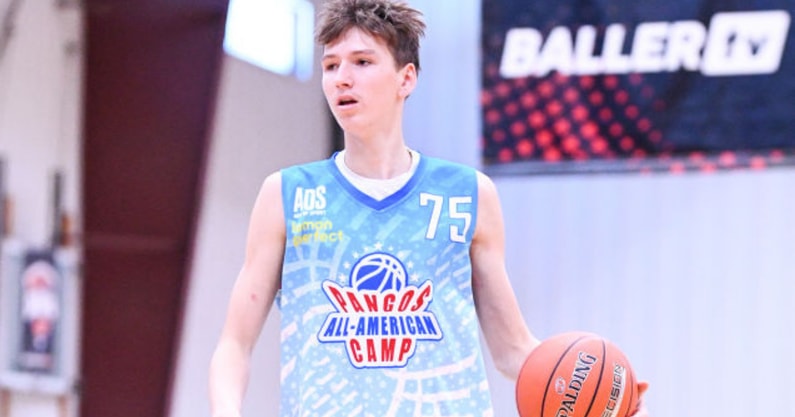 Matas Buzelis is a 6-foot-10, 175-pound junior guard out of Wolfeboro (N.H.) Brewster Academy that ranks among the top 2023 prospects in the country. Buzelis has the size, height and skill to be a potential NBA all-star at just 16-years-old. 
Why Matas Buzelis is special
Elite ball handler
At 6-10, Matas Buzelis handles the ball like a point guard. In his toolbox of tricks, he has hesitation dribbles and step-back moves that are extremely hard to guard given his seven-foot wingspan. His crossover is quick and deceiving, which is rare in a player that is his size.
Relentless scorer
Matas Buzelis has the scoring capabilities to take over games. He can shoot off the dribble and spot for 3s. Since he is 6-10 and his shooting release point is higher than any guard, his jump shot is unblockable to the average defender. 
Creative Finisher
Matas Buzelis uses his size and length to impose a variety of finishes against the defense. He can dunk with the right or left hand.  
Buzelis NBA comparison
Kevin Durant is the only player in NBA history that we have seen move with such fluidity at this height. Although Durant is a couple of inches taller than Buzelis, Buzelis is still growing. Just this past summer, he grew 2 inches. Buzelis and Durant have similar play styles. They can shoot the ball at a high-level percentage off the catch and shoot or the bounce. Both are unstoppable when they get one-on-one isolation.
Where does Matas Buzelis fit best?
Matas Buzelis recruitment is wide open. He has loaded up on offers from almost every top school in the country. The best fit for him would probably be the top three "blue blood" schools: UNC, Kentucky or Duke.
Buzelis is such a high-profile player that he needs to find a school that maximizes his potential on and off the court.
College basketball is no longer just about what the offenses look like at a school but also the brand you can build. It would be best for Buzelis to go to these schools because they are backed by a huge fan base and a long lineage of successful players that have been in his position.