Q&A: Mookie Cook talks top 3, timeline, reclassification, pro route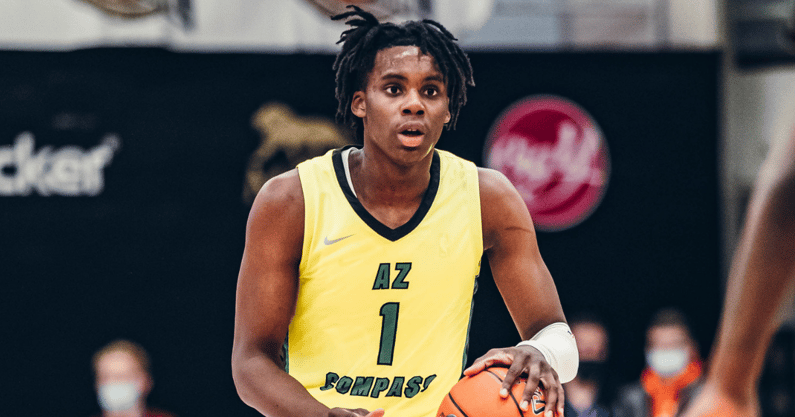 Class of 2023 five-star Mookie Cook is down to three schools: Kentucky, Oregon, and Gonzaga.
The 6-7 wing out of AZ Compass Prep sat down with On3 to discuss each of his finalists, a timeline for a decision, the reclassification option, the pro route, and possible college team-ups.
---
What's the pitch from Oregon?
Their pitch has honestly been… you're born and raised here…you'd have your family here and your whole support system. And also come in and have a big role there and be able to play your game to the fullest and have great pieces around you.
What would it be like for you to put on for your home state?
Oh man, that would be big, of course. That's always I've always repped, you know, Oregon, Portland, Oregon. That's just something I've always wanted to do, since I was a youngin'. But wherever everything falls, or wherever fits best, that's what I'm going to go with. 
What appeals to you about Kentucky?
Man, just Coach Cal himself. He's actually a real, down-to-earth person, once you actually get to know him and talk to him. He actually cares about this team, and about them winning, the right way. 
Is TyTy Washington still in your ear about UK?
Oh yeah, of course. He will be texting me, "you need to come here man, you fit, you're strong, you can handle this, you're gonna prevail," that's what he always tells me. 
What's Kentucky's recruiting pitch? 
Come in and be one and done. That's the main thing. And just win games, win with other five stars and play the right way. Kentucky always plays the right way, you know they always have so many good players. It's pretty much like an NBA type of feel because you're on the court with other great players that are on your level. 
What stands out about Gonzaga?
Man, they just play fast and they get up and down, a lot of transition buckets. There's a real culture there, it's a real family. It is real chill and it's laid back, with no distractions like some of these other big schools. Spokane is in a small town and it's like their only sport so everyone supports Gonzaga basketball…from the kids to all the grown men. 
What will it come down to as you make your decision? In other words, which factors?
Mainly just feeling like it's home and you know, the other pieces around me…whatever feels like the best fit. 
Do you have a timeline at all for a commitment?
No, I don't yet. 
Do think it'll be before, during, or after AAU season?
Probably after AAU season.
Is your plan to go to college or will you leave the door open for the pro route if it's the right move for you?
Right now, I'm just looking at the college route because you know, NIL is a big thing. Right now, I just think I'm gonna go to college. 
Will you reclassify to 2022 or stay in 2023?
I want to experience being a McDonald's All-American, USA, and all that so I'm going to stay (in 2023). 
Have you talked with anyone else in your class about the possibility of teaming up in college?
I talk to Kwame Evans, Omaha (Biliew), I was talking to Rob (Dillingham) before he committed, DJ Wagner, that's really it. 
I would talk to DJ about Kentucky, talked to Kwame about Oregon and Kentucky.