Ranking college football programs in recruiting spending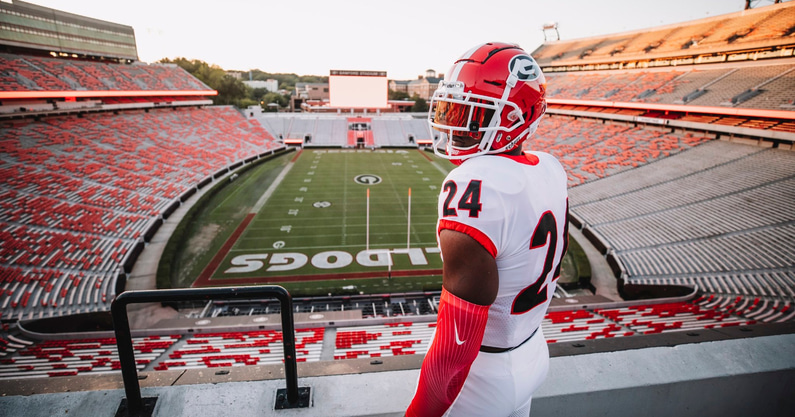 As coaching contracts get fatter, as do recruiting spending budgets for Power Five programs across the nation. Everyone knows you can't skate by on good coaching alone, the jimmy's and joe's are equally as important. Recruiting the top prospects requires time, miles, and a whole lot of money.
Although we could see a drop in spending for the 2020 cycle, which saw recruits wooed almost exclusively virtually due to COVID-19, the 2019 cycle kept with the trend of increased spending. The programs spend recruiting budgets on travel, official visits, staff, scouting services and more.
Seventy-three percent of Power Five programs increased their recruiting spending from 2018 to 2019. Some programs, like Georgia, were just keeping with the status quo, while others increased spending in correlation with coaching staff revamps.
Kirby Smart and the University of Georgia spent $1 million more than the next highest-spending program, which was Alabama. The Bulldogs' outlandish recruiting spending hasn't led to a national title yet, but it could pay off very soon. As of Oct. 2021, they're the favorite to win it all this year.
While a handful of teams spend more than $2 million a year on recruiting, there were still two Power Five schools spending less than half a million in 2019.
Here's what public Power 5 conference programs told the NCAA they spent on football recruiting during the 2019 fiscal year.
2019 Power Five Recruiting Spending Ranked
Georgia – $3,676,858
Alabama – $2,663,467
Tennessee – $2,247,289
Clemson – $2,234,173
Arkansas – $1,931,026
Texas A&M – $1,673,204
LSU – $1,607,148
Penn State – $1,529,068
Florida State – $1,503,142
Michigan – $1,411,989
Nebraska – $1,349,991
Oklahoma – $1,276,908
Texas – $1,275,368
Florida – $1,271,821
Oregon – $1,214,111
Minnesota – $1,191,970
Utah – $1,117,281
Ohio State – $1,060,643
Kentucky – $1,035,217
Louisville – $989,030
Rutgers – $983,916
Auburn – $955,898
Kansas – $954,751
North Carolina – $949,631
Iowa State – $935,487
South Carolina – $931,666
UCLA – $903,236
Georgia Tech – $903,193
Indiana – $859,046
Missouri – $852,024
Washington – $809,903
Kansas State – $804,166
Texas Tech – $796,741
Michigan State – $788,358
Purdue – $779,477
Colorado – $775,312
NC State – $765,302
Arizona – $765,160
West Virginia – $754,578
Oregon State – $747,856
Virginia – $745,347
California – $716,207
Illinois – $683,592
Ole Miss – $669,364
Iowa – $664,244
Oklahoma State – $583,911
Maryland – $548,699
Arizona State – $525,099
Washington State – $503,936
Mississippi State – $435,224
Wisconsin – $431,352
Spending by Conference
Helped out a great deal by Georgia's whopping sum, the SEC leads all other Power Five conferences in recruiting spending. The average member spent $1,532,323 on recruiting in 2019. That ranges from Georgia ($3.6 million) at the top to Mississippi State ($435,224) at the bottom.
The difference in spending could be attributed to a number of things. For starters, while Georgia recruits heavily in the Peach State, they also go after the best players in any state. Mississippi State recruited more than half of their 2019 class from within the state's borders and they tend to be more successful recruiting regionally.
The benefits of massive budgets are evident when you look at Georgia, Alabama and Clemson, but Arkansas and Tennessee are outliers. Both programs have hired new coaches since 2019 and despite positive momentum, neither are close to winning their division.
After the SEC, the ACC spends $1,155,688 per program on recruiting. However, only two programs spend above that average (Clemson, Florida State). There's no doubt the Tigers' recruiting efforts (and spending) have contributed to their ACC dominance in the Dabo Swinney era.
The Big Ten just edges out the Big 12 in average member spending. The Big Ten, led by Penn State and Michigan, spends $944,795 per member on recruiting. Big 12 programs spend an average of $922,738.
The Pac-12 came in fifth in the 2019 recruiting spending rankings, spending $807,820 per member.
Programs with recent coaching turnover like Kansas State, Georgia Tech, Arkansas and Texas Tech all increased spending year over year by more than 48%.