Ranking the Contenders for 2022 4-star Judah Mintz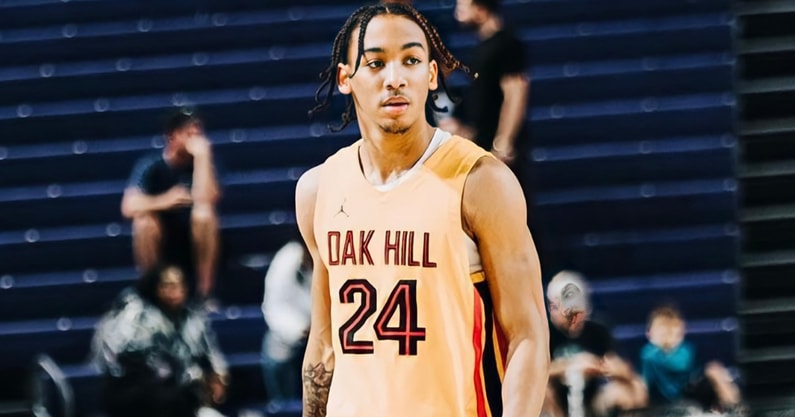 On3 Consensus No. 50 Judah Mintz de-committed from Pittsburgh in November. He had a breakout in July playing with Team Durant on Nike's EYBL circuit, where he averaged 18.2 points for Team Durant.
Mintz followed his stellar summer up, averaging 15.2 points per game for the top ten ranked Mouth of Wilson (VA) Oak Hill Academy, helping them earn a birth in the Geico Nationals during Hall of Fame head coach Steve Smith's last season.
The 6-foot-3 guard took official visits to his final four schools, DePaul, Wake Forest, NC State, and Syracuse, throughout February and March. With things winding down for him, On3 ranks the contenders.
1. DePaul
DePaul is heading into year two of the Tony Stubblefield era. Year one, by most, would be called a success as the team finished 15-16 overall, up from a 5-14 finish the previous season. Stubblefield has already made a splash in recruiting this off-season as he recently had On3 Consensus No. 47 Zion Cruz pledge his commitment.
DePaul's two leading scorers, Javon Freeman Liberty and David Jones, both have the option to come back. However, signing a Judah Mintz and Zion Cruz backcourt in the 2022 class will bring headlines.
DePaul's chances: 70-percent
2. Wake Forest
Wake Forest was smart with the timing of their visit as they brought Judah Mintz in for a game against NC State. The Demon Deacons won the game 101-76. Wake Forest loses their ACC Player of the Year Alondes Williams, and Mintz could be someone to fill that void. Head coach, Steve Forbes's system, caters to guards and creation, and that did not go lost on Mintz.
Wake Forest chances: 15-percent
3. NC State
Judah Mintz visited the Wolfpack on February 17. The Wolfpack staff made it a point to showcase the success, and freedom ACC All-Freshman Terquavion Smith had this season. Mintz has a prior relationship with NC State guard Casey Morsell from growing up in the DMV. A roster revamp is necessary with the Wolfpack head coach Kevin Keatts given another year from the administration. A commitment from the Oak Hill guard would provide a splash for the program.
NC State chances: 10-percent
4. Syracuse
Judah Mintz has a previous relationship with Syracuse freshman Benny Williams, and he knows recruits Maliq Brown, Justin Taylor, and Quadir Copeland. He visited on February 26 when Duke came to town and left with a 25 point victory. There is a relationship between Oak Hil and Syracuse, and there is the Nike angle with Team Durant, Oak Hill, and Syracuse. At this time, there are just other schools ahead of the Orange for this one.
Syracuse chances: 5-percent
Judah Mintz Final Thoughts
All the smoke is around DePaul for this one as Tony Stubblefield will get his splash recruiting in this class. There was legitimate interest with the other three programs; however, it feels the pull of DePaul was too much.
DePaul's 2022 Class
6-4 CG Zion Cruz, On3 Consensus No. 47