Recruiting update on 5-star Ron Holland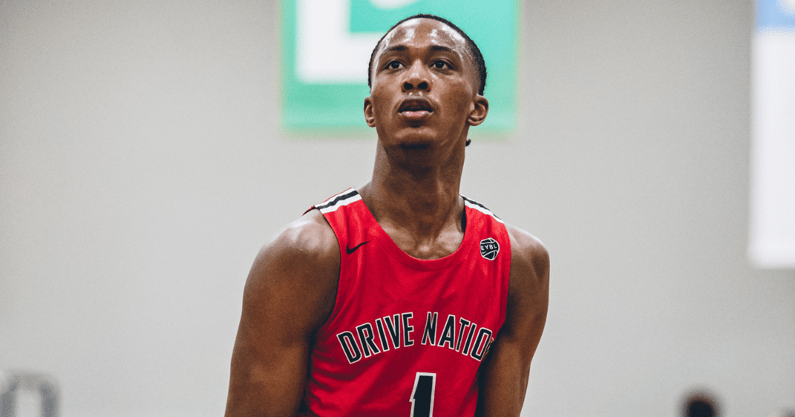 Ron Holland is the 2023 On3 Consensus No. 9 ranked player. He has been in the national conversation since he was in high school and continued to have very positive outings on big stages.
Holland had an up-and-down summer after helping lead his Duncanville (TX) High team to another state title. He went to Spain with the USA u17 men's basketball team this summer and won a gold medal. The 6-foot-8 forward was second on the team in scoring, rebounding, and minutes played.
He also averaged 11.3 points on 43 percent shooting from the field and 31.4 percent from three through three Nike EYBL Circuit sessions.
Holland has a long track record of success, which has kept in the top ten.
Holland's recruitment
Things have been somewhat quiet since June for Ron Holland. The five-star took four junior year official visits; Arkansas (6/11), Memphis (10/5), UCLA (5/12), and Kentucky (6/13).
Holland only has one senior year official visit set to this point, Texas on September 3.
In Holland's words
"What I'm looking for in a school is somewhere I can go play right away," Holland told On3. "Well, not necessarily right away, but just somewhere I can fit in with the program. I'm looking to build those relationships with coaches so I can trust them to help me get where I'm trying to go.
I want to be a one-and-done and get to the league. Building a relationship with the coaches, that helps a lot because I can trust them, and they can trust me. I can help them win; they can help me reach my goals."
Thoughts and intel
Joe Tipton broke the news in March that Ron Holland carried a top eight. Houston, UCLA, Arkansas, Texas, Memphis, Auburn, and Kentucky were the schools listed. The G-League Ignite program was also listed.
Holland took early visits to Arkansas, UCLA, Kentucky, and Memphis. He has a visit this weekend – September 2 – to Texas.
Parsing through the intel, Arkansas and Kentucky have been the two programs brought up with Holland. Kentucky fits the one-and-done notion, and Holland is a long wing that Calipari tends to covet. Holland has also not been shy to say he grew up a fan of Kentucky.
However, in this sense, I think Arkansas holds the current lead behind closed doors. Former Duncanville teammate Anthony Black is a freshman there and getting a lot of national and NBA notoriety. Holland has connected with the staff, most notably head coach Eric Musselman and his NBA background.
The wildcard here is Texas, monitor that visit closely. By all accounts, Chris Beard has turned up the heat on Holland. We will see if he plans any further visits or when a time frame of a commitment comes out.
Currently, heading into his first senior season visit, I would say Arkansas carries a slight lead over Texas. We'll see is Calipari makes a push, but a lot could happen/shift this weekend in Austin.
Also, watch for the G-League Ignite. It is our understanding they have not issued an offer to Holland; however, he has a clear track in his head to the NBA and has spoken very candidly and openly about being open to that path.
Holland's scouting report
It is the motor for Holland; that is what you notice first. He has good positional size, but it is how hard he plays – on both ends – that gets people talking. Holland has performed at the highest levels, with Team USA, on Nike's EYBL circuit, and at Duncanville High. Coming into his junior season, the question mark was the skill set; he has shown some improvement. While the jump shot is still below average, he can use the dribble to get downhill, and he's developed confidence in his pull-up jumper. Holland is great in transition; he plays above the rim and has the upside to be an excellent defender – both on and off the ball. Production and winning that is what he has done for a while.