5-star Ron Holland talks final schools and commitment timeframe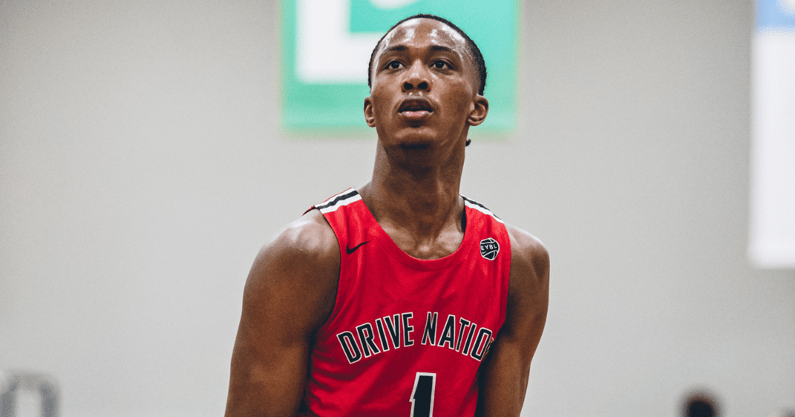 Ron Holland is the 2023 On3 Consensus No. 9 overall player. In the past eight months, the 6-foot-8 wing forward has won a Texas 6A state championship and a u17 USA men's basketball gold medal. This was Holland's second gold medal and third state title.
"Even with the gold medal, I've been in the gym working on my shot and ball handling," Holland told On3. "I'm still a high-energy player and do the little things on the court other people don't like to do. I'm watching a lot of Jaylen Brown and Scottie Barnes right now. Guys who get it done inside and out and on both ends."
The five-star released his final five options in June. On3 caught up with Ron Holland at the Wootten 150 Camp to talk about his final decision and a time frame.
"I came out with a top five, UCLA, Arkansas, Texas, Kentucky, and the G-League," Holland said. "I've visited each of the programs. I have an upcoming unofficial visit to UCLA on October 10, and I'm going to the Texas and Arkansas exhibition game at the end of October."
Holland talks final schools
UCLA: "I had never been to L.A. before. They showed me a lot of how they do things over there. It's L.A.; there is a whole lot of money out there. I never knew how they played, so they showed me a lot of that. They get out in transition and have a lot of NBA actions. Coach (Mick) Cronin is big on getting his guys ready for the next level. I learned a lot about their plans for me out there; Coach Cronin showed me a lot."
Arkansas: "I didn't know how NBA-centered everything was over there. They do everything NBA level, system-wise. They treat their guys like they're in the NBA already, getting them ready for the next level."
Kentucky: "Everyone knows Coach Cal (John Calipari) is a great coach, but he takes care of his people. He takes care of everyone to get the job done. What I learned about him on the visit is that if you get the job done, he is going to do his."
Texas: "I saw that I can stay home and get this thing done. Everyone knows the Texas brand, and Coach (Chris) Beard will let me go there and be me. I can do a great job of being me, and it'll get me to the next level."
Holland on the G-League
"They have offered me, but I don't know the exact prices and contract yet," Holland said.
"NBA is becoming a league of young, long wings. The G-League prepares you for the league; you learn how to be a pro. There is a lot of NBA language, and NBA actions thought in the G-League, so when you get to the NBA, you know what you're doing already.
"It's really all about how I want to run my race. I talk with my family about it a lot. I want to go to the league, and whoever, college or G-League, makes me feel most comfortable that I can run my race the longest. The G-League makes you run at a pretty fast pace because you're a pro, just like that."
Holland talks NIL
"NIL is something, and this might sound crazy, but it's not long-term money," Ron Holland says. "They want us to enjoy our experience. I do care about it, and it is a business opportunity. But I'm focused on getting better in college. Preparing myself for the second contract, the third contract."
In his words
"I don't have an exact commitment date set, but I feel like I should have a good idea where I'm going by the end of October," Holland said.
"I want to go to a place that will allow me to be me but also help me reach my max potential. Style of play will be big for me. I don't want to go into a situation where they will have to re-teach me how to play on a team with guys who have already been playing that way. I like to play in transition, play fast, but have plays and quick hitters in the half court."
Scouting report
It is the motor for Ron Holland; that is what you notice first. He has good positional size, but it is how hard he plays – on both ends – that gets people talking. Holland has performed at the highest levels, with Team USA, on Nike's EYBL circuit, and at Duncanville High. Coming into his junior season, the question mark was the skill set; he has shown some improvement. While the jump shot is still below average, he can use the dribble to get downhill, and he's developed confidence in his pull-up jumper. Holland is great in transition; he plays above the rim and has the upside to be an excellent defender – both on and off the ball. Production and winning that is what he has done for a while.