SEC announces 2023 baseball television schedule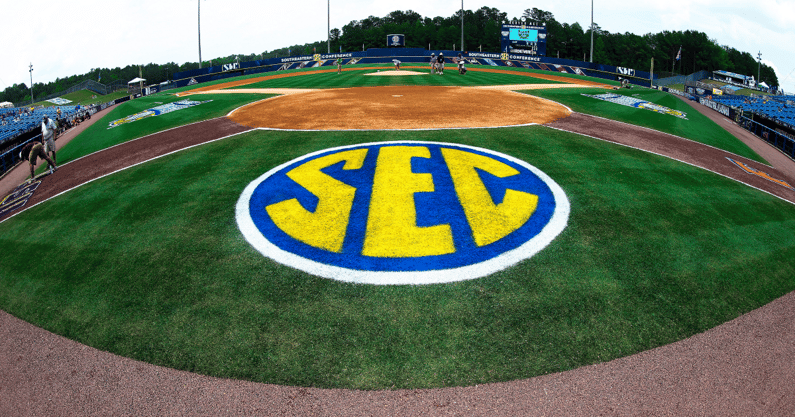 As they might tell you around the conference, SEC baseball just means more. Opening Day is just over a week away, with nonconference showdowns taking place beginning the weekend of Feb. 17. SEC play will not begin until the beginning of March in what should be another fun year.
Fans will be able to enjoy games from on the conference on the couch this season, with the SEC announcing the 2023 baseball television schedule on Tuesday. Various different ESPN networks have the broadcasting rights, having games played over the course of three months.
A couple of nonconference rivalries will get the party started, with Florida-Miami and Georgia-Georgia Tech all playing on SECN on March 5. Two important games could be series deciders. Nine days later, Auburn will host the Yellow Jackets in a mid-week battle.
Coverage will conclude in Hoover, with the SEC baseball tournament slated to kick off on Tuesday, May 23, with all but one game being broadcasted on SECN. The championship game will take place just a few days later on Sunday, May 28 at 3 p.m. on ESPN2.
In between will be over 60 SEC matchups, with SECN being the home of most of them. ESPNU and ESPN2 will have a few of the broadcast rights as well. In what should be a thrilling season, fans across the conference will have multiple opportunities to watch their team.
SEC to feature LSU, Tennessee more than any other teams
Two of the favorites in the SEC this season are the LSU Tigers and Tennessee Volunteers. Between pro prospects being on the roster, national championship hopes, and interesting characters — the duo will have the most eyeballs on them this season.
The Tigers and Volunteers will appear on television during the regular season 12 times. Both are expected to make a serious run in the SEC Tournament as well, giving the two programs even more exposure.
A highly anticipated weekend series will take place in Baton Rouge, when LSU hosts Tennessee the final weekend of March. There has not been a regular season matchup since the 2021 season, where the Volunteers got a sweep in Knoxville.
Plenty of MLB scouts should be in attendance as well. In MLB Pipeline's first mock draft dating back to December 2022, three of the top four picks come from LSU or Tennessee. Outfielder Dylan Crews (LSU) is joined by potential pitching matchup Paul Skenes (LSU) vs. Chase Dollander (Tennessee).