SEC Power Rankings ahead of Week 4 of college football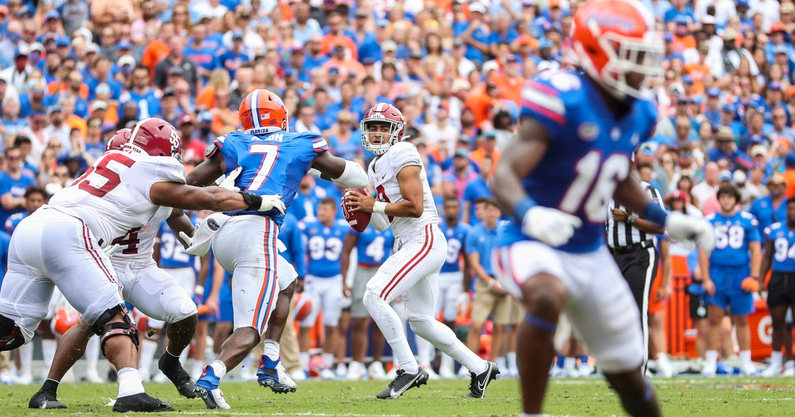 Week 3 was a fun one for the SEC. No. 1 Alabama and No. 11 Florida faced off in a highly contested matchup as part of the action. Elsewhere, Auburn lost a close one to Penn State, Georgia easily beat South Carolina, and Ole Miss showed that it is relevant on the national stage. Heading into Week 4, there are some changes within SEC power rankings using ESPN's FPI tool.
SEC Power Rankings, per ESPN FPI
1. Alabama Crimson Tide: To no surprise, Alabama comes in as the top team in the SEC. Alabama is also the top ranked team in the nation in the rankings. The Crimson Tide defeated Florida 31-29 in Week 3 and face off against Southern Miss on Saturday night.
2. Georgia Bulldogs: The Bulldogs have continued to show that they have one of the best defenses in all of college football. Georgia comes in at No. 2 in SEC rankings, and it sits in the No. 2 spot in the nation as well. The Bulldogs are looking to improve to 4-0 on Saturday against Vanderbilt.
3. Florida Gators: Despite being 2-1 after falling to Alabama last weekend, Florida doesn't fall very far in SEC rankings. The Gators also sit at No. 7 in overall power rankings. Florida has an interesting matchup on Saturday when it hosts the 2-1 Tennessee Volunteers.
4. Ole Miss Rebels: QuarterbackMatt Corral put on a historic performance in Week 3 with seven total touchdowns in a 61-21 victory over Tulane. The Rebels have continued to show that they could be relevant on the national stage. Ole Miss is also ranked ninth in national power rankings. Lane Kiffin's squad has the weekend off in Week 4, but a matchup with Alabama awaits in Week 5.
5. Auburn Tigers: After losing 28-20 to Penn State in Week 3, Auburn falls to the fifth spot in the latest SEC power rankings. The Tigers sit at 12th in national power rankings, and they have a chance to get back on track on Saturday when they host Georgia State.
6. Texas A&M Aggies: Texas A&M is another team that is showing that it could be relevant on the national stage. The Aggies are now 3-0 after a 34-0 victory over New Mexico and sit at 14th in national power rankings. The winner of Saturday's Texas A&M-Arkansas matchup could find themselves climbing even higher in SEC rankings.
7. Arkansas Razorbacks: Arkansas is 3-0 but comes in at seventh in SEC rankings and 20th in national rankings. The Razorbacks defeated Georgia Southern 45-10 in Week 3, and an important matchup against Texas A&M awaits.
8. LSU Tigers: LSU won its second game in a row on Saturday, 49-21 over Central Michigan. The Tigers come in at eighth in SEC rankings and 26th in national rankings. Head coach Ed Orgeron and the Tigers have a tough matchup in Week 3 on the road against Mississippi State.
9. Mississippi State Bulldogs: The Bulldogs come in right behind LSU at ninth in SEC rankings and 30th nationally. Mississippi State lost its first game of the season in Week 3 at Memphis, but the Bulldogs have a chance to get back on track in Week 4 against LSU.
10. Tennessee Volunteers: Tennessee ran away with a 56-0 victory over Tennessee Tech in Week 3 and finds itself at 10th in SEC rankings and 55th in national power rankings. The Volunteers have a tough task ahead of them with a trip to Florida on Saturday, but a win would likely see Tennessee climbing rapidly in the rankings.
11. Kentucky Wildcats: Kentucky snuck away with a 28-23 victory over Chattanooga on Saturday, improving to 3-0 on the season. The Wildcats are 11th in SEC rankings and 59th nationally despite their perfect record. Kentucky travels to take on South Carolina in Columbia on Saturday.
12. South Carolina Gamecocks: Quarterback Luke Doty is back, and he is looking to provide a spark on a struggling Gamecocks offense. South Carolina fell 40-13 to Georgia in Week 3, and it hosts Kentucky in Week 4. Through three weeks of the Shane Beamer era, the Gamecocks sit at 12th in SEC rankings and 62nd nationally.
13. Missouri Tigers: Missouri is another interesting team in the SEC, and it sits at 2-1 following a 59-28 victory over Southeast Missouri in Week 3. The Tigers come in at 13th in SEC rankings and 65th nationally. Next up is a tough trip to Boston College on Saturday.
14. Vanderbilt Commodores: Vanderbilt is the only team in the SEC with a sub-.500 record. The Commodores hold the bottom spot in SEC rankings, and they sit at 116th nationally. In Week 4, Vanderbilt must host No. 2 Georgia.