Shaw's Superlatives: The 7th annual Josh Level Classic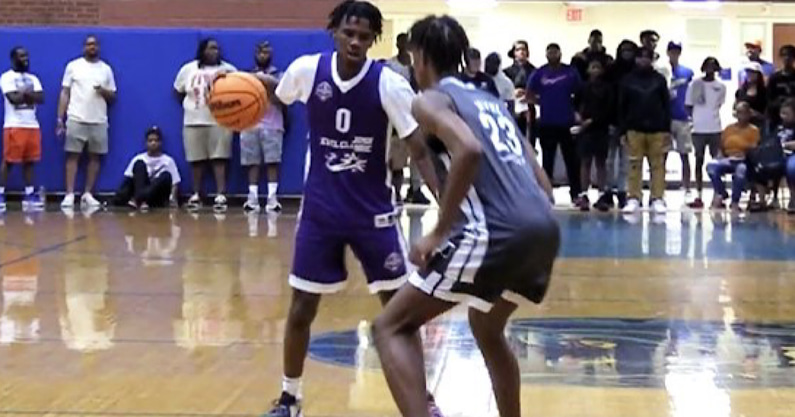 Greensboro, North Carolina – The 7th annual Josh Level Classic came back from COVID with a bang. The best collection of talent the state has seen in quite some time took the floor, and electricity ran through the air. On3 was on hand from start to finish, and here are the awards we are handing out.
Read more about the Josh Level Classic and Smile 4 Josh Foundation
Most Valuable Player
6-1 CG Trey Parker, Vertical Academy
Trey Parker won the dunk contest and then finished with a game-high 28 points. The excitement level he brought to the game put him over the edge. The degree of difficulty on most of his shots was high, but he scored it with skill and efficiency. Parker made plays, whether it be an eastbay dunk in transition or a 35-foot three-pointer off the catch. 
He is a quick-twitch guard comfortable playing on or off the ball. He has a shifty handle that can get him into the paint, but he has a scorer's confidence that makes him a threat for 30 on any given night. Put him in the pick and roll, and his reads can be crisp. Parker is currently On3's No. 98 player in the 2023 class. Even being the only major service to have him presently ranked, he may be in line for a bump after his April EYBL showing and then here. 
Recruitment: Claimed offers from Mississippi State, NC A&T
Most Outstanding Player
6-9 PF GG Jackson, Ridge View High
GG Jackson is On3's No. 1 player in the 2023 class, which was evident in this game. The UNC commitment was simply the best prospect on the floor, and it was not particularly close. Jackson was a matchup problem from the opening tip. The opposing team started guarding Jackson with a guy his size. Jackson faced him up and took him off the bounce, going left and right. 
Jackson has a quick and decisive dribble, one hesitation, and gets downhill. His strides are long in the paint, and his elevation is quick at the rim. He took smaller guys to the mid-post, where he used footwork and length to get shots—a high-level talent when he gets his touches.
Recruitment: Committed to North Carolina
Best Creator
6-0 PG Jaylen Curry, J.L. Chambers High
Jaylen Curry has played in high-level events since middle school. Showings with Team USA U16s, EYBL, numerous camps, etc. Curry is a quick-twitch lead guard who has a crafty handle. What he showed in this game was passing acumen. He created angles and was able to pass his teammates open with a sense of skill and flair. His confidence and his creativity brought excitement to the game.
Recruitment: Claimed offers from Ole Miss, Virginia Tech, East Carolina, Xavier, etc.
Most Explosive
6-1 CG Trey Parker, Vertical Academy
Trey Parker was the most valuable player, but we have to double up the awards with him because no one came close to the explosion Parker showed. He first won the Josh Level Classic dunk contest running away. That performance got the gym buzzing and excited for the game. 
In the game, Parker finished with a game-high 28 points. He consistently shot the ball from DEEP and finished above the rim. There was the back scratcher in the third quarter and the eastbay dunk in transition in the fourth quarter. Each play equally as captivating as the previous. That is not to mention the shot he took from inside the center circle, mid-possession, that splashed nothing but net. Explosive, very, but exciting, mostly. 
Recruitment: Parker claims offers from Mississippi State and NC A&T
Best on Defense
6-5 PG Silas Demary, Jr., Combine Academy
Silas Demary, Jr. is a winner; in this NIL age, you can go ahead and print the t-shirts. Even in an all-star type setting, Demary, Jr. takes defense seriously. If an opposing player scored two in a row, he would demand to switch on to them. Demary, Jr. has a physical frame with great anticipation and a want-to. That is what makes him a winner; what bleeds through his various teams is Demary, Jr.'s willingness to do the tough guy stuff. 
Demary, Jr. also went three for four from beyond the arc in this game and finished with 18 points. He handled the ball, touched the paint, and made plays. Demary, Jr. has lost five games total over the last two high school seasons and two travel ball seasons on the UAA circuit. He has won a state championship and a UAA championship in those two calendar years.
Recruitment: Plans to set visits with VCU, St. John's, Loyola-Chicago, and Providence.
Mr. 50-50
6-6 SF Isaiah Evans, North Mecklenburg High
Being in the right place at the right time is a skill. Isaiah Evans seemed to always be in the right place, whether it be the passing lane, the receiving end of a pass, or even for a rebound. 
The slenderly built Evans finished the game with 12 points, but he could showcase different pieces to his game. He had a solid handle in the half-court, and he showed pop in transition. But it was the way he was always around the ball that stood out. 
Recruitment: Claims offers from Illinois, Tennessee, Texas A&M, Hampton, and Old Dominion.
Best in (Under)class
6-6 PF Kendre Harrison, Reidsville, NC
The Josh Level Classic underclass game was loaded with talent from everywhere across the state; watch for the 2025 and 2026 North Carolina classes to pop nationally. The best prospect in the game looked like it was 2026 Kendre Harrison. 
Harrison is a 6-foot-6 eighth-grader. He has long arms and plays with a lot of pop. There is a sense of toughness to his game that had him viciously protecting the rim and being a ruthless rim bully on offense. As with any middle-schooler, there are a lot of unknowns, namely, how tall will he get? He will need to continue developing his overall skill set. But for right now, as an eighth-grader playing in this underclassman game, Harrison's 21 points helped make him look like he could end up the best long-term prospect on the floor.
Underclass Game MVP
6-0 CG Trevor Best, Word of God
Trevor Best's team won the underclass game, and he finished with a game-high 23 points. It started with a dunk off the opening tip, and Best did not slow down from there. Best is a confident scorer, showcasing range and confidence from three. But where he shined here was his on-the-ball defense. 
The class of 2025 guard carries a Hampton offer, and more should be on the way. He is playing travel ball with the Boo Williams 15u EYBL team.