Shaw's Superlatives: Top play creator in the 2023 class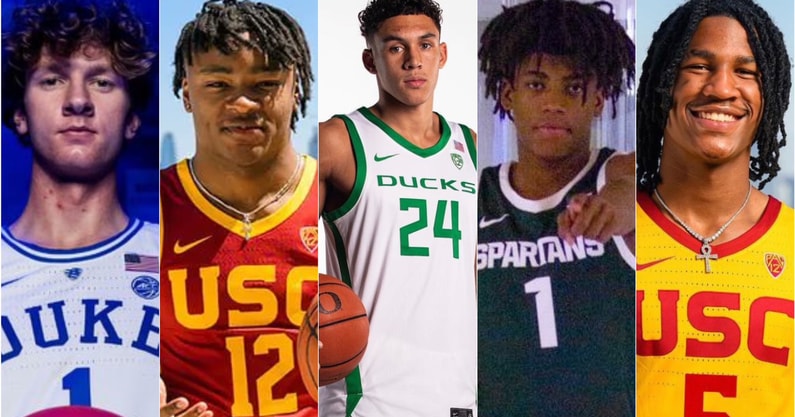 With recruiting almost at a screeching halt, the never-ending search for content landed on the 2023 class. A senior class that saw 95 percent of its top 100 prospects sign during the early signing period. I wanted to dig deeper into the class and hand out some senior superlatives.
The high school season is only a couple of weeks old, so what should you be looking for? Over the next couple of days, I will go through the 'best of' in the senior class. Today we will talk about the most explosive player in high school basketball. Future superlatives going out will include the best rim protector, the most electric, and more.
Best rebounder in the 2023 class | Most explosive player in the 2023 class | Best perimeter Defender in the 2023 class | Top shooter in the 2023 class
Playmaking
NBA champion and five-time All-Star Kevin Love said, "Playmakers are not afraid to fail. They're aggressive and willing to do what it takes to help their team win." A play creator is someone the team trusts to make things go and make everything appear seamless on the floor while elevating the play of others around them. Yes, it seems like a lot, and even more, a lot of what the play creator does, does not stand out in a crowd.
There is a lot of talk of the true play creators being down in the high school game. And maybe that is what makes the best ones stand out because there certainly are some good ones. Here is Shaw's Superlative for the best player creator in the 2023 class.
Five-star PG Isaiah Collier (Southern California)
Height/Weight: 6-2/190
High school: Marietta (GA) Wheeler High
On3 Consensus: No. 1
Isaiah Collier is the top player in the 2023 On3 Consensus, and that is based primarily on his play creation. Collier is a top-level passer; his vision is unparalleled in high school basketball. The five-star has a keen understanding of angles, and he has the ball skills and the pace to create the angles and direct the passes in perfect positions for his teammates to catch them.
Speaking of pace, Collier has excellent burst. Able to get to top speed in a phone booth; however his ability to change gears makes him seem even faster. Collier can put pressure on the paint and finish from multiple angles, even getting up on the rim in traffic. He plays with a toughness and a command of the court.
It is Collier's unique ability to create offense, both for himself and others, that has him sitting at the top of this class.
Other top play creators
Five-star PG Caleb Foster (Duke)
Height/Weight: 6-5/190
High school: Sherman Oaks (CA) Notre Dame
On3 Consensus: No. 14
Four-star SF TJ Power (Duke)
Height/Weight: 6-8/210
High school: Shrewsbury (MA) Worcester Academy
On3 Consensus: No. 23
Four-star PG Jeremy Fears (Michigan State)
Height/Weight: 6-1/165
High school: Joliet (IL) West Joliet
On3 Consensus: No. 38
Four-star PG Jackson Shelstad (Oregon)
Height/Weight: 6-0/170
High school: West Linn (OR) High
On3 Consensus: No. 55
Four-star PG Ty-Laur Johnson (Memphis)
Height/Weight: 6-0/165
High school: Bronx (NY) Our Saviour Lutheran
On3 Consensus: No. 67
Four-star PG Silas Demary, Jr. (Southern California)
Height/Weight: 6-5/180
High school: Lincolnton (NC) Combine Academy
On3 Consensus: No. 69