Steve Spurrier: Quotes From the Quick Tongued Head Ball Coach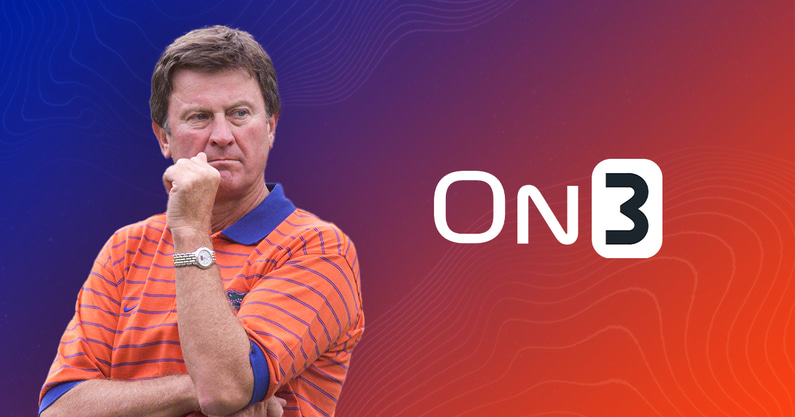 Steve Spurrier, often called the Head Ball Coach, is a legend in college football circles. As a player, he is one of three Heisman Trophy winners to come out of Florida. As a coach, Spurrier won Florida's first six SEC titles and its first national championship. He tried his luck in the NFL, but things didn't work out. So, Steve Spurrier headed to South Carolina, where he took the Gamecocks job. There, he gave South Carolina their best seasons as a member of the SEC. He even won a defacto AAF championship in 2019 for the Orlando Apollos.
In a long and successful career, Steve Spurrier made a name for himself because of his larger-than-life personality. Quick-witted and never afraid to say what's on his mind. Steve Spurrier is one of the most quotable coaches ever.
10 Best Quotes From Steve Spurrier
"I'm not one to say 'no comment' whether I am right or wrong, but especially if I am right."
"There are no Vanderbilts in the NFL."
"I don't really believe that how many years you've had in the league determines how well your players play. Coaching is coaching."
"He's (Danny Wuerffel) like a New Testament person. He gets slapped upside the face and turns the other cheek and says, 'Lord, forgive them, for they know not what they're doing.' I'm probably more of an Old Testament guy. You spear our guy in the earhole, we think we're supposed to spear you in the earhole. That's kind of where we're a little different."
"You can't spell Citrus without U-T."

"A few fans might want to yell some insults at me, which is fine. I've heard it all before. Hurl insults. Just don't hurl bottles, and I'll be fine."

"It is embarrassing, and I apologize because this is a guy we recruited. When you recruit one and they are troublemakers, or appear to be, it makes you feel bad. So we have to do a better job of recruiting the right kind of kids. We're going to mess up occasionally, like we did with this one guy."
"I forgot to get fired, and I'm not gonna cheat. That's the way you lose your job: You get fired for losing, or you cheat."
"Will be the 14th time I've coached in Neyland Stadium. I've coached there more than some of their head coaches."
"All I can say is that I'm going to try to coach the way I've coached in the past. And if it ends up not being good enough, then so be it."
Inspirational Quotes From Spurrier
"Back in January, they appointed this guy, and he's 77 years old, and he's the leader of a billion people in the world. They call him The Pope, and he replaced a guy that was 85 years old. So if he can be the leader of over a billion people worldwide, surely I can get 11 guys on the field."
"I don't want to coach too far into my 60s. By then, I'll be playing golf four or five times a week."
"What I've been telling everyone that loves Carolina football is that we are going to put a team out there that, number one, is in good shape. We're going to be fit, we are going to be able to play the whole game and we're not going to poop out"
Leadership Quotes From Steve Spurrier
"He told me I'm a tough act to follow. I told him that's why he got hired. Some of those coaches that had really great jobs, they didn't want to touch it."
"Well, we can't trade 'em. So I guess we have to coach 'em."
"We've got a support system that gives our players a wonderful opportunity to graduate. If they go to class and give good effort they can graduate from this school, and I believe that's important when you go out recruiting."
"The fun thing about here is that no one says, 'That doesn't work in the NFL.' I haven't heard that here."
"We don't need a lot of cookies on Thursday afternoon before games. No, my background as a coach, we've never liked showering the guys with a lot of praise before the game. I don't know how that helps."
Funny Quotes From Spurrier
"In 12 years at Florida, I don't think we ever signed a kid from the state of Alabama. Of course, we found out later that the scholarships they were giving out at Alabama were worth a whole lot more than ours."
"You know what FSU stands for, don't you? Free Shoes University."
"Most of our guys have never been to Death Valley. LSU's stadium is the Death Valley, isn't it? Or is there another one? There's two of them. That's right. There's two Death Valleys."
"I know why Peyton came back for his senior year. He wanted to be a three-time star of the Citrus Bowl."
Team Attitude Quotes From Steve Spurrier
"I didn't say we are going to win a lot. But we are going to play like winners, and we've got a plan in place to teach our guys how to play like winners and play like a champion."
"So you get two good hours on the field about every day, you get about an hour and a half in the meeting room and that's pretty much all you need to thoroughly coach your team."
"You think I make the schedule? If I made the schedule, Georgia would be playing LSU and we'd be playing Ole Miss."
"If you want to read about some full-blown fights, read about the Tennessee players, not our guys."
Success Quotes From Spurrier
"The guy who said defense wins championships hasn't watched us a lot."
"It was a lot more fun hanging around the SEC than it was the other league I was in a couple of years."
"Why is it that during recruiting season they sign all the great players, but when it comes time to play the game we have all the great players? I don't understand that. What happens to them?"