Takeaways from Mississippi-Alabama All-Star Game practice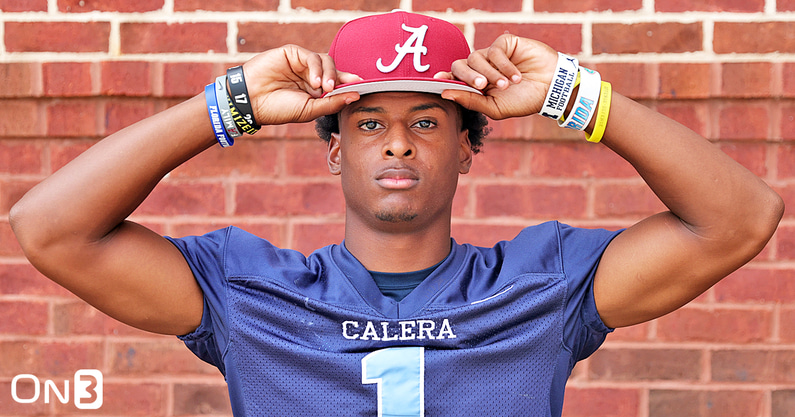 Hattiesburg, Miss. – The 2021 Mississippi/Alabama All-Star Game practices are underway with the game scheduled for noon Saturday. 
On3 took in the Team Alabama practice Wednesday afternoon. While not possessing the mammoth size of the Team Mississippi defensive line, the same position is a strength for Team Alabama.
Team Alabama has the upper hand at quarterback and running back in the game with game-changer and Alabama commit Kobe Prentice at receiver. Here are On3 National Analyst Gerry Hamilton's takeaways from the morning practice.
Alabama defensive line has balance 
The state of Alabama will likely produce an all-time class of defensive linemen in the 2023 cycle. Before On3 turns to the 2023 page, there is one more good look at a talented 2022 cycle in-state. 
The most consistent and overall best player on the loaded defensive front has been one-time TCU verbal Trevon McAlpine (Saraland, Ala.). The 6-foot-3, 280-pounder converts quickness and speed to power wonderfully. Makes use of his arm length and strong hands to perfection at times. Has won the vast majority of his live reps, and has lived in the backfield for two days. On the recruiting front, McAlpine is expected to sign with either Texas Tech or Oklahoma State December 15. That is, unless some SEC teams wake up this week and realize he's good go let get away. McAlpine will make the move to four-star for On3 in our final rankings update. 
On3 Consensus 4-star EDGE and Texas commitment Justice Finkley (Trussville, Ala./Hewitt-Trussville) has been given constant praise by the team Alabama coaching staff this week. Among the things the coaches really like is the motor, physicality, speed to power, intelligence to pick things up in one rep and a high-level communicator. The 6-foot-2, 255-pounder creates a jolt on contact and then runs the feet through the opponent with the eyes up and reacts to the ball. 
Auburn signee Caden Story (Lanett, Ala.) and Florida State commit Antavious Woody (Lafayette, Ala.) have both flashed their talents this week. Wood has an athletic looking frame with plenty of upside. He's shown to be light on his feet with very impressive hip and ankle flexion this week. Should he play on the interior for the4 Seminoles he will have the ability to "get home" as a pass rusher. Story has a strong lower trunk, and impressive initial pop on contact. 
Another Auburn commit has impressed off the edge. On3 Consensus 3-star LB playing EDGE this week Powell Gordon (Auburn, Ala.) has flashed his ability to get to the passer. He flexible and quick off the line, understands angles extremely well, and stays balanced and under control. Powell averaged a sack per game as a senior, and On3 expects that to continue Saturday. 
Two future rivals will star at wide receiver 
Alabama commitment Kobe Prentice (Calera, Ala.) will be nicknamed the Tesla by On3 from here on out. He is a blur to to top end speed, and his gear down is just as impressive. He's a bit smaller than a blue blood ideally wants at the position, but his combination of quickness and speed is extremely high-end with pads on. He's also shown to adept at creating space out of cuts and a natural arms extended plucker in traffic. He will impact the game after the catch, and as a punt return too in Tuscaloosa. Forget the rich get richer, the rich get even faster here. 
Auburn commitment Omari Kelly (Trussville, Ala./Hewitt-Trussville) has shows quality wheels and the ability to track the ball this week. The On3 Consensus 4-star is good off the line, has the feet to create separation out of cuts and has impressed by not giving cornerbacks an early idea of the ball headed his way on vertical routs this week. He possesses the arm length to pluck in traffic or in attached 50-50 jump ball situations. 
Future Ole Miss running back has impressed
The Ole Miss 2022 class has impressed for both teams. On3 Consensus 3-star running back Quinshon Judkins (Pike Road, Ala.) has been tough, physical and showed enough pop this week to make a difference for the Rebels. With a very good running back body type and good feet in the hole, expect Judkins to be a tackle breaker to burst to the second level in the SEC. He has also displayed play maximizing body lean.  
And there is speed at DB headed to Ole Miss
One of the fastest players in the nation is On3 Consensus 3-star cornerback Jarell Stinson (Opelika, Ala.). Let me be clear, I believe the Ole Miss 2022 class has one that will be looked back upon as undervalued, should many of these guys come close to maximizing their potential. In Stinson, he has real speed. The explosive ability shows up in drills, 1v1s and even racing to get a water bottle. This dude can flat out run. What may have impressed most this week is his willingness to play safety for team Alabama. It says a lot about his makeup. He possesses very good feet, tremendous long speed and good eyes. That's a terrific combination. 
Two recruiting nuggets
On3 Consensus 3-star IOL Drew Bobo (Columbia, S.C./Auburn High) is not likely to sign with Auburn. On3 likes Georgia's chances as of Wednesday afternoon.  
Massive offensive guard prospect Anez Cooper (Pleasant Grove, Ala.) is a lock for the Auburn Tigers, should they decide to take him. Cooper is one of the success stories in the 2022 cycle after dropping from 398 pounds to 352 in the last few months.