Takeaways from On300 LB Tackett Curtis' second-round playoff game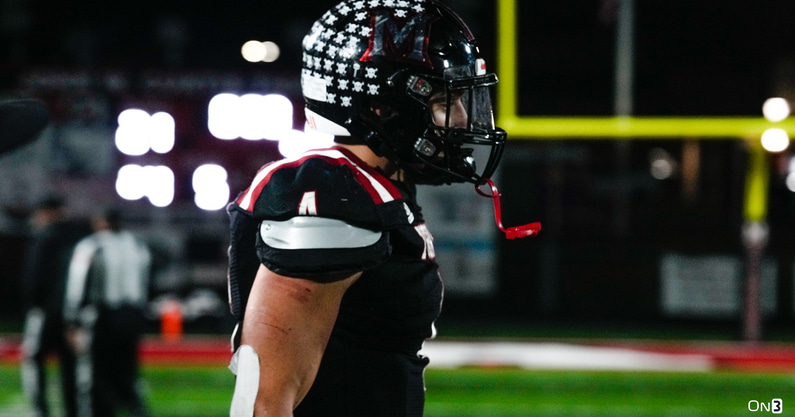 MANY, La. — On3 was on hand for Many (La.) High School's season-round playoff opener on Friday night in Northwest Louisiana. Despite being a small school right on the border of The Boot and Texas, Many boasts talent in groves across the roster.
On300 USC LB commit Tackett Curtis made plays on both sides of the ball en route to a 21-0 regional round victory. Many 2024 hybrid DB Tylen Singleton and IOL Joseph Cryer were equally as impactful at their respective positions in a hard-fought clash against visiting Monroe (La.) Richwood.
This On3 analyst has been on the sidelines for more in-person evaluations of Curtis than any other national analyst in the country. Let's dive into how the USC commit and his talented 2024 teammates fared in the game:
USC commit Curtis shines playing two ways
Tackett Curtis got the start under center for Many and called his own number to tote the rock on several occasions. At 6-foot-2.5 and north of 220 pounds, the USC commit is built to run through would-be tacklers and is a force to bring down in space for opposing defenses. A first-half touchdown run was called back after Curtis dispelled several defenders en route to the end zone in which he looked unstoppable going up against a host of Richwood players.
Curtis' two second-half touchdowns came with more tough runs and another in which the USC commit got loose and turned on the jets. The same athleticism is on display defensively, too. Playing in the middle on the defense about 10 yards off the line of scrimmage and a traditional inside backer, Curtis flies to the football and has fantastic closing speed. The Consensus top-10 LB is not only a sure tackler, but wraps up with authority. His downhill style opens up the door for turnovers and momentum-altering plays on defense.
Curtis is one of the best linebacker prospects that's come through Louisiana in several years and has shown a flare for coming up with timely plays on both sides of the ball in critical moments, particularly as a senior against Arch Manning's Newman team and early in this postseason.
On300 DB Singleton plays tough
Tylen Singleton has been a dynamic Robin to Curtis' Batman on Many's defense for the past three seasons, and at this juncture in the season I don't know if this analyst has seen a harder-hitting defensive player during a live evaluation this season. Singleton, the Consensus No. 1 player in The Boot for next year's recruiting cycle, not only takes direct paths to the football but lowers his shoulder with incredible conviction. His physical prowess is a major aspect of his game, which opens up the door for big plays behind the line of scrimmage and game-changing plays as well as some missed tackles along the way.
Singleton lines up in multiple spots from high safety, off-ball linebacker and in man coverage on the perimeter on passing downs. He has noticeable straight-line speed and flashes in pursuit of the ball carrier and is dangerous patrolling outside runs to the sideline. He came away with multiple passes defended against Richwood, including one in the end zone and again in the red zone with the first half winding down. Singleton is rarely asked to drop back vs. the pass due to the competition, but is consistently up to the challenge and uses his length and quickness to his advantage.
At 6-foot-2 and 200 pounds, Singleton is a hybrid defender built in the same mold as Jacoby Matthews (Texas A&M) or Derek Williams — as highly athletic safeties that are built up physically and instinctive enough to operate near the line of scrimmage and effect the passing game as a rusher or in coverage — and Singleton has a similar impact on games. The in-state Tigers narrowly lead Texas A&M, Arkansas and Ole Miss on On3's Recruiting Prediction Machine. TCU and Notre Dame are two other major programs to keep an eye on with Singleton.
Stock up for IOL Cryer
Joseph Cryer is already etched as one of the top interior offensive linemen in the 2024 recruiting cycle and the 6-foot-4, 290-pounder continues to ascend with his aggressive blocking style and ability to dominate at the point of attack. Working at both tackle and inside at guard for Many, Cryer is quick off the line and plays with good leverage and power from his lower body. He's a classic road-grader that projects inside on Saturdays and flashes with his nimble feet as well as continued development at the position.
Cryer not only sets the tone with his play style, but coaches rave about his presence in the locker room and in the huddle. That is certainly evident from the in-person evaluation. Stock up for Cryer, who's a well-versed, energetic country-strong lineman. Louisiana Tech is narrowly leading Nebraska on the RPM for the Louisiana IOL. Michigan State is another team to watch here.