Light the cigars: Tennessee slays the dragon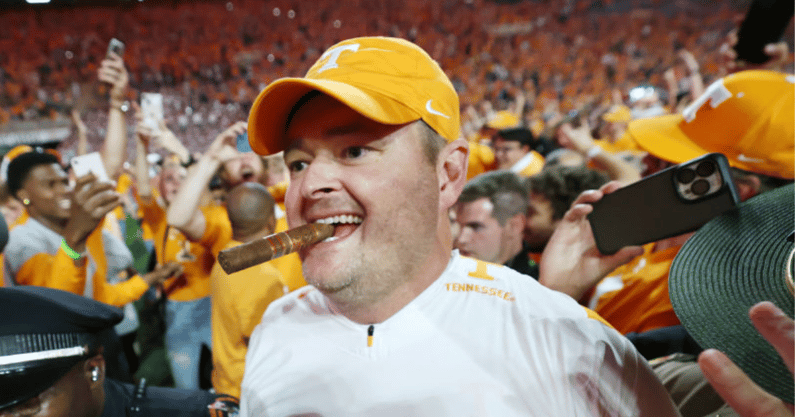 KNOXVILLE, Tenn. – The ball came off Chase McGrath's foot and knuckled its way toward the south goalposts 40 yards away, flying low like a dud of a firecracker.
McGrath, a sixth-year Tennessee senior, had missed an extra point in the third quarter. When he came on the field with 2 seconds left, with the score tied 49-49 and a chance to end the torment that No. 3 Alabama has inflicted on Volunteers fans for 16 years, those fans didn't think about how McGrath had made 216-of-217 extra points in his career before the third quarter. They just held their breath.
"Honestly, it wasn't my cleanest hit," McGrath said.
It was only a dud until it slipped inside the left upright and No. 6 Tennessee, at long last, had defeated Alabama 52-49. In a manner of minutes, a good portion of the 101,915 fans at Neyland Stadium covered the field. Students, alums, children, all of them came over the wall to set off the happiest kind of riot. This is what it feels like to slay a dragon.
It's hard to jump up and down, light the cigar that signifies victory in this rivalry and hit the video button on your phone, all at the same time. But they tried.
Over here, a student with an ear-to-ear grin smoked a cigar. So did her date.
Over there, a man and a woman on the back side of middle age carefully traversed the stairs to "rush" the field.
The south goalposts, the ones that surrounded McGrath's winning kick, came down first.
Near midfield, the mass of humanity made room for Vols receiver Bru McCoy and his cigar, his fellow students reaching out to him and others chasing after him. McCoy's 27-yard catch at the Tide 23 set up McGrath's kick.
Then the north goalposts came down. The base got carried out the northeast tunnel. Fans held an upright aloft and carried it downfield.
Athletic director Danny White and coach Josh Heupel posed in the locker room, cigars shoved in their grins. "I knew it from the moment I got here," Heupel said. "Tonight was for our players, our former players. It's for our donors. It's for our fans. I know what this has meant for Tennessee, the Vol Nation."
Heupel might think he knew, but there's no way he understood the relief that his team provided. It had been 16 years since Tennessee had beaten Alabama. It had been 33 years since the two teams came into the game with unbeaten records. The Third Saturday in October in 1989 happened the same week as the earthquake that interrupted the World Series. It happened three weeks before the fall of the Berlin Wall. The Dow stood at 2,683.20.
It's been a minute. The Crimson Tide has held up its end of the bargain – this is the 16th season since 1989 in which Alabama arrived at the Tennessee game undefeated. For the Vols, it's only the third, and the first since the 1998 national championship season.
Alabama beating Tennessee had become a given, as dependable in SEC Country as a Waffle House. And it looked as if the Tide had figured out a way to do it again, even after spotting the Vols a 21-7 lead in the first quarter. Tennessee exploited Alabama's considerable flaws: penalties, the secondary, an offensive line that can't sustain an inside running game. Alabama fought back behind Bryce Young, who looked nothing at all like a quarterback whose sprained shoulder over the past two weeks surpassed Gallettes as the most important joint in Tuscaloosa. He threw for 455 yards and two touchdowns, with no interceptions and only one sack.
He also patiently steered the Tide to a 49-42 lead midway through the fourth quarter. It appeared as if the Alabama jinx over Tennessee would hold. Instead, Alabama executed a reprise of their loss at Texas A&M a year ago. The Tide fell behind early before a hostile crowd, clawed back to take a touchdown lead midway through the fourth quarter, then surrendered 10 points on the last two possessions.
The school records that each team set gave an accurate portrayal of the game. Vols junior Jalin Hyatt caught five touchdown passes; Alabama committed 17 penalties for 130 yards. The one that hurt the most came midway through the fourth quarter, after Alabama had taken that 49-42 lead. A pass interference call on safety Malachi Moore negated an interception in the end zone that cornerback Kool-Aid McKinstry returned 82 yards to Tennessee's 18.
Instead of being in the red zone prepared to take a two-score lead in the waning minutes, Alabama sent its defense back on the field, where Hendon Hooker had a first down at the Tide 13. On the next snap, he threw that fifth touchdown to Hyatt.
The Tide had 3:26 left to drive downfield and break the tie. Alabama only got as far as the Vols' 32, and kicker Will Reichard's 50-yard field goal with 15 seconds to play had plenty of leg but sailed wide. Reichard, who kicked a field goal with no time remaining last month to beat Texas, has missed three in the past two games.
"It's a very disappointing loss," Alabama coach Nick Saban said. "We didn't answer the bell today. Obviously, there's a lot to work to be done. Way too many penalties. We did too many things to help them."
This Tennessee team is a testament to how college football is changing. Heupel's shrewd use of the transfer portal allowed him to quickly assemble a roster that allowed him to implement his style of an up-tempo spread offense. Hooker, nee Virginia Tech, threw touchdown passes of 36, 11, 60, 78 and 13 yards, all to Hyatt. McGrath has kicked only one other game-winning field goal in his career – for USC against Texas in 2017. Young was a sophomore then at Santa Ana (Calif.) Mater Dei – where he had been a teammate of McGrath's the season before.
Alabama looked as befuddled against Heupel's offense as every other defense this season, only more so. That's the most points Alabama has allowed since 1907, exactly 100 years before Saban arrived in Tuscaloosa. The Tide couldn't get lined up against an offense that sometimes snapped the ball with 34 seconds showing on the 40-second clock. And when it did, the secondary had no answer for Hyatt, Hooker's favorite target. He caught six passes for 207 yards and those five touchdowns.
Heupel and four players didn't arrive in the interview room until almost 90 minutes after the game. You could see the joy on their faces, all save Hooker, the imperturbable veteran who has played himself into Heisman contention. Everyone else talked about the significance of the victory. Hooker spouted the one-game-at-a-time talk that coaches love. And there was one part of the celebration to which Hooker said no thanks.
"I didn't smoke one," Hooker said. "I don't smoke cigars."
On this night, on this campus, he may be the only one.