All hail Terry Baker, the only man to win Heisman and play in the Final Four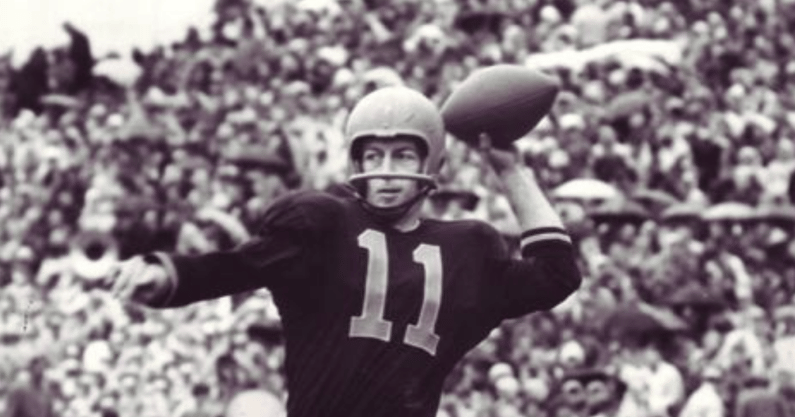 Terry Baker, who will turn 81 years old this spring, has eluded fame with the same grace and fluidity with which he eluded defenses at Oregon State six decades ago. Baker reclaimed his privacy despite an achievement that time has shown to be as untouchable as Joe DiMaggio's 56-game hitting streak or Byron Nelson's 11 consecutive PGA Tour victories.
As an Oregon State senior quarterback in 1962, Baker won the Heisman Trophy. Six days after leading the Beavers to victory in the Liberty Bowl, Baker returned to his job as Oregon State point guard and led the Beavers to the Final Four.
One year, one Heisman, one Final Four.
The Heisman began in 1935, the Final Four in 1939, and no other player has come close to duplicating Baker's feat. Charlie Ward, who won the 1993 Heisman as Florida State's quarterback, started at point guard for the Seminoles, but they went 13-14. Julius Peppers, Ronald Curry, Tony Gonzalez – none of them combined individual and team success the way Baker did.
Baker, who was 6 feet 3 and 195 pounds, led the nation with 2,276 yards of total offense, averaged 13.4 points per game on the court, threw for three touchdowns and rushed for three more in a 39-35 victory over Iowa State, moved to forward and scored 25 points in a 65-58 victory at Stanford, got carried off the field on the shoulders of his teammates after a 20-17 win against archrival Oregon, and made the All-West basketball team.
"There's a tremendous amount of happenstance and luck in life," Baker said.
Baker had the good fortune to play for two Hall of Fame coaches – Slats Gill (as in Gill Coliseum) in basketball, Tommy Prothro in football. On the court, Baker played with center Mel Counts, who went on to a long NBA career.
But happenstance? Baker might have had something to do with his unique success, too. You'll just never hear it from him. The retired attorney remains as unimpressed with himself now as he was six decades ago, when to Sports Illustrated he represented the beau ideal of American sports. Beau ideal may sound like a five-star quarterback from Louisiana; it's a French term meaning the best example of someone or something.
To the Manhattan-centric sophisticates who edited the young magazine, college athletes in the early 1960s already seemed mercenary. Baker, a mechanical engineering major who aspired to medical school but went to law school instead, oozed intelligence. As quarterback, point guard and president of his fraternity, he glowed with leadership.
SI put him on the cover in 1961 and made him Sportsman of the Year for 1962. On that SI cover, Baker wore a shirt, tie and cardigan sweater. As a newsreel announcer of the day gushed, "Ah, yes, he's the All-American boy!"
So many things in today's world would work against Baker doing what he did six decades ago. The crush of social media. The rise of the youth sports industry. Specialization. As you may guess, one of the best multisport college athletes of the last half of the 20th century looks askance at specialization. For one thing, Baker didn't grow up with the money it takes to play travel anything. For another, Baker did what boys of his generation did – played whatever was in season. He just did it longer than most and, for one season, better than all.
Baker won the Heisman as a senior because he played well, because Oregon State went 8-2 and because Oregon State sports information director John Eggers had the novel idea of mailing a press release to 100 Heisman voters across the country each week with Baker's stats, notes, and quotes of praise.
A western player needed that in those days. No one west of the Rockies had won the Heisman. The national media, such as it was, resided on the east coast. Baker won the Heisman vote by a comfortable margin over LSU back Jerry Stovall.
Baker, en route to the Heisman black-tie dinner in New York, stopped off in Philadelphia. As a member of the Look magazine All-America team, Baker watched the Army-Navy game and met President John F. Kennedy, who attended the game.
"What absolutely blew my mind," Baker said, "was when he came to me to shake hands, he said, 'You're going to be seeing my brother (Attorney General Robert Kennedy) in a couple of days.'
"I said, 'I am?'
"He said, 'Yes, he's going to present you the Heisman Trophy.' Here I thought, 'This guy knows more about my schedule than I knew myself!' "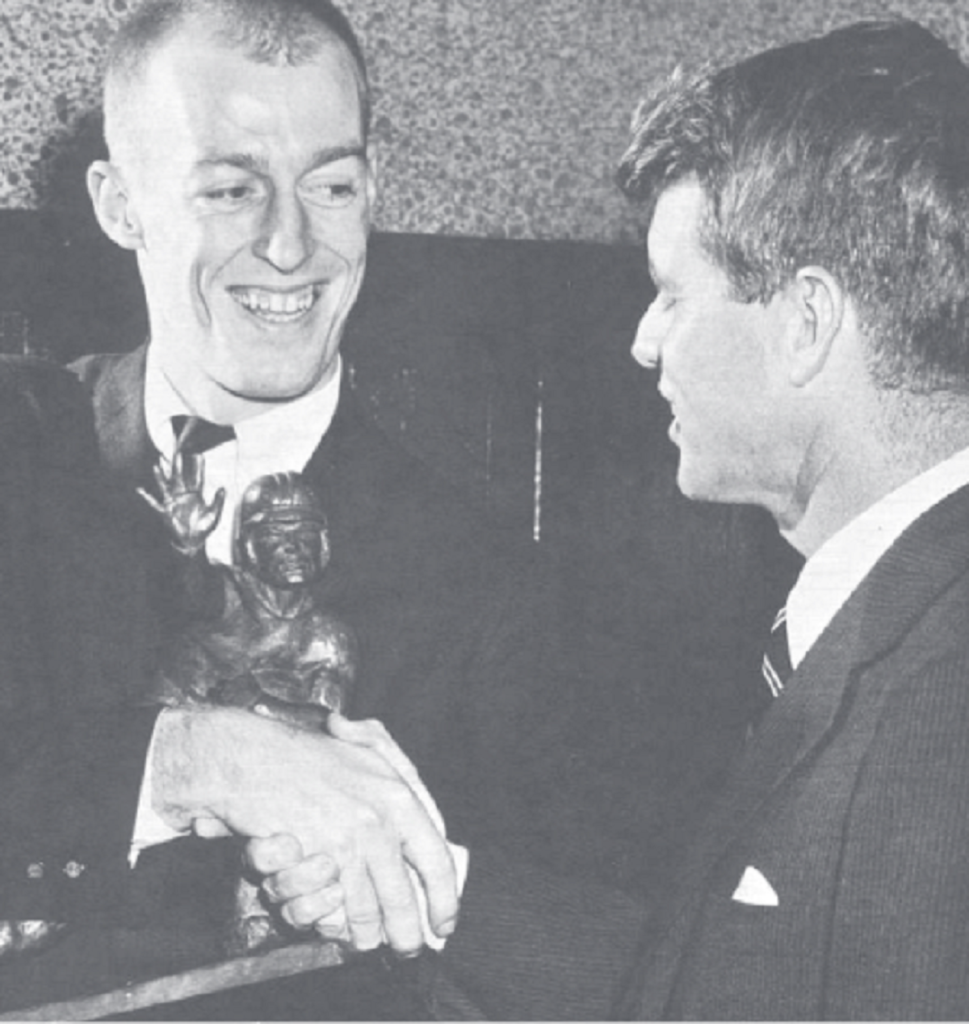 Baker recalled being amazed at how Robert Kennedy, sitting to Baker's right, worked on the Heisman speech right up to the moment he stood to give it, chatting with Baker all the while. "His assistants would bring out a draft," Baker said. "He'd cross things out and give it back to them. They would work on it some more, and they would bring it back."
Robert Kennedy played end at Harvard in 1947.
"When I received the letter from the Heisman award committee, I thought for a second that it has been delayed in the post office for 15 years," Kennedy said in his introductory speech for Baker. "With respect to the Heisman awards and the big three – Harvard, Yale and Princeton – the name of the Yale winner started with 'K,' Larry Kelley. So, also, the Princeton winner, Dick Kazmaier. The Ks at Harvard are still dying with suspense."
Out of that dinner began a relationship with Bobby Kennedy that lasted to the end of the politician's life. Kennedy, after his brother's assassination in 1963, would be elected to the U.S. Senate from New York. When he ran for president in 1968, Baker, living in southern California, participated in the campaign.
"I flew up with him on a couple of flights to Oregon," Baker remembered. "I would have been with him that night he got assassinated. I was moving back to Oregon that very next day. We had packed up our cars. My wife's parents wanted us to have dinner that night before we left. I opted out of being at the hotel."
Kennedy made a victory speech at the Ambassador Hotel. An assassin shot him as Kennedy exited through the hotel kitchen. He died the next day.
'He never ceases to amaze me'
In an era when college athletes train 12 months a year, it's hard to understand the mental and physical toll that playing the two biggest college sports took.
While in New York for the Heisman ceremony, Baker and some other All-Americans appeared on The Tonight Show; Johnny Carson was in just his third month as host at the time. After the Heisman dinner, Baker flew home for a week, then flew back across the country with the Beavers to play in the Liberty Bowl in Philadelphia (the Liberty Bowl didn't move to Memphis until 1964). Late in the first quarter, with the Beavers backed up inside their 1, Baker took a snap and rolled left. He stepped out of a tackle in the end zone, turned the corner and stepped out of another tackle at the 10 and took off. It's hard to say sprinted; though Baker wore sneakers instead of cleats, the frozen field made speed a rare commodity. But no one caught him. Baker's 99-yard touchdown stood for the rest of the Liberty Bowl and Oregon State won 6-0.
"Every time I ran and got tackled, I had the ball in my left arm," Baker said. "Going across that frozen field took the skin off my wrist. Playing on that field was hard."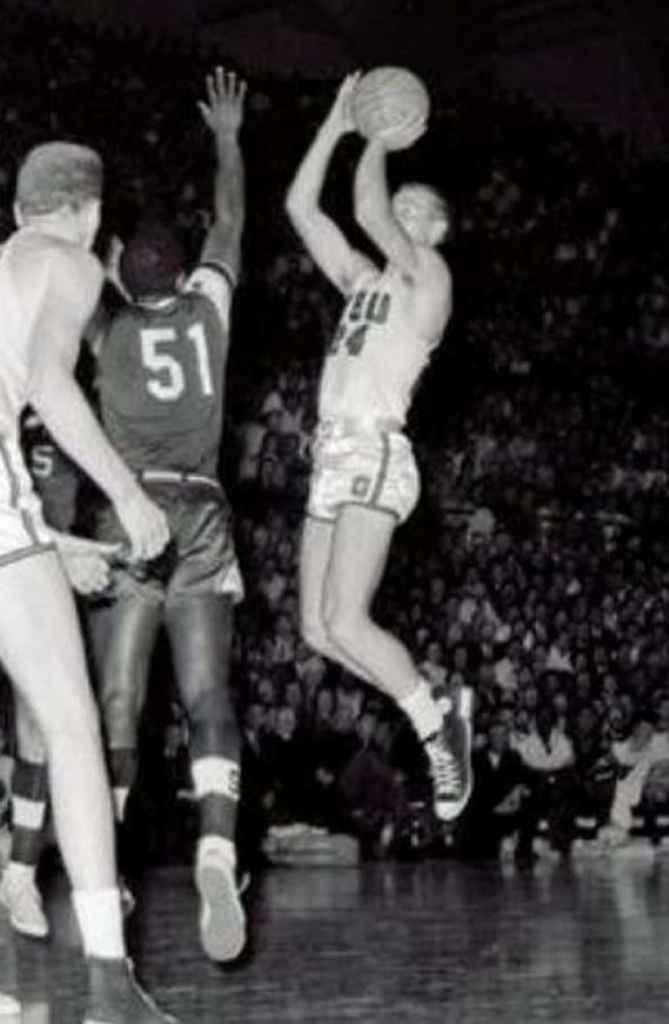 When the football team took a celebratory trip to Manhattan, Baker flew back across the country for basketball practice. He got home Sunday night and practiced until Wednesday, when the basketball Beavers flew, yes, across the country to play in the Kentucky Invitational. On Friday, December 21, six days after football season ended, his left wrist still raw, Baker resumed his basketball career.
He played 35 minutes one night, 36 the next.
The Beavers split those games, flew back home, and won 10 of 11. During the regular season, Oregon State went 3-3 without Baker, 16-4 with him. After one victory, Gill said of Baker, "He never ceases to amaze me."
But Baker wore down. He missed late-season games with an infected toe, then picked up the same pace. Oregon State grabbed an at-large bid, then won three games to reach the Final Four. UCLA, which had defeated Oregon State in the Elite Eight the previous year, was upset in the Sweet 16 by Arizona State. The Beavers defeated the Sun Devils easily to earn the trip to Louisville.
In the first game of the Final Four, Oregon State played two-time defending national champion Cincinnati. The Bearcats led 30-27 at halftime. They won 80-46. In 27 minutes, Baker went 0-of-9 from the field, missed his only free throw, had no rebounds and committed six turnovers.
"You can count on one hand the number of under-par performances the All-American quarterback has had in any sport, college or high school," Eugene (Ore.) Guard columnist Dick Strite wrote.
"I just had a poor game," Baker said. "I was absolutely worn out. I couldn't sleep at night back there."
He had been invited to play in a college all-star game the following weekend. Instead, Baker flew back to Oregon and went to see a doctor. Baker relaxed for all of two days. On the following Wednesday, the Los Angeles Rams, who had selected him with the first pick of the NFL draft, held a news conference to introduce him.
Baker played three years with the Rams, one year in the CFL, then began a long, fulfilling law career. He understands he is known as a former Heisman winner, but he never made it his identity (he doesn't live in the Heisman House on the ads). He never was only a football player.