The five toughest decisions in the 2023 rankings update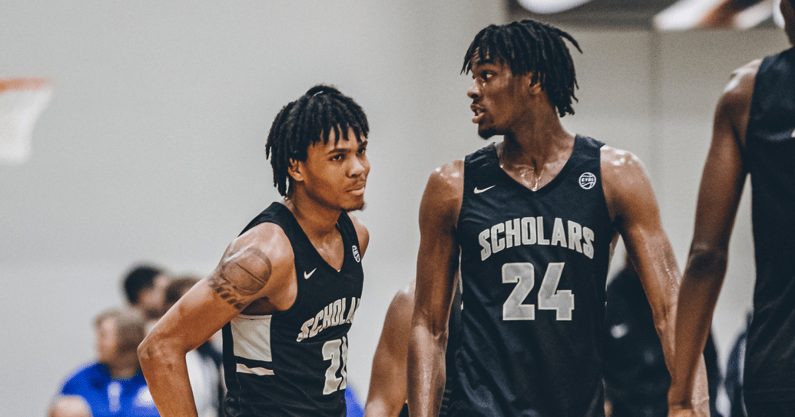 The 2023 class is a tough one to rank, especially at this point in time. There is no clear-cut stud in the class, and the production output, for the most part, has been a mixed bag across the board. This class has produced the toughest conversations we have had as a team. Here are the five toughest decisions we had in the 2023 rankings update.
1. Who do we put at No. 1?
This question was the most glaring our team discussed. We all know rankings are judged by the top 20 to 25 guys, so when GG Jackson reclassified, we knew this would be big.
GG Jackson was the only player On3 ever had atop its 2023 rankings. The pool of players was again narrowed when No. 5 Ugonna Kingsley announced he would also be reclassing. Heading into Peach Jam, there were three players in the discussion: Robert Dillingham, Isaiah Collier, and DJ Wagner.
Coming out of Peach Jam, Justin Edwards and Mackenzie Mgbako also played their way into the conversation. Isaiah Collier was an interesting one. He is clearly the best point guard in the class, and he had been playing and an entirely different level since December. However, he has not played since May due to injury.
There is no clear-cut No. 1 player in this class. With Jackson now gone, the top spot is a fluid situation that may have two or three different players sit atop the rankings. However, for now, looking at Wagner's resume, we felt it was his time.
2. What do we do with Ron Holland?
It was an up and down EYBL Circuit for Ron Holland. A quick check with Synergy and through 19 games with Drive Nation, Holland averaged 6.8-points and 4.0-rebounds per game while shooting 29-percent from three, 43.6-percent from the field, and 57.9-percent from the free throw line.
However, a quick look at what Holland did in the u17 FIBA World Cup shows a different story. The 6-foot-8 forward was second on Team USA in points, minutes played, and efficiency. He was third in rebounds and fifth in blocked shots.
Holland has long been a player discussed among the top of this 2023 class. He just led Duncanville (TX) High to its third straight Texas 6A state title. He averaged 15.9-points, 7.9-rebounds, and 2.0-steals per game this season, shooting 58-percent from the field.
So you can see why this was a conversation. At the end of the day, we have had many Ron Holland viewings, and despite the most recent being mediocre to sub-par, he has done enough to stay in the top ten, for now.
3. How do we weigh the upside vs. production with Xavier Booker?
There is no denying the fact Xavier Booker may have more NBA upside than any player in the 2023 class. However, at his current state, there is a sizable gap between his floor and his ceiling.
The old recruiting adage states that with big men, you should give them time to develop at their own pace. You often see bigs reach their early to mid-20s before even sniffing their ceiling. And this is really hard to gauge, whether or not to bet on someone to get there.
A quick look at the Pangos All-American Camp is an excellent example of Booker's summer. In his first game, he was brilliant; 28-points and 9-rebounds on 12-of-15 shooting and 4-of-5 from three. However, in the subsequent games, the 6-foot-10 never gathered more than five rebounds in a single contest, and he averaged less than 1-block per game.
Camp settings are a tough gauge for bigs; they are so guard-dominant, especially in June when players are tired from flying all over the country. However, a look at the NBPA Top 100 stats, Booker averaged 3.0-points, 3.2-rebounds, and 0.4-blocks per game. In the five games, he shot 42.8-percent from the field and was 1-for-5 from three.
During his last event in July, he showed more of these consistency questions. He had games of 18-points and 21-points only to be intertwined with games of 3-points, 2-points, and 3-points. This is just kind of where we are at with Booker in this stage of his development.
There is a mixed bag for Booker. It is hard not to acknowledge the incredible upside, but we had to drop him with his performances against some of the country's best. Booker remains a five-star, but he is the very last one listed, and that ranking could go either way with the next update.
4. How do we sort out the centers?
For the longest time, the discussion of the 2023 class was it was down for centers. However, over the last year, you had several centers emerge to make the class a bit deeper.
However, as the question-mark continued to disappear, the discussion became how do we rank the fives. Players like Baye Fall, Aaron Bradshaw, and Isaiah Miranda have been at the top of the class for more than a year. They continue to show upside and continue to produce each time on the floor.
Then there are guys like Xavier Booker, JP Estrella, and Blake Buchanan, who came on like gangbusters over the past 12 months. Their frames are filling out, as is their on-the-court production. It is easy to look at both and see an incredibly bright future.
You have the meat and potato bigs—the guys who simply go out and produce double-doubles on a nightly basis. While Brandon Garrison, Ladji Dembele, Papa Kante, Rashaud Marshall, and Sean Stewart won't win many style points, their appeal comes in their love of the dirty work.
A stark difference to the uber-productive guys is the long-term projection guys—players who flash the upside and have eye-popping physical traits but still need a little more time. Guys like Jacob McFarland, Devin Williams, and Dennis Evans all are long-term bets, but guys who have shown enough to have our attention.
Grading centers is an inexact science. In today's game, there is such variance in what successful teams do with the position. In our rankings, we gauge toward NBA upside. In our ample viewings of each of these players through the past few months and in conversations with college coaches and NBA scouts, we did our best calculations between production and projection.
5. What do we do with Bronny James?
Perhaps no other player in the 2023 class is under a bigger microscope than Lebron 'Bronny' James, Jr. He has finally been able to adjust the lens with which people watch him.
Spoiler alert, Bronny is not Lebron, and it seems like 2022 Peach Jam people finally realized that. That does not mean they didn't sell out every game he played because they did.
The eye test told everyone watching that Bronny was consistently good in his six games. He knocked down shots, defended the point of attack, and he took care of the ball.
A look at Synergy says the stats tell the same story. Bronny's defense at Peach Jam was graded out as 'very good,' giving up only 0.58 points per possession. Offensively, he averaged 15.8-points and 5.3-assists and shot 35.1-percent from three.
Bronny continues to get better, and his ranking has shown that.