The storylines you need to know from Day 1 UAA Circuit's Session 3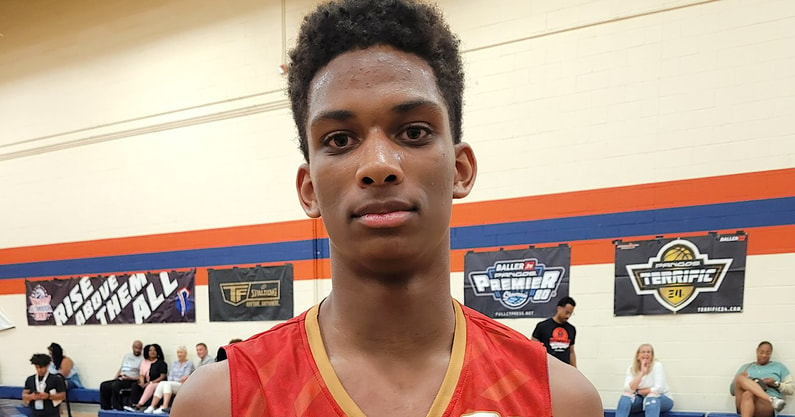 Atlanta, Georgia – Day one of the UAA Circuit's third session had a lot going on. Coaches were sitting as far as the eyes could see with representation from every D-I conference in attendance. On3 was in the mix, and here are the storylines you need to know from Day one of the UAA Circuit's third session.
Blake Buchanan vs. Carey Booth
While other highly ranked players took the floor, this one ended up being my matchup of the day.
6-foot-10 Blake Buchanan is ranked No. 115 in On3's 2023 ranking. He committed to Virginia last week. 6-foo-10 Carey Booth is ranked No. 80 by On3. Booth's recruitment took off in April and is still growing.
It is safe to say, in this matchup, Buchanan won the battle. He finished with a 15-point double-double. He ripped through facing the basket, finishing at the rim or delivering excellent passes. Buchanan finished left-hand, right-hand with his back to the basket.
Booth, the son of former NBA center Calvin Booth, is just booming with upside. While still inconsistent, he did finish with two threes en route to 12 points. Booth moves well, both vertically and laterally. Strength and game reps will be his biggest thing moving forward, but it is easy to see why 25 or more schools have jumped on board.
Buchanan's team won the game as well.
Is Joey Hart ready for a jump?
Joey Hart is not an unknown player. The Linton (IN) Linton-Stockton guard claims over 15 offers. You take a quick look through the offers, and it is the majority of midwest mid-majors.
It makes sense watching Hart play why some ACC and BIG 10 schools were sitting court-side. He is right there, possibly on the verge of those types of offers coming down the pipeline.
In his game on Day 1 of the UAA Session three, Hart showed a complete skill set. The jump shot will be the first thing noted. At 6-foot-5, Hart rises high on his release. His is a true jump shot, not a set shot. He is comfortable shooting off the catch or with his feet set and knocks it down at each level.
Hart is comfortable acting as a secondary ball-handler, getting the ball to its spots and delivering passes to his teammates. He also finished high above the rim, finishing a slight body down the stretch of yesterday's game.
So here we are. Someone is going to have to be the first to give him an offer at the high major level. He may get there as more will be peeking in, and if he continues to have 20-point outings like on day one, it may be too much.
Could JP Estrella be the No. 1 center in the class?
It has been a pretty significant rise for 6-foot-11 JP Estrella over the past year. Twelve months ago, the Portland, Maine native was unranked. Now, this question of No. 1 center in the class is arising.
Estrella is tough; that is one thing that stands out immediately when watching him. He sticks his nose in the mix at the basket, is a strong two-handed rebounder, and has natural timing around the rim, blocking shots with both hands. Another part of his game that stands out is how he moves.
Estrella has vertical explosion and lateral mobility. He can hedge, switch, and drop on defense. The Middlesex Magic big man is also comfortable scoring facing the basket or with his back to the basket.
Currently, at No. 21 overall, Estrella is the fourth-ranked center in the 2023 class. He is presently behind Xavier Booker, Baye Fall, and Aaron Bradshaw. After his performance at the NBPA Top 100 Camp, and continued production on the UAA Circuit in front of Jon Scheyer, Juwan Howard, Rick Barnes, Shaka Smart, and others, there could be some shake-up for On3's next update.