College basketball on TV: This weekend's viewers' guide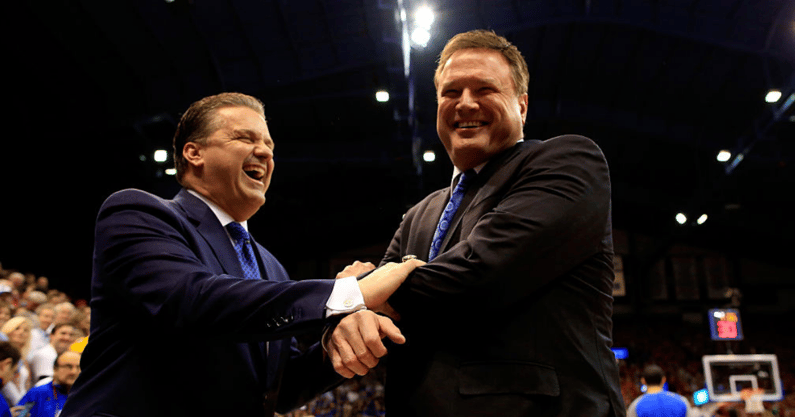 This weekend in college basketball is highlighted by the Big 12-SEC Challenge, though there are big games in the Big East and Big Ten, too.
Here are 10 college basketball games to keep an eye on this weekend.
Saturday
LSU (16-4) at TCU (13-4), noon, ESPN2: One of the Big 12-SEC Challenge contests. Both rely on defense; LSU, in fact, is the nation's most efficient defensive team, as per kenpom.com, allowing just 81.4 points per 100 possessions — the best figure in the nation by a staggering 4.8 points. TCU is 18th in the same metric, at 91.5. TCU has lost two of three and is coming off an embarrassing 23-point home loss to Texas.
West Virginia (13-6) at Arkansas (15-5), 2 p.m., ESPN2: Another Big 12-SEC Challenge matchup. WVU has lost four in a row and any hope of the Big 12 regular-season title is gone. Staying on the good side of the NCAA bubble now becomes vital for the Mountaineers; they have dropped into the high 50s in the NET rankings. Arkansas, meanwhile, has won five in a row.
Xavier (14-5) at Creighton (12-6), 2 p.m., FS1: This is an important game for the Bluejays, who are 67th in the NET rankings and are coming off a 17-point loss at under-.500 Butler. Creighton, which has had six consecutive 20-win seasons, does have three Quad 1 wins and this would be another. Xavier is 21st in the NET, but the Musketeers have lost two in a row and three of five.
Baylor (18-2) at Alabama (13-7), 4 p.m., ESPN: The Tide is scuffling, having lost four of its past six. Playing Baylor in the Big 12-SEC Challenge might not be the way to get back on the beam. The Bears have won three in a row after a two-game skid, and are the only team in the nation in the top 10 in offensive and defensive efficiency per kenpom.com. Alabama can be spotty defensively, but that can't happen if the Tide wants to beat the Bears.
North Texas (14-4) at Louisiana Tech (16-4), 4 p.m., Stadium: Thanks to its top-flight defense, North Texas has won six in a row and surged into a three-way tie for the league lead in the loss column in Conference USA with Louisiana Tech and UAB. The highest NET ranking of the three belongs to UAB (38th), with UNT second (52nd); Tech is 87th. North Texas is quite comfortable with a game in the 60s or even 50s: The Mean Green is 357th in the nation in kenpom.com's adjusted tempo rankings — one spot from the bottom (Virginia).
Morehead State (16-5) at Murray State (19-2), 5 p.m., ESPN+: Two of the hottest teams in the nation meet, and the winner will be alone in first place in the Ohio Valley Conference. Both are unbeaten in OVC play. Murray State, which averages 82.3 points per game, has won nine in a row; Morehead State has won 10 in a row. Murray State is No. 30 in the NET rankings, while Morehead State is 110th.
Kentucky (16-4) at Kansas (17-2), 6 p.m., ESPN: A true marquee matchup, brought to you by the Big 12-SEC Challenge. This is the fourth time the teams have met in the Challenge. These are two of the highest-scoring teams in the nation. Kansas is a strong rebounding squad, but UK big man Oscar Tshiebwe is a human vacuum on the boards, averaging 15.2 rebounds per contest. No Division I player has averaged more than 15 rebounds per game since Larry "Mr. Mean" Smith for Alcorn State in 1979-80 (15.1).
Tennessee (14-5) at Texas (15-5), 8 p.m., ESPN: This is another Big 12-SEC Challenge contest, and Rick Barnes returns to Austin to face Texas for the first time since he was fired by the school in April 2015 after winning 402 games. Both are in the top 20 in the NET rankings. Both also get after you defensively, especially Texas, so this isn't likely to be a thing of beauty. The Vols could use some 3-pointers from Santiago Vescovi, who hits almost 40 percent from beyond the arc; truthfully, nobody else on either team is that good from distance.
Sunday
Ohio State (13-4) at Purdue (17-3), noon, CBS: The Big Ten race is a good one, and these are two of the five teams with a shot at the regular-season title. Both are excellent offensively and solid defensively, and this is the only regular-season meeting. When they are at their best, the Boilermakers look like a team that can win the national title; there is a nice offensive balance with inside scorers and outside shooters. Ohio State, meanwhile, has to get a big game from E.J. Liddell if it is going to win this.
Marquette (15-6) at Providence (17-2), 12:30 p.m., FS1: This was scheduled for Saturday, but the threat of severe winter weather pushed it back a day. Providence has won four in a row and is off to its best start since 1976-77, when the Friars were coached by the late Dave Gavitt; the Friars are alone in first place in the Big East. Marquette has won seven in a row and is fourth in the league. Providence's lone league loss came at Marquette on January 4, when the Golden Eagles romped 88-56. Providence is 12-0 at home.