Three schools have separated themselves for 2024 top-75 S Zaquan Patterson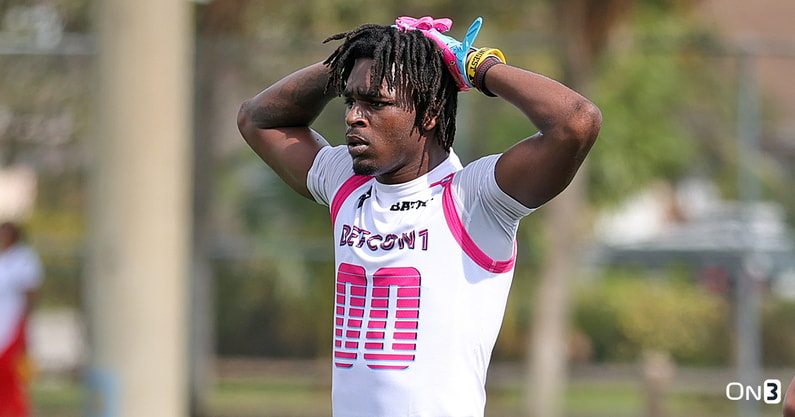 Miami Gardens (Fla.) Chaminade-Madonna Prep four-star safety Zaquan Patterson announced his top 10 schools on New Year's Day. The list included Auburn, Penn State, Tennessee, Ohio State, Florida State, Alabama, Georgia, Miami, LSU and Michigan.
The 6-foot-0.5, 185-pound defensive back plans to release his top five programs before making his commitment. Right now, the Buckeyes, Bulldogs and Hurricanes have separated themselves from the group.
"I want to commit probably (at the) end of the season," Patterson told On3. "I really want to make a good decision cause I don't want to just rush into it. I feel like a lot of people make a decision fast, the way they're feeling at the moment, but you might not feel like that in a couple months, so I want to take my time so I make a good decision."
In the meantime, Patterson wants to visit Alabama, Auburn, Georgia, Ohio State and Texas A&M. He may be seeing the Bulldogs this weekend.
Patterson already knows two main factors of his decision. They are a school's coaching staff and his fit with the program.
"If I feel like I can't play under you as a coach and we won't have a smooth relationship, I'm not gonna play under you," said Patterson, the No. 62 overall prospect and No. 4 safety in the 2024 On3 Consensus. "I'm not gonna put you in that situation. I'm not gonna put myself in that situation. I want us both to be great, so I'm gonna go somewhere that I know I can fit in and I can play to my best abilities and their defense matches my play style."
Patterson discusses some of his top schools
Auburn: "I feel like it's a great staff. I feel like they're trying to develop their players there. I see that in Camden Brown. He's stepping up and I see they're building their players."
Georgia: "Me and coach Bryan (McClendon), we have one of the best relationships. Me and his relationship is great. We don't talk only about football. I fit in there, I feel like. It's not like, oh, I'm just another kid that he's talking to. It's like a normal conversation."
Miami: "They're local and the coaching staff, I'm familiar with them. I'm close with a lot of them on the coaching staff. I've known coach (DeMarcus) Van Dyke since I was nine years old."
Ohio State: "Coach (Perry) Eliano, the safeties coach, he came down to Chaminade last week. We have a good relationship, me and him."