Top 2025 recruit Cooper Flagg says Duke is his dream school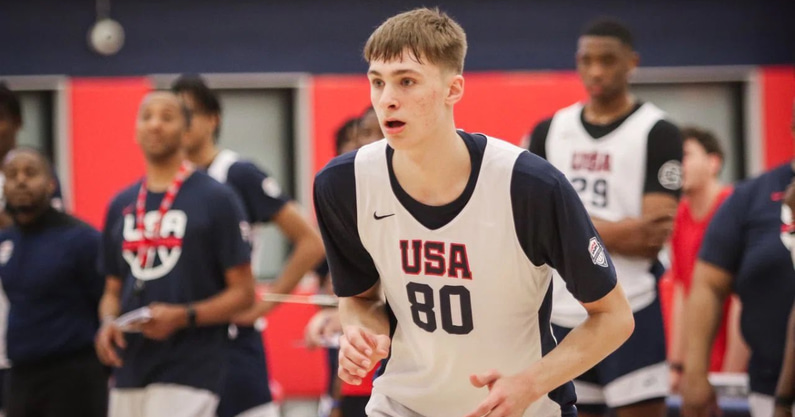 Class of 2025 prospect Cooper Flagg has been one of the standouts here at the USA Basketball U17 tryouts. Flagg, one of the youngest players in Colorado Springs this week, has shown off his advanced skillset at only 15 years of age. At 6-foot-8, Flagg does a bit of everything – crashes the boards, handles the ball when needed, and can score from all three levels efficiently. I'm particularly intrigued with his mid-range game. All in all, Flagg is incredibly polished for his age and is clearly making his case for the top overall prospect in 2025. He's definitely one to keep an eye out for and watch as he continues to develop, add strength, and further cultivate his game.
Flagg, one of three 15-year-olds here competing at the 17-and-under tryouts, has enjoyed his experience at USA Basketball so far. This is Flagg's second time competing at USA Basketball, as he was also invited to participate during the Junior National Team minicamp in April.
"It's been great playing against top competition," said Flagg. "I've been enjoying it."
Flagg talks recruitment and fanbase love
Flagg's recruitment has already started to pick up momentum, despite college coaches not being allowed to directly contact him until a year from now.
"Schools are keeping in contact pretty often," Flagg says. "My mom talks to most of the head coaches weekly, through text messages, phone calls."
Several colleges have already extended scholarships to the 15-year-old prospect, who still has three full years of high school remaining. Flagg has already picked up offers from Duke, UCLA, Michigan, Iowa, Albany, Bryant, and Maine, his home state.
If you're active on social media, then you're aware of the massive fan bases that attempt to recruit in the Instagram comments.
"I don't know…the Duke fans have been commenting, but there's a lot," Flagg said as to which fan bases he's noticed. "I try not to look at all of that. It's a lot to process."
Flagg on receiving an offer from Duke, says the Blue Devils were his dream school
Speaking of the Blue Devils, what was it like for Flagg once the scholarship offer was made official?
"When my mom first told me that Coach (Jon) Scheyer was about to call me, I was amazed," Flagg said. "I was like 'wow, it's really about to happen.' It's honestly a blessing and a result of all the hard work I've put in, and it's shown me that it's all paying off."
The Duke offer was significant for Cooper Flagg.
"Growing up, Duke was always my dream school. I always looked up to all the Duke players, watched all their games and stuff like that. I could see myself fitting in well with their play style. They have a lot of versatile guys so I think I'd fit in pretty well."
Duke head coach Jon Scheyer appears to be staying in frequent contact with the Class of 2025 recruit.
"Me and my mom have called coach Scheyer a few times. I talked to him the other day and he gave me some good advice on coming out to this USA camp and just told me he was looking forward to seeing me on the team and said he was sure that I would be able to make it."
Additional information on Flagg
Earlier this year, Cooper Flagg became the first freshman to be named Gatorade Player of the Year for either boys or girls basketball in Maine history. He led his Nokomis high school team to a 21-1 record and the school's first state title in boys basketball. Flagg averaged 20.5 points, 10 rebounds, 6.2 assists, 3.7 steals and 3.7 blocks while shooting 62-percent from the field.
In March, Flagg announced he would be attending powerhouse prep school Montverde Academy, located in Florida.