LOOK: UCF kicker Colton Boomer boasts about ridiculous, irreverent yearbook quote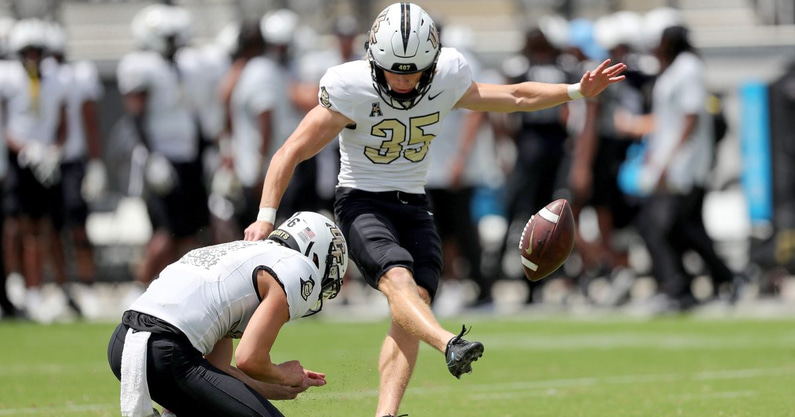 Some people believe they're born into this world with their destiny to be great at something and UCF Knights kicker Colton Boomer knew isn't shy about letting you know he believes he's one of those people. As such, he let it be known with this colorful senior quote. Boomer revealed his cheeky send-off from his high school yearbook over the weekend.
Boomer is a Lake Mary, FL, product and elected to stay in-state to continue his football career at the next level. He elected to enroll early at UCF to participate in spring practice. Boomer lived up to his name in his high school career. He averaged 53.3 yards per kickoff with a long of 70 yards during his senior season. As a placekicker, Boomer made 15 of 24 field-goal attempts over three years on varsity. He also converted 102 of 107 extra-point attempts. Going through his social media, you can find videos of a Boomer showing off his range when it comes to field goals.
If Boomer can bring his high level of kicking ability along with his sense of humor to the Knights, the young kicker could be a Central Florida fan favorite for years to come.
UCF head coach Guz Malzahn on impact of NIL, transfer portal
He may no longer be coaching in the SEC, but former Auburn Tigers head coach, Gus Malzahn, is still a regular on the Paul Finebaum Show. And recently, the UCF Knights head coach was on the show addressing the changes in the college sports landscape. In particular, Finebaum and Malzahn discussed the transfer portal and the introduction of NIL into college sports. And if you were not aware, the new age of college football is here, according to Malzahn.
"Yeah we got our hands full. The new age of college football is definitely here. It seems like every day something new comes up," said Malzahn. "You know there's a lot of challenges with the NIL, the one time transfer. We're at a place that has been very successful with transfers before I even got here. So, we think we're in a good spot with the with all the changes coming forward. Orlando is great place and UCF is a great program and I'm really blessed to be here. The first year was pretty good. We did some good things. We found a way to win nine games had a big bowl win. Added some transfers in and I think we're in a good spot going to the next season."
The former Tigers headman seems to have landed on his feet and is doing well with the Knights. Malzahn led UCF to an 8-4 record to conclude the regular season and finished off the season with a win against a rival program of both UCF and Auburn in the Florida Gators. The Knights beat the Gators 29-17 in the Gasparilla bowl.