UConn cruises past Gonzaga and into Final Four with dominant 82-54 win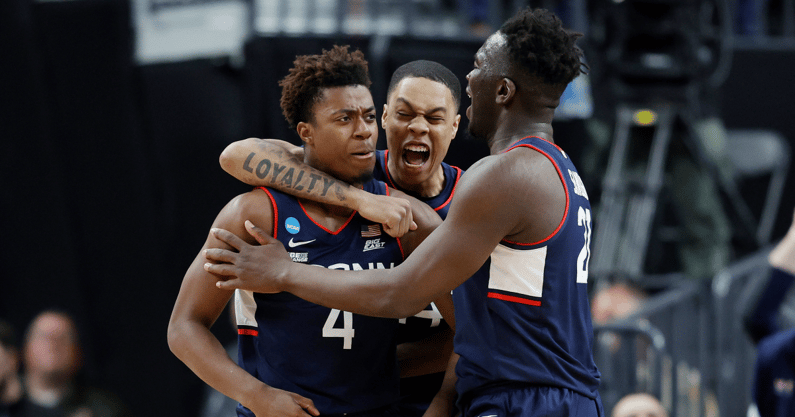 UConn has made a habit of dismantling its opponents this NCAA Tournament, and Gonzaga was no different. After a back-and-forth first half on Saturday, the Huskies kicked things into high gear in the second to cruise to a 82-54 victory against the Bulldogs and advance to the Final Four for the first time since 2014.
All four of UConn's tournament wins have came by double digits this year, and this marked their third victory by 20 points or more. But the fact that Saturday's win came against a three-seeded Gonzaga team many selected to make the Final Four made it even more shocking. It is just the seventh time that a team has reached the Final Four while winning each of its games by 15 points or more.
It was a balanced scoring effort for the Huskies, who saw seven different players with at least eight points in the win. Jordan Hawkins led the team with 20 points of 6-of-10 3-point shooting while Adama Sanogo stuffed the stat sheet with 10 points, 10 rebounds and six assists.
The UConn defense was stifling in the second half, holding Gonzaga to just 22 points. The Bulldogs were just 20-of-60 from the field the entire game as star Drew Timme was held to 12 points on 5-of-14 shooting.
UConn led for almost the entire first half but never by more than seven points as things remained close. The Huskies took all the momentum and a 39-32 lead into the break after Alex Karaban nailed a 3-pointer at the buzzer.
UConn jumped out to a 9-2 advantage to start the game before Gonzaga came back to tie it at 15 at around the 10-minute mark. The Bulldogs later took a brief 25-24 lead, their only of the half, with 5:37 to go. They shot just 1-of-9 (11.1%) from 3-point range across the first 20 minutes.
The second half, however, is where things quickly started to get out of hand.
The Huskies opened with a 12-2 run to increase their lead to double digit, and things only got worse after Timme picked up his fourth foul with 17:39 remaining. The UConn lead ballooned up to 25 points by the 11:50-mark after a 3-pointer from Joey Calcaterra made it 65-40. The Huskies led by as many as 33 points on their way to the win.
Now UConn moves on to face the winner between Miami and Texas on Sunday. Time will tell if the Huskies can keep their dominance up, but they have to be feeling good after their most recent performance.