Updated top 25 college senior NFL Draft prospects ahead of Week 3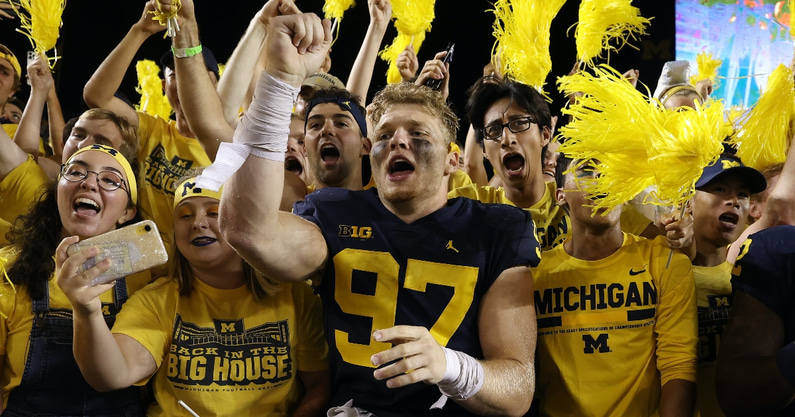 Entering Week 3 of the college football season, NFL.com draft analyst Chad Reuter has updated his ranking of the top 25 prospects for the 2022 Reese's Senior Bowl.
There are eight new additions to the list from Reuter's initial list, released prior to the season, including two that climbed into the top ten.
Here are the top-25 senior prospects
25) Kennedy Brooks, RB, Oklahoma
Oklahoma running back Kennedy Brooks found his way in the top-25 after previously not appearing on the list. Brooks and Tennessee transfer Eric Gray have made formidable 1-2 punch for the Sooners.
"He's a smooth, decisive mover after the handoff," Reuter said. "Not showing elite straight-line speed but winning with patience behind his blockers and a north-south style."
24) Chad Muma, LB, Wyoming
Wyoming linebacker Chad Muma has recorded 21 tackles, one sack and an interception through the first two weeks of the season.
"He often lines up outside but finds the ball in the box and will attack blocks from offensive linemen when required," Reuter said. "Muma displayed excellent hands on a pick-six against NIU, reading the quarterback's eyes and leaping up to grab the pass."
23) Khalil Shakir, WR, Boise State
Boise State wide receiver Khalil Shakir has had an impressive career for the Broncos but is off to a hot start this season, recording 257 receiving yards and two touchdowns through the first two games of the season.
"Shakir lines up inside and outside the hashes to make use of his quickness and elusiveness after the catch," Reuter said. "He's become a wily veteran, using his hands to get separation downfield. He has a shot to become a WR2 at the next level."
22) Amaré Barno, Edge, Virginia Tech
Amaré Barno fell eight spots but was an integral piece in Virginia Tech's upset win over North Carolina in Week 1, recording 3.5 tackles for loss against the Tar Heels. Barno struggled in the Hokies' Week 2 win over Middle Tennessee State though.
"Barno's relative lack of bulk kept him from making plays at times against the Tar Heels, though, and he failed to record any stats the next week against Middle Tennessee State," Reuter said. "He was on the ground too often vs. the Blue Raiders, and didn't make a stop despite getting two hands on the ball-carrier on his one open-field chance to bring down a running back."
21) Jaquan Brisker, S, Penn State
Fighting through injuries, Penn State Jaquan Brisker has debuted at 21 on the updated senior NFL Draft list after his game-sealing interception in the Nittany Lions' win over Wisconsin, to cap off a four tackle and one tackle for loss performance against the Badgers.
"He played most of the first half against Ball State, lining up as a blitzer as well as in the deep half," Reuter said. "Then sat out the rest of the blowout win to let those injuries heal."
20) Devin Lloyd, LB, Utah
Utah linebacker Devin Lloyd has filled the stat sheet through the first two weeks of the season, recording 25 tackles, one forced fumble and one interception.
"BYU's offensive linemen posed a greater challenge the next week, finding Lloyd often in the Cougars' win," Reuter said. "He still posted a game-high 13 stops, though. Lloyd often dropped into coverage, breaking up a pass late in the game to keep the Utes' comeback dream alive."
19) Chase Lucas, CB, Arizona State
The Arizona State cornerback debuts at 19 on the senior NFL Draft prospect list, after previously being unranked. In his sixth-season with the Sun Devils, Lucas has been a force in the secondary.
"He's sticky in man coverage whether lined up in the slot or outside and is not contact-shy when facing larger receivers and running backs in the open field," Reuter said.
18) Haskell Garrett, DT, Ohio State
Ohio State defensive tackle Haskell Garrett made waves when he recovered a fumble and returned it 32 yards for a score against Minnesota. The 6-foot-2, 300-pound tackle has been a force to reckon with all season.
"He has been disruptive when matched up one-on-one," Reuter said. "Swimming past blockers and attacking plays in the backfield. 
17) Nick Ford, OL, Utah
Nick Ford has shined in the run and pass game for Utah, manning
"His combination of strength and mobility allows him to move defensive tackles and linebackers out of his running back's path," Reuter said. "Typically strong in pass pro, his excellent awareness led him outside quickly to shove a late Cougars B-gap blitzer in the third quarter, giving quarterback Charlie Brewer enough time to make the throw."
16) Cade Otton, TE, Washington
Washington tight end Cade Otton has arguably been Washington's top offensive threat through the Huskies first two games of the season.
"Otton was the Huskies' best offensive threat in their season-opening loss to Montana, catching eight passes for 82 yards," Reuter said. "When the ball got into his hands, he showed quickness and strength after the catch."
15) Daniel Faalele, OT, Minnesota
Standing 6-foot-9, 380-pounds, the massive offensive tackle has been a force to reckon through the Gophers' first two games of the season.
"Attempting to bull-rush this massive human is futile, and his initial kick-slide in pass pro stones most defenders," Reuter said. "Faalele will have issues with better pass rushers beating him inside, but he has slimmed down a bit this year and is quite mobile for his size."
14) Roger McCreary, CB, Auburn 
Auburn cornerback Roger McCreary hasn't been challenged much as a senior, but when the senior NFL Draft prospect has, he's made opponents pay.
"McCreary pressed and played zone, securely tackling receivers coming into his area (even slamming one to the ground)," Retuer said. "He gave up one downfield throw when boxed out by a larger receiver, but ASU threw quick screens to his side too often. McCreary made them pay by blasting through a block for a tackle for loss and then beating his man to the pass for a pick-six later on."
13) Kingsley Enagbare, Edge, South Carolina
The South Carolina edge rusher has not played much as the Gamecocks have played lesser opponents through the opening two weeks of the season, but has been effective in limited snaps.
"East Carolina double-teamed Enagbare regularly last week," Reuter said. "He consistently used his hands to force his way through blockers, posting two sacks and one other QB hit against the Pirates."
12) Jahan Dotson, WR, Penn State
Penn State wide receiver Jahan Dotson has recorded 10 catches for 167 yards through the first two games of the season as the Nittany Lions enter another early season test against Auburn on Saturday.
"One of the quickest receivers in the country showed that speed and agility in Penn State's wins over Wisconsin and Ball State on speed outs, screens and as a punt returner," Reuter said.
11) Thayer Munford, OT, Ohio State
The Ohio State left guard has looked strong in Ohio State's first two games of the season against Minnesota and Oregon.
"He controlled his man on most snaps with length and strength inside to open holes in the run game and provide protection for quarterback C.J. Stroud," Reuter said. "Munford's punch is quite powerful, sending smaller defenders to the ground. If his man attempts to slip by him, the veteran usually recovers to head the defender off before he can reach the ball."
10) Trevor Penning, OT, Northern Iowa
The large Northern Iowa tackle's stock has skyrocketed through the opening weeks of the season. After not appearing on Reuter's initial list, Penning debuts at No. 10 through the first two weeks of the season.
"His widely anticipated matchup against edge rusher Will McDonald IV was one-sided, as the tackle dominated the lean pass rusher," Reuter said. "Penning also finished blocks regularly and cleaned up piles, displaying the nasty attitude offensive line coaches love."
9) Jaxson Kirkland, OT, Washington
Washington's season is off to a disappointing start but senior NFL Draft prospect Jaxson Kirkland has been solid, despite some early tests.
"Kirkland had his hands full last week against Michigan's Aidan Hutchinson, especially after the Huskies fell behind and could not sustain a run game," Reuter said. "The senior tackle often handled Hutchinson's initial rush, but the Wolverines star continued to work through the block to disrupt the offense."
8) Josh Jobe, CB, Alabama
Alabama cornerback Josh Jobe missed Alabama's second game of the season against Mercer, but was hardly challenged in the Tide's season-opening win over Miami.
"He was physical within five yards of the line of scrimmage, knocking receivers off their routes," Reuter said. "He was also able to maintain outside leverage to funnel runs inside. Jobe used his length and speed to stay with receivers downfield and across the middle."
7) Darian Kinnard, OL, Kentucky
Kentucky is off to a hot start and the senior NFL Draft prospect Darian Kinnard is a big reason why.
"Kinnard imposed his will against Louisiana-Monroe, as expected, latching onto smaller defenders at the line and hitting linebackers at the second level," Reuter said."It takes a 300-pounder to get a push against Kinnard in pass protection, but he finds his anchor in time."
6) Jermaine Johnson II, Edge, Florida State
Florida State edge rusher Jermaine Johnson II has been the biggest riser on the list, from not appearing on the first list to debuting at No. 6 on the list. Johnson has recorded 18 tackles and four sacks through the first two weeks of the season.
"Johnson is making the most of his transfer from Georgia to the Seminoles' multiple-fronts scheme," Reuter said. "Where he can show his power and quickness on the edge whether standing up or in a three-point stance.
5) Jordan Davis, DT, Georgia 
Davis was a one-man wrecking crew for the Bulldogs in their season-opening win over Clemson. The 6-foot-6, 340-pound tackle has recorded six tackles and one sack through the first two games but has been constant presence in the backfield.
"Despite being 6-foot-6, Davis got under the pads of his man to drive him into the backfield," Reuter said. "He was late off the snap at times, but he often flashed nice quickness off the ball for his size to win a gap."
4) Adam Anderson, Edge, Georgia
Davis' teammate, edge rusher Adam Anderson, has been equally disruptive through the first two weeks of the season, recording two sacks in five quarters. The senior NFL Draft prospect projects to be one of the top edge rushers in the draft.
"Anderson was active in Georgia's ballyhooed matchup with Clemson, getting a sack in the second half by exploding from his stance and shedding the right tackle with his hands to grab the quarterback," Reuter said.
3) Chris Olave, WR, Ohio State
Chris Olave has picked up right where he left off in 2020 through the first opening weeks of the season, despite Ohio State's upset loss to Oregon. Through two games, Olave has recorded 243 yards and two touchdowns on 16 receptions.
"In my initial top-25 senior prospects list, I called Olave smooth," Reuter said. "His route-running and tight-roping on the sideline against Minnesota proved that adjective lacking."
2) Aidan Hutchinson, Edge, Michigan
Michigan EDGE Aidan Hutchinson has had an impressive start to his senior campaign, helping the Wolverines to a 2-0 record with wins over Western Michigan and Washington. The senior NFL Draft prospect has recorded eight tackles, 3.5 sacks and one forced fumble.
"Hutchinson felt his way through the first half of the Wolverines' win over Western Michigan," Reuter said. "Standing up on the edge in Michigan's new scheme under former Baltimore Ravens assistant Mike Macdonald."
1) Malik Willis, QB, Liberty
Liberty quarterback Malik Willis retains his spot as the top senior NFL Draft prospect after leading the Flames to a 2-0 start, throwing for 371 yards and three touchdowns to go with 148 rushing yards and two touchdowns.
"Willis' ability as a runner sometimes overshadows his efficiency as a passer, which he's displayed in the Flames' 2-0 start," Reuter said. "His feet are strong and quiet in the pocket. He throws deep with touch and across the field on intermediate routes with accuracy."