WATCH: Deion Sanders takes shot at the Pro Football Hall of Fame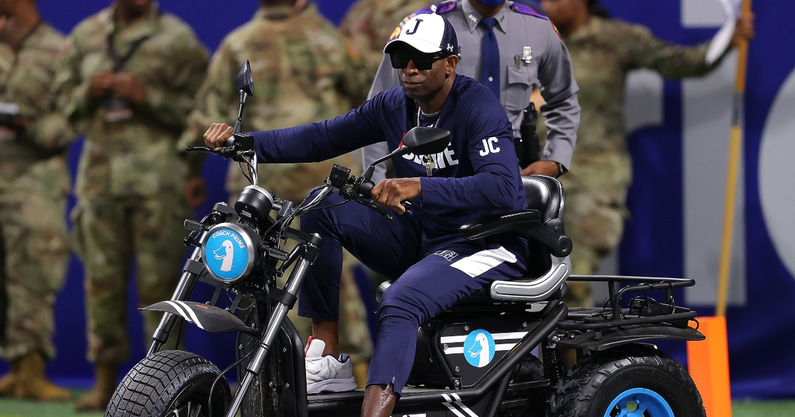 Jackson State head coach Deion Sanders is in both the College and Pro Football Hall of Fames. He's earned his spot in each of them, without a shadow of a doubt. However, he's clearly not happy with the Pro Football Hall of Fame, which he feels is lowering its standards.
"The Hall of Fame ain't the Hall of Fame no more," Deion Sanders said, before asking for a different colored jacket.
Watch as Deion Sanders takes a shot at the Pro Football Hall of Fame, here:
In a video that lasts 1:48, Deion Sanders asks to have his bust, which he refers to as his head, moved to a new room because he doesn't belong with some of the new players inducted into the Hall of Fame. Or, better put, they don't belong with him. His concern, clearly, is that the Hall of Fame is turning into the Hall of Very Good, implying that several recently inducted players didn't earn their way in.
"It's people that changed the game. That's what the Hall of Fame is. A game changer. Not, I played good. I had a good little run. I gave you three-four good years. No, dog. Game changers," Deion Sanders declared.
No doubt, Deion Sanders belongs in the Hall of Fame
If there is one person who belongs in the Hall of Fame, it's probably Deion Sanders. One of the greatest defensive backs of all time, Sanders won two Super Bowls, was First-Team All-pro six different times, and had 54 career interceptions.
Having honed his skills at Florida State, where he was a two-time All-American, Deion Sanders made his mark on every level of college football. Today, that mark is being made at Jackson State, where "Coach Prime" is building one of the top HBCU programs. That includes embracing NIL and the modern college game. Sanders even landed five-star recruit Travis Hunter, who flipped from Florida State.
What's next for Deion Sanders remains to be seen. He has shown that he's committed to Jackson State, even donating chunks of his salary back to the school. At the same time, as long as he succeeds, rumors are going to follow him about moving to an FBS job.