WATCH: Dick Vitale honored to be given ESPY's Jimmy V Perseverance Award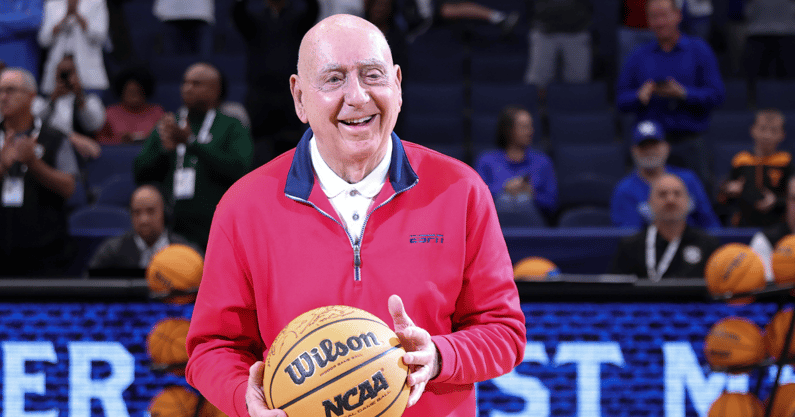 Following the announcement that ESPN's beloved college basketball analyst Dick Vitale won the Jimmy V Perseverance Award, the longtime broadcaster shared a motivational tip of the day in the form of one word: Perseverance.
"I'm telling you, perseverance – it is so key in life, to persevere, to keep going on and on. When things get tough, you got to fight and you gotta battle. You've got to have the energy, the enthusiasm, the excitement, and go on," Vitale said. "You take the hit, take the hit, and you come back and you give some hits. So perseverance, It's important and it means a lot to me. To persevere, to chase your dreams and chase your goals.
"You don't believe this? I've got a lot of goals left, I'm 82 and I got goals! If you don't have goals, what's the purpose of living? You've got to have goals and you got to persevere. You've got to make sure those goals happen by having that perseverance."
The past 12 months for Vitale can be summed up in that one word, perseverance. Vitale was forced to step away from calling games around January due to damage to his vocal cords. He rested up to get back to full strength, and he was later honored at the SEC basketball tournament. Prior to Selection Sunday, Vitale's scans came back clear with no cancer, and he then finished up his chemotherapy. Now, he's in remission.
Chairman of ESPN and Sports Content Jimmy Pitaro announced the news at Vitale's annual gala on Friday, which raised over $11 million for Vitale's fund for pediatric cancer at the V Foundation.
"He took us inside his hospital rooms so we could all learn from him and experience firsthand what he was going through," Pitaro said of Vitale's battles with lymphoma and melanoma. "During his most frightening days, he wanted people to understand the challenges and to remove the stigmas. All along with the support of his loved ones, his ESPN family, and millions of caring fans, Dick pushed through. It was not easy, yet, he persevered. And it is in that spirit that I'm so grateful to share some news here tonight. I would like to announce that Dick has been selected to receive the Jimmy V Award for Perseverance at this year's ESPYS."
Vitale has embodied perseverance his entire career, and his fight against cancer was no different. He's used his platform to help others when no one would have blamed him for keeping to himself and doing his own thing. Instead, he became a voice for those battling with cancer, something that would make his former colleague Jimmy V proud.