Week 5 college football odds: Las Vegas releases point spreads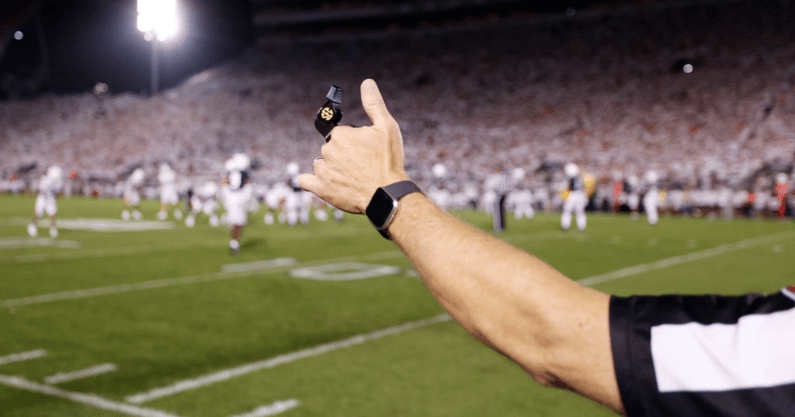 Through the first four weeks of the college football season has seen plenty of odds-shattering wins. As Las Vegas tries to figure out where each team stands one-third of the way into the season, the top betting experts have released the lines for Week Five.
The following lines come courtesy of Las Vegas Insider and reflect the numbers from Sept. 26, 2021. See the odds for the full weekend slate of college football in Week Five.
Sept. 30
Virginia at Miami (-3.5), o/u 62.5
Oct. 1
Houston at Tulsa (-3.5), o/u 57
Iowa (-3.5) at Maryland, o/u 46.5
BYU (-9) at Utah State, o/u 57.5
Oct. 2
Syracuse at Florida State (-4.5), o/u 51.5
Duke at North Carolina (-18), o/u 69.5
Tulane (-4) at East Carolina, o/u 62.5
Boston College at Clemson (-14.5), o/u 46.5
Minnesota at Purdue (-2), o/u 46.5
Pittsburgh (-3.5) at Georgia Tech, o/u 58
Louisiana Tech at NC State (-20), o/u 55
Appalachian State (-9) at Georgia State, o/u 54.5
Troy at South Carolina (-8), o/u 44.5
Army (-4.5) at Ball State, o/u 46
Indiana at Penn State (-10.5), o/u 51.5
Memphis (-12.5) at Temple, o/u 61
Kansas at Iowa State (-33), o/u 58.5
Toledo (-26) at UMass, o/u 58
Charlotte at Illinois (-9), o/u 55
Louisville at Wake Forest (-7), o/u 60.5
Western Michigan (-7) at Buffalo, o/u 59.5
Ohio State (-16.5) at Rutgers, o/u 56.5
Louisiana-Monroe at Coastal Carolina (-33), o/u 59.5
Eastern Michigan at Northern Illinois (-2), o/u 62.5
Nevada at Boise State (-5), o/u 57.5
Air Force (-10) at New Mexico, o/u 49
USC (-7) at Colorado, o/u 50.5
Cincinnati (-2) at Notre Dame, o/u 50
New Mexico State at San Jose State (-28), o/u 53.5
Washington (-3) at Oregon State, o/u 55.5
Washington State at Cal (-7), o/u 53
Oregon (-7.5) at Stanford, o/u 59.5
Central Michigan at Miami OH (-1), o/u 56.5
Bowling Green at Kent State (-16), o/u 56
Ole Miss at Alabama (-16.5), o/u 77.5
UCF (-15) at Navy, o/u 56
South Florida at SMU (-20), o/u 69
Baylor at Oklahoma State (-4), o/u 49.5
Arkansas at Georgia (-18), o/u 48.5
Ohio (-9) at Akron, o/u 54.5
Tennessee at Missouri (-3), o/u 64.5
Texas (-4.5) at TCU, o/u 68
Florida (-8) at Kentucky, o/u 55.5
Oklahoma (-10.5) at Kansas State, o/u 51.5
FIU at FAU (-10.5), o/u 51.5
UConn at Vanderbilt (-14), o/u 51
Texas Tech at West Virginia (-7), o/u 57
Auburn at LSU (-4), o/u 53.5
Michigan at Wisconsin (-1), o/u 43.5
Mississippi State at Texas A&M (-10), o/u 47
Arkansas State at Georgia Southern (-4), o/u 66.5
UNLV at UTSA (-20), o/u 57.5
Southern Miss at Rice (-3), o/u 45
Louisiana (-10) at South Alabama, o/u 51
Liberty at UAB (-1), o/u 50
Marshall (-10) at MTSU, o/u 65.5
Northwestern at Nebraska (-10), o/u 50.5
Western Kentucky at Michigan State (-8), o/u 60.5
Old Dominion at UTEP (-4), o/u 49
Arizona State at UCLA (-3.5), o/u 55
Fresno State (-11) at Hawaii, o/u 64