Buyer's remorse with NIL deals? Unlikely even with less-than-stellar play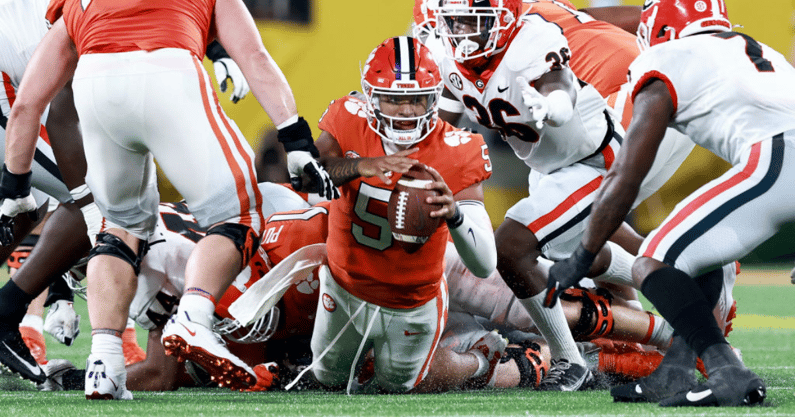 Four of the nation's most-hyped college quarterbacks — Clemson's D..J Uiagalelei, Miami's D'Eriq King, North Carolina's Sam Howell and Oklahoma's Spencer Rattler — entered this season with high hopes and lucrative NIL deals in hand. 
Then an interesting thing happened en route to those players dominating the headlines all season — the unpredictability of college football took hold. Just as predicting the top 25 in August can be a fool's errand, forecasting which players will thrive also can be perilous, especially in this increasingly chaotic season. But is there a sense of buyer's remorse for the brands who entered into deals with the four high-profile quarterbacks who have underwhelmed thus far? Unlikely. 
"I don't think so," said Peter Schoenthal, CEO of Athliance, which provides NIL education and opportunity management software built by compliance officers for athletic departments. "(Restaurant chain) Raising Cane's got so much free publicity just by doing the deal (with Rattler), I don't think it mattered how Spencer Rattler performed. The same goes for all of those deals for all those quarterbacks. I don't think it'll have an impact because right now the space is being viewed as all roses. It is 'Feel-Good Story Central' if you do engage with it. I don't think that's going to go away for a while."
Casey Schwab, CEO of Altius Sports Partners, which helps athletes and college programs with NIL matters, also said the struggles won't have much impact on brand behavior. Not only is it early in the season, he said, but all four have NFL potential after their college careers end. And, perhaps most importantly, he said, "their notoriety is not necessarily tethered to their performance on the field."
"There's a lot of other things that go into a brand's assessment as to their ROI (return on investment) on an activation with an athlete than just, 'How did he do on Saturday?' " Schwab said. "I don't think brands are going to spend less. In fact, I think the opposite. I think from the big brands that we've talked to, and the big agencies that we've talked to that represent those brands, they're taking a wait-and-see approach. They're not taking a we-don't-want-to-do-this-approach. I think (the industry) is just going to get bigger."
Who could have envisioned that Uiagalelei, who secured a deal with Dr Pepper to appear in "Fansville" national commercials, would struggle on the field to this degree? Uiagalelei, whose three touchdown passes are matched by his interception total, ranks outside the nation's top 100 in efficiency. Clemson (2-2) basically has been eliminated from College Football Playoff contention and is fortunate still to be in the top 25.
Who could have imagined that King, who secured several deals (including one with the Florida Panthers) before the season kicked off, would have more interceptions (four) than touchdown passes (three) a third of the way through the season? He is nursing a shoulder injury that forced him to miss this past Saturday's victory over Central Connecticut State. The Hurricanes (2-2) have been among the nation's more disappointing teams. 
Sixth-ranked Oklahoma (4-0) is unbeaten, but its usually potent offense is struggling. Rattler, who received a Ram truck and a Dodge sports car in one of his NIL deals, has thrown eight touchdown passes, but five of those came in the victory against FCS Western Carolina. Fans in Norman even booed Rattler in Saturday's narrow victory over West Virginia. Rattler recently said he doesn't have "any distractions. It's straight football, and that's my focus."
And Howell, who signed a six-figure deal with Super Glow trading cards, has thrown 11 touchdown passes and four interceptions. But he's been sacked 17 times, including eight times in last weekend's loss to Georgia Tech. The Tar Heels (2-2) also have been a major disappointment. 
Don't expect brands to significantly adjust their behavior before next season for a few reasons: First, this season is young and the players — if not the teams — have time to steady themselves and have strong years. For Oklahoma specifically, while the Sooners haven't looked overly impressive, they remain squarely in CFP contention. 
What's more, the most highly touted players entering next season figure to be sought after. Few sports do preseason hype better than college football. And the key is overall marketability rather than on-field performance. 
Schoenthal said it's not realistic to assess the NIL landscape for 24 to 36 months. He doesn't envision brands next year pausing to see how the 2022 season unfolds a bit before jumping into deals with players.
"No, because another aspect no one is taking into consideration is popularity," Schoenthal said. "Just because Rattler might be off to a slow start doesn't mean he will have a million less followers on Instagram. Your ability on the field and the way you play are not necessarily tied to marketability.
"Marketability is really on its own, and things like performance and other things only slightly impact it. But marketability is really what drives any marketing space."
The struggles of this quartet in light of the NIL deals became a subject of debate earlier this week on Twitter between sports business reporter Darren Rovell and Florida-based sports and entertainment attorney Darren Heitner. Rovell contended that their struggles will "make companies think more about doing these types of deals."
Heitner countered: "Pro athletes' endorsement deals tend to also be guaranteed, subject to negotiated morals clauses. Brands take calculated risks, and many have already achieved significant. Also, ROI isn't based solely on personal/team performance."
To that point, Schoenthal referenced the Cavinder twins at Fresno State, saying that before NIL the casual basketball fan may not have heard of them. But it's their 3.5 million TikTok followers that make them immensely marketable. 
"Brands, regardless of whether the Cavinder twins are averaging 20 points a game or not, are going to be enticed to want to work with them," Schoenthal said. "And that's what this space is all about."