Campus Ink, Meta activation includes Flau'jae Johnson, Skyy Clark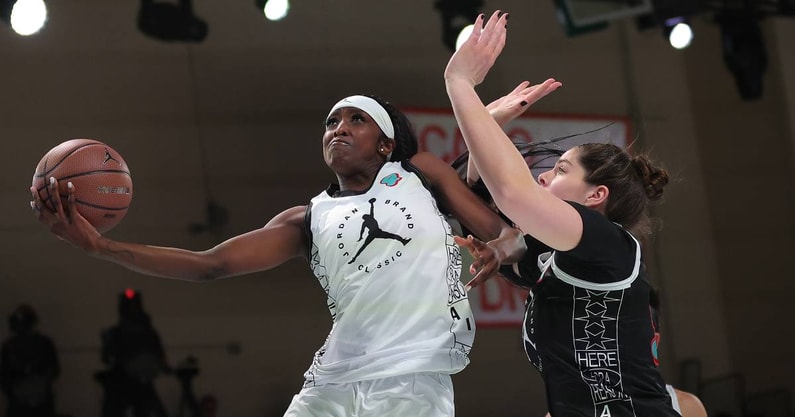 Campus Ink and Meta announced a partnership that will allow athletes to profit from NIL opportunities through the promotion of custom merchandise, which Instagram users can purchase within the app. With a few taps, Instagram users will be able to purchase the merchandise through content such as Instagram Reels.
The activation launched Monday and will continue through the first week of December.
The athletes who will participate in the activation include several notable college basketball players, such as LSU guard Flau'jae Johnson, Illinois guard Skyy Clark, Duke guard Jacob Grandison, DePaul guard Caleb Murphy and Arkansas forward Kamani Johnson.
Illinois soccer player Sydney Stephens, Alabama soccer player Mac Crone, Duke cross country and track and field runner Emily Cole and San Diego State track and field athlete Corey Friendenbach are also involved in the activation.
"We are thrilled to partner with Meta and provide this outstanding opportunity to our athletes," Campus Ink co-owner and CEO Steven Farag said in a statement. "We believe retail is about more than just selling a shirt. It's about telling a story and creating an emotional connection with an audience. Meta provides immeasurable resources for our athletes to be their own entrepreneurs, while enhancing the shopping experience of their purchasers from discovery to sale."
The athletes' custom merchandise can include messaging that relates to their personal stories.
Cole, who recently published a book titled "The Players' Plate" about her experience falling into a coma and other nutritional advice, will promote merchandise that says, "Salty."
Stephens launched a personal brand called "MVND BVND."
"MVND BVND simply exists to empower young people," Stephens said in a statement. "I want people to look at this brand and change their perspective – or 'bend their mind' – on the way we look at societal standards."
Campus Ink's involvement in the NIL landscape
Campus Ink is a custom apparel company that is backed by Mark Cuban. It previously launched to NIL Store and announced a $2 million fundraising round to support its NIL program.
In a release, Campus Ink said it believes the NIL Store can help athletes in all sports capitalize upon NIL opportunities.
Some of the highest profile athletes in their respective sports are participating in the latest partnership between Campus Ink and Meta.
LSU's Johnson ranks No. 6 in the On3 Women's NIL 100 and No. 62 in the On3 NIL 100 with an On3 NIL Valuation of $588,000. She has roughly 1.1 million followers across all of her social media platforms, including more than 710,000 on Instagram.
The On3 NIL Valuation is a proprietary algorithm that establishes the projected annual value of an athlete's NIL opportunities. It uses three data points including an athlete's performance, influence and exposure.
Clark, a former On3 Consensus four-star recruit, has an On3 NIL Valuation of $207,000. That ranks No. 34 among current men's college basketball players.