Cincinnati's Mason Fletcher to donate NIL earnings. Does he have to?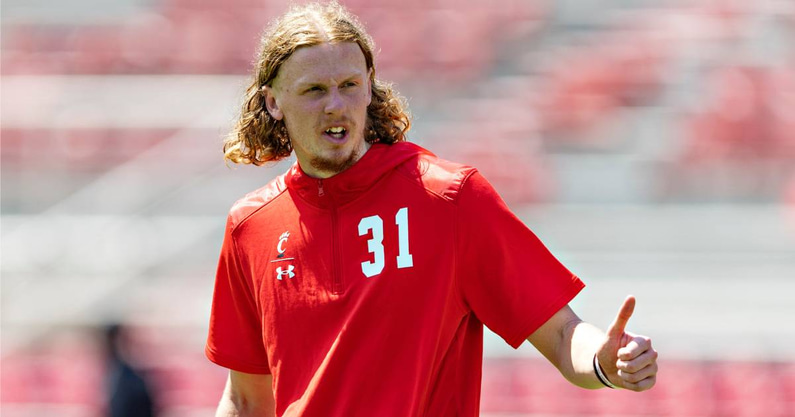 Cincinnati punter Mason Fletcher provided the latest feel-good NIL story last week, when he tweeted he'll donate any earnings from the sales of his Under Armour pick-a-player NIL replica jersey and t-shirt to his teammates who are walk-ons. Fletcher, who's Australian, noted in his tweet that "as an international student athlete I am unable to get access to any NIL money."
The tweet has received a higher number of likes than Fletcher's Twitter follower count.
The account for the restaurant chain Walk-On's Sports Bistreaux responded with a tweet that said its management purchased 31 of Fletcher's replica jerseys, which will be given away to fans.
This is an NIL story that features the convergence of several significant storylines, including group licensing, NIL generosity among teammates and the potential challenges for international athletes who wish to pursue NIL opportunities.
While the Aussie punter's tweet and visa status might raise the question of "Can he?" regarding the permissibility of his NIL-related donations, perhaps the better question is "Does he have to?"
Fletcher is likely mistaken — but, ironically, potentially in a positive way.
If he wants, he might be able to keep the NIL earnings since they're related to group licensing, which could thread the needle of allowable NIL income for international athletes who are in the U.S. on an F-1 student visa.
Insight from Cincinnati
However, a Cincinnati athletic department staff member explained to On3 Wednesday afternoon that while a case could be made that group licensing is passive income, which is allowed under an F-1 visa, the university's International Services recommended that international athletes don't receive any sort of NIL income while in the U.S. out of precaution. Potential visa violations could impact an athlete's ability to get a job in the country in the future.
The university has consulted on its policies with other universities in the Tri-State Area.
International athletes at Cincinnati can name a charity or organization to directly receive their group licensing income and Fletcher's portion is going to a scholarship fund for walk-on football players.
It's not as if Fletcher is receiving a direct deposit from the sales of his replica jerseys, then giving his teammates cash.
If passive income, Mason Fletcher 'could actually keep the money'
One expert said that, from afar and without knowing the details of Fletcher's visa status and NIL activities, his generous gesture, or even the NIL opportunity, may not be recommended without first receiving additional guidance.
"If he were my client, I likely would advise against this," Ksenia Maiorova, an immigration attorney who focuses on visa and green cards for athletes and sports industry professionals, wrote in an email to On3 on Tuesday. "Before he can donate money, he has to receive it, which he cannot do if he is on an F-1 visa, subject to very limited exceptions."
One of those exceptions, however, is passive income. That's income related to a business or trade in which an individual doesn't have to perform any services.
In a subsequent quote tweet Tuesday afternoon, Maiorova wrote, "Your NIL deal will need to be reviewed to determine whether it might fall in the zone of passive income. And if it does, you can actually keep the money. ;)"
Replica jerseys produced through group licensing, where an athlete simply must sign a digital or physical form in order to participate, could qualify as passive income. The company The Brandr Group facilitates the group licensing of the Under Armour replica jerseys of Cincinnati football players that are sold on Fanatics' website.
Multiple industry professionals with a legal background told On3 they would interpret Fletcher's replica jerseys as passive income, which is seemingly as passive an NIL activity as possible. The website Sports Litigation Alert says group licensing "may be considered passive income."
A Fanatics spokesperson said a media request from On3 should be directed to the company that facilitates the group licensing.
The P-1A visa classification
Even among international athletes, there can be case-by-case distinctions with regard to the permissibility of NIL opportunities. There's not a one-size-fits-all approach because some international athletes could qualify for another type of visa, rather than the standard F-1 student visa.
For example, Kentucky's Oscar Tshiebwe, the reigning Naismith Men's College Player of the Year, applied for a visa "granted to international celebrities, which would eliminate all his current NIL restrictions," according to The Athletic. Tshiebwe's On3 NIL Valuation of $914,000 ranks third among men's basketball players.
"I do want to make clear that the analysis is very fact-specific, and without having the benefit of reviewing his NIL deal documentation and his immigration status, I am unable to say whether he might fall within one of those limited exceptions," Maiorova wrote to On3, regarding Cincinnati's Mason Fletcher. "On a somewhat related note, Mason may be a good candidate for a P-1A visa, which would allow him to do NIL. It would very much be worth a try."
The P-1A classification applies to individuals who are "coming temporarily to the United States solely for the purpose of performing at a specific athletic competition," according to U.S. Citizenship and Immigration Services (USCIS). That includes athletes who compete "at an internationally recognized level of performance," whether they're an individual athlete or someone who's part of a team.
Theoretically, based on the P-1A Athlete eligibility criteria, an athlete might need to prove that Cincinnati, which in 2021 became the first Group of Five program to reach the College Football Playoff, has "achieved international recognition in the sport."
Individuals who apply for P-1A classification as an internationally recognized individual, or a member of an internationally recognized team, must show two forms of documentation to prove such a claim, among other documentation.
That documentation for an internationally recognized individual or team member can include evidence of "having participated to a significant extent in a prior season for a U.S. college or university in intercollegiate competition" or "that you or your team has received a significant honor or award in the sport."
It could also include a written statement from a sports media member or recognized expert who details how the athlete or team is internationally recognized.
Ironically, Maiorova tweeted Tuesday that a hurdler and a tennis player whom she represents had their P-1A visa applications approved. Another athlete, a college basketball player, should receive a response "this week as well," she wrote.
Based on the NCAA demographics database, there were 21,334 international athletes who competed at the NCAA level in the 2020-21 academic year. That's a significant number, even if they made up just 4.3% of the total athlete population.
Yet their NIL opportunities — and seemingly the relevant education on the subject — are still limited in the second year of the NCAA's NIL era.
This story was updated Wednesday afternoon, Sept. 21, following a phone call with a Cincinnati athletic department employee. It was also updated to reflect that The Brandr Group is the company responsible for the group licensing for Cincinnati athletes.