Ohio State QB C.J. Stroud new NIL deal lands him $150K Bentley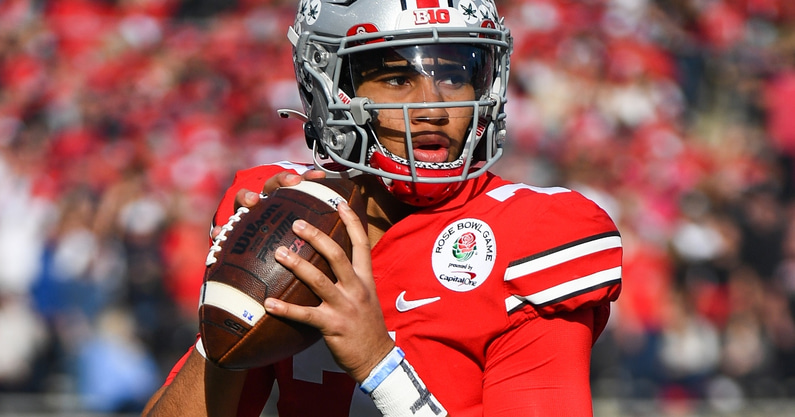 C.J. Stroud knew he wanted to partner with Sarchione Auto Gallery. Ryan Burton, the general manager of the gallery, didn't have to think twice about signing him to an NIL deal.
Burton confirmed to On3 on Wednesday afternoon that the Ohio State star quarterback has signed on with the Canton, Ohio, based company. In exchange for showing up to a few events at the dealership and posting on social media, Stroud will be given a lease for a new car every 45 days.
The Heisman frontrunner's first car in the partnership will be a pre-owned Bentley Bentayga, which is valued at $150,000. Burton confirmed to On3 that the deal only includes the car; no cash will be paid to Stroud in the deal.
"We have several NIL deals all over the country, but this one is in our backyard," Burton said. "We're partners with Chris Olave, who just went in the draft to the Saints. He's friends with those guys, and they just communicate. I was working pretty exclusively with the Rosenhaus Agency, it just made so much sense when C.J.'s guy reached out. It's in our backyard, he's a Heisman frontrunner, top-10 pick in the draft — we got to do something with this kid.
"I wanted to make a big splash in regards to what I gave him, so it just came together super fast. There was other dealerships in the Columbus market that were of course trying to get him on board, but his agent kept saying he really wants to work with us."
Other cars Stroud could soon be driving include a Mercedes-Benz G-Class, Ferrari or Land Rover. The 45-day lease allows the Ohio State quarterback to know what type of car he wants when he lands his first NFL contract, Burton said.
And with this latest deal, the general manager of Sarchione Auto Gallery is expecting a new wave of NIL requests.
"I probably have six deals with Browns players currently. Between Browns, Buckeyes — I'm sure there's going to be some dominoes falling right after C.J.'s deal with other Buckeye players," he said. "They already are coming. I get requests from both Ohio State, Cincinnati. Other big name schools, too, whether it be Georgia, I have a couple NIL deals with the quarterback (Tyler Van Dyke) at Miami."
The first appearance at the dealership will be this afternoon, and Burton has a surprise in store for C.J. Stroud. The quarterback will be taking pictures at the photo shoot with multiple Cleveland Browns defenders.
That's just the first taste of Stroud's deal with the dealership.
C.J. Stroud's On3 NIL Valuation
C.J. Stroud currently has an On3 NIL Valuation of $2.3 million, which places him at No. 6 in the On3 NIL 100. He holds a per post value of $7,400 and has seen a major growth of $1.3 million over the past 14 weeks.
The On3 NIL Valuation is an index that looks to set the standard market value for both high school and college-level athletes. The NIL valuation does not act as a tracker of the value of NIL deals an athlete has completed to date. It rather signifies an athlete's value at a certain moment in time.
The On3 NIL 100 is the first of its kind and the defacto NIL ranking of the top 100 high school and college athletes ranked by market valuation.