What it's like to set off a viral NIL deal: Inside Decoldest Crawford's AC ad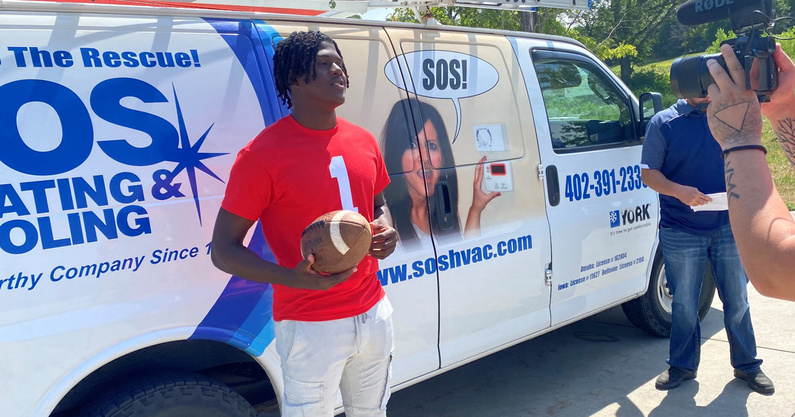 Jon Stuehm and Jake Wasikowski grew up together. 
They've been watching Nebraska football their entire life. They each graduated from Ralston High School, which sits under 60 miles away from Memorial Stadium. And now they work together at SOS Heating & Cooling. Stuehm is a third-generation owner, while Wasikowski works sales and public relations for the company. 
So, when Decoldest Crawford enrolled at Nebraska this past spring, they knew they had an opportunity on their hands. Little did the AC company know that they would become the internet's new favorite clip. 
"We never ever thought that we would be doing a NIL deal until we saw Decoldest's name on the roster," Wasikowski told On3. "We said, 'Oh my gosh, that's, that's the guy. That's the one we need to be represented by.'"
When Wasikowski tweeted out the video Friday afternoon, he had an inkling it would do well. But it was not until Monday — after the ad aired on local television over the weekend — that the commercial featuring the freshman Nebraska wideout and Stuehm's wife and daughter started to gain traction. 
As of Tuesday night, the video has racked up more than 5.5 million views on Twitter.
A little more than a year ago, Crawford never would have been able to cash in on his name like this. But since the NCAA's interim NIL policy was enacted July 2021, he's been able to deliver advertisement SOS never expected. 
The reception has been beyond anything Wasikowski and the company anticipated. He admitted the phone has been ringing none stop. They've had college kids call looking for a SOS sponsorship and ad agencies inquiring about possibly putting the commercial in more markets. The TV ad ran during Omaha's KETV NewsWatch 7 sportscast, too.  
A former three-star LSU commit, Nebraska flipped Crawford. The 6-foot, 178-pound wideout is expected to redshirt and miss the season after he suffered an injury in Nebraska's Aug. 6 scrimmage. With 67,000 social media followers, Crawford has an On3 NIL Valuation of $82k. That's only just starting to grow as his profile in Lincoln and the nation takes off thanks to his viral TV ad.
Filming Decoldest Crawford's viral TV commercial 
Nebraska heat never put the commercial in jeopardy — but it definitely pushed back the timeline of the deal. As Wasikowski puts it, once summer starts in Lincoln, the company's main focus is attending to AC units. The state had back-to-back 90-degree days earlier this summer, which made things a tad crazier. 
But just a day before the start of training camp in late July, the Shreveport, Louisiana, native filmed the ad at Stuehm's home. Wasikowski, who was a broadcast major in college, started to play around with the script when he found out the commercial was a go. He wanted to stick with the same theme typically seen in SOS commercials, which typically start off with a shot of Stuehm's wife and baby and have a  90s TV style theme.
From there, the AC company brought in WMK Media to shoot the video and help finish out the script. Michael Murphy, who went to high school with Stuehm and Wasikowski, co-directed the film.
"He had a lot of fun with it," Wasikowski said, referring to Crawford. "I mean, he was a little nervous because it was his first commercial to do. We just said, 'Hey, we take your best 25 seconds, and we make it look really good with it.' So once we got through a little bit, we started having fun with some alternate takes that you might see later."
SOS is a longtime radio partner for Husker games. And they've signed Decoldest Crawford to a six-month deal, with plans to film a commercial with the wide receiver for the winter. The hope is to continue to help the Nebraska freshman grow his brand.
Early returns show this may just be the start of a fruitful partnership between the two parties.
"You never thought it was possible to do this," Wasikowski. "And here we are, we're doing it with an athlete who we want to grow a relationship with and want to see become not only a great athlete, but a great person in his college career."