Directives are the next step in the collectives era of NIL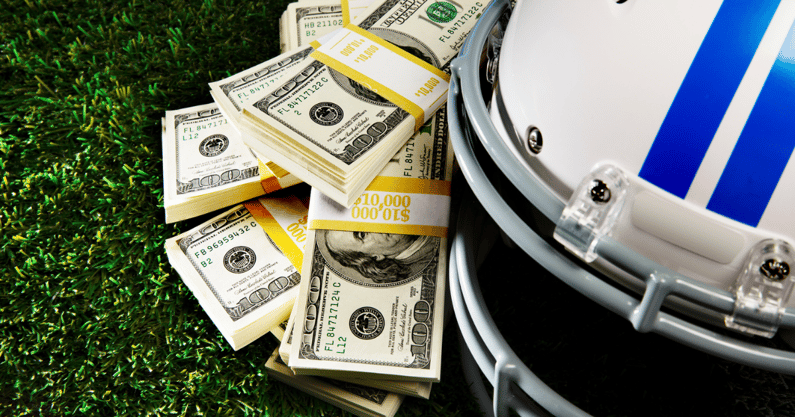 We've all become familiar in recent months with the proliferation of donor-driven collectives, which pool funds from a network of boosters to create NIL activities for student-athletes at the affiliated school.
But get ready to learn about a new, major player in the ever-evolving NIL space, one expected to increasingly put substantial dollars in the pockets of select college athletes – at least until the NCAA shows the ability and will to enforce its own interim policy.
"We call them 'directives,' " Blake Lawrence, co-founder and CEO of Opendorse, a company that provides technology to the athlete endorsement industry, told On3. "Directives don't announce. That's the deal. That's one of the issues. You're not going to know the directives because there is no benefit to them announcing."
How do directives differ from collectives, and how does it relate to your alma mater?
Donor-driven, school-specific collectives pool funds from multiple parties, everyone ranging from fans who wish to contribute a nominal monthly subscription fee to deep-pocketed, long-entrenched boosters. A collective operator then determines which student-athletes will receive compensation for which NIL activities. For most collectives, donors have no say in the way in which dollars are distributed.
Directives are different because they are one-to-one financial transactions, typically between a wealthy booster or businessman and a specific college athlete from the school they support. As Lawrence explained, "If I'm a major booster to XYZ University, and I know that I want this kid to get this amount of dollars, then they will directly do a deal with that individual, either through their own business that they already own or just directly with the two parties."
Sometimes the booster has a wholly owned or operated business entity that is the actual compensating party. The key element that makes directives unique is that the deal is between the individual supporter and the student-athlete – there is no intermediary. And it's kept under the radar, away from attention-grabbing headlines.
"It's rising in popularity," Lawrence said, "because to be competitive in the world of the NIL collective space, you have to move quickly."
More than 30 typically defined donor-led collectives have launched in recent months, and many more have yet to be announced because they are in the fundraising or information-gathering stages. Among the 30-plus collectives, many have yet to get off the ground operationally. And they vary greatly in ambition and resources, with the most aggressive aiming to raise $25 million annually for NIL compensation for college athletes and/or recruits. Sources expect every Power 5 school and many Group of 5 schools to be affiliated with at least one collective by the end of the year.
Interviews with several prominent industry sources describe a current landscape in which schools affiliated with a collective are fortunate. In those situations, a prominent alum or booster has stepped forward with the operational know-how to organize and run an ambitious collective, enabling it to provide compensation to athletes for NIL activities. As a result, the school remains competitive in what is an escalating arms race waged in a new recruiting battleground. The $8 million NIL deal between an unnamed collective and a five-star high school football player, which The Athletic recently reported, is an extreme example of an aggressive collective flexing its financial muscle. 
But at Power 5 schools that still lack an affiliated collective, a network of deep-pocketed boosters may exist but no one has stepped forward to operate a formal collective. And the school is not permitted to help set up or run one. Meanwhile, new ones are launching elsewhere by the week, contributing to this Fear of Missing Out (FOMO) mentality throughout college sports. Many stakeholders believe that without a powerful collective, a school is at a distinct recruiting disadvantage. So those who are emerging to single-handedly play the role of one, largely in the shadows, are individual, well-heeled boosters, some of whom have long assisted elite athletes financially in under-the-table transactions in the pre-NIL environment. 
"In this interim phase, or maybe in a permanent phase, while we are waiting to have a [collective] operator, there's nothing stopping you (an athlete) from doing this deal directly with this guy (wealthy booster)," said one industry source familiar with directives. "That's where it's coming from. It's happening in markets where no collective has been formed. Or it's happening here where the donors themselves don't play nice with other supporters, or think they know the best path to who to compensate at the highest level.
"It's definitely happening."
The NCAA largely has taken a hands-off approach when it comes to NIL regulations. Pay-for-play deals and recruiting inducements are prohibited. But the fluid patchwork of state laws – some states are repealing or amending laws that now look too restrictive – and the wide range of school policies have contributed to what is widely viewed as a no-holds-barred Wild West NIL terrain. 
The NCAA does not wield subpoena power and is fearful of making itself vulnerable to further legal challenges in the wake of last year's U.S. Supreme Court ruling in Alston v NCAA. So it has yet to demonstrate an appetite to wade into NIL enforcement waters. In the absence of guardrails, aggressive donor-driven collectives have emerged in the space's gray area. And most recently, big-money, one-man directives are increasingly proliferating to create recruiting advantages in this new era. 
"We're starting to see people really push the envelope, which in the short term is bad because they are putting student-athletes at risk," Peter Schoenthal, CEO of Athliance, told On3. (Athliance is a company designed to educate and protect schools and student-athletes from the challenges that surround NIL.) "We are making this space into something nobody wanted. It's becoming an inducement. It's becoming a way to recruit, it's becoming a way of paying players above the table now, instead of the proverbial under-the-table way.
"But it's good in that, when you get people that push the envelope and the bad actors come out into the light, it usually leads to stronger legislation with actual enforcement. That is what the space needs. So hopefully it speeds up that timeline."