Donovan Edwards sees major On3 NIL Valuation growth following The Game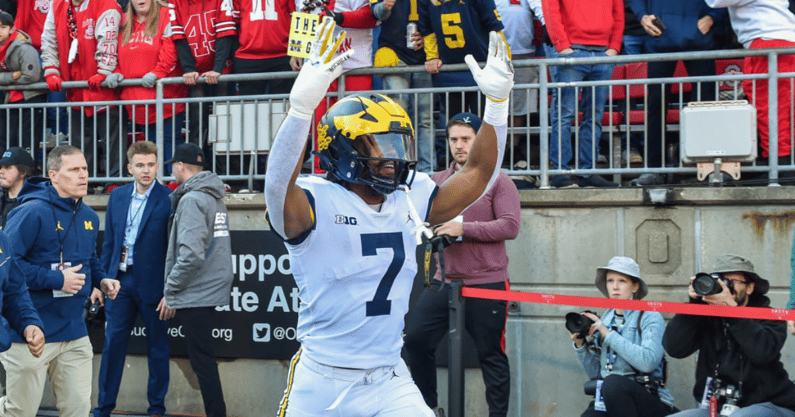 With Blake Corum just a shell of himself, Donovan Edwards was given an opportunity to put together a legendary performance. He delivered.
The Michigan running back carried the ball 22 times in the 45-23 win over Ohio State, racking up 216 yards. Halfway through the fourth quarter, he ripped off a 75-yard touchdown run to silence the Horseshoe. And then he delivered the final punch less than 4 minutes later, an 85-yard touchdown to stretch the lead to 18 points.
Edwards' performance delivered Michigan's second consecutive win over the Buckeyes. The Wolverines are now back in Indianapolis for the Big Ten title game with a clear shot at the College Football Playoff.
"I just had to do what I had to do," Edwards said postgame. "Every running back has to be relied on. Blake went down, so somebody else had to step up. … That's what we pride ourselves on." 
His breakout day had NIL implications, too. The running back's On3 NIL Valuation jumped up $113,000 to $288,000. That's a 65% jump in his valuation, which now ranks in the top 150 college football NIL valuations.
Along with his On3 NIL Valuation growth, Edwards also saw his social media following rise. He added more than 5,000 followers on Instagram and another 1,000 on Twitter. He now has 46,000 followers with a $673 per-post projection.
Growing NIL resume
Similar to many Michigan football players, Donovan Edwards is not new to the NIL scene. He's worked closely with Valiant Management on multiple ventures, signing partnerships with Pro Sports Zone and the M Den.
The deals could only just start ramping up for Edwards. In the new world of NIL, social media followers equal dollar signs. Social media activations took up 52.6% of all NIL deals done on Opendorse through September.
Athletes are viewed as social media influencers, and Edwards is building a following to back it up. He's only a sophomore, too.
About the On3 NIL Valuation
The On3 NIL Valuation is the industry's leading index that sets the standard market NIL value for high school and college athletes. A proprietary algorithm, the On3 NIL Valuation calculates an athlete's NIL value using dynamic data points targeting three primary categories: performance, influence and exposure.
While the algorithm includes deal data, it does not act as a tracker of the value of NIL deals athletes have completed to date, nor does it set an athlete's NIL valuation for their entire career.
The On3 NIL Valuation calculates the optimized NIL opportunity for athletes relative to the overall NIL market and projects out to as long as 12 months into the future.