Duck is for dinner in Sataoa Laumea's NIL spot aimed at ending childhood hunger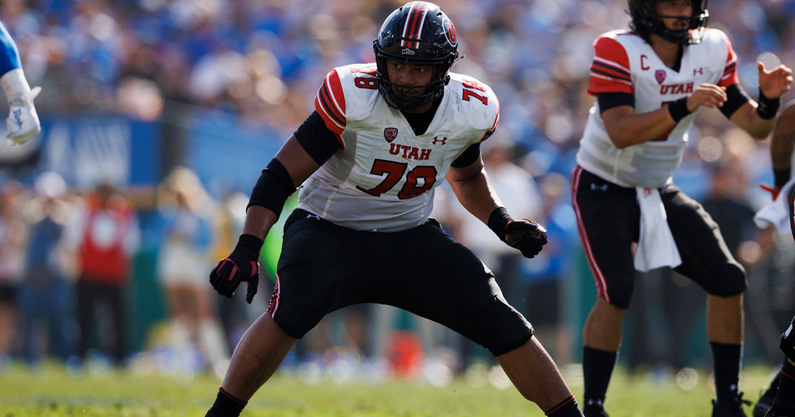 One of the biggest games of the weekend is between Utah and Oregon, a battle between two teams ranked in the top 15. And Utes offensive lineman Sataoa Laumea picked the perfect time to roll out a new NIL deal with C.R. England, England Logistics and the One Initiative to end childhood hunger.
The spot features the former On3 Consensus four-star recruit and two-time All-Pac 12 pick in a Food Network-style parody called "In the Kitchen with Sataoa Laumea."
"While he's not punishing defensive linemen Sataoa Laumea helps fight childhood hunger by teaming up with the One Initiative," the commercial begins as Laumea is pulling a baking dish out of an oven. "Today, Sataoa has cooked up one of his favorite weekend meals."
The commercial then moves to a dining room where three kids – decked out in Utah red and black – are discussing the upcoming game against Oregon. Laumea enters the room with the meal he prepared.
"Is it pork," the kids ask. "Chicken? Steak?"
Laumea then puts the pan on the table and opens the lid to reveal a stuffed animal duck. Smiles and laughs follow.
The commercial ends with "Let's Roast the Ducks this Weekend," on the screen and a call-to-action to donate to the One Initiative. The One Initiative, which is based in South Salt Lake City, Utah, has fed more than 1 million kids in need since 2018.
You can support Laumea and the cause by visiting the One Initiative's website or by texting "FIGHTHUNGER" to 41444.
Sataoa Laumea has solid On3 NIL Valuation
The partnership between Laumea, C.R. England, England Logistics and the One Initiative is one of only a handful of NIL deals that he's executed over the past two seasons. The terms of his new NIL deal were not released. Yet, as one of the top players in the Pac-12, Laumea has a quality On3 NIL Valuation of $24,000.
A proprietary algorithm, the On3 NIL Valuation calculates an athlete's NIL value using dynamic data points targeting three primary categories:
+ Performance
+ Influence
+ Exposure
While the algorithm includes deal data, it does not act as a tracker of the value of NIL deals athletes have completed to date, nor does it set an athlete's NIL valuation for their entire career. The On3 NIL Valuation calculates the optimized NIL opportunity for athletes relative to the overall NIL market and projects out to as long as 12 months into the future. The On3 NIL Valuation is publicly available. Performance, Influence, and Exposure ratings are available only to the athlete in the "Athlete Verified" private dashboard (Dec 2022).