Earl Little Jr. signs NIL representation deal with Jay-Z's Roc Nation Sports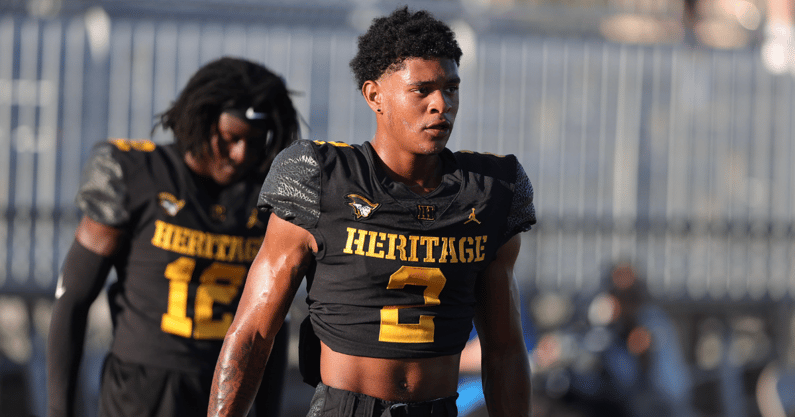 Alabama Crimson Tide cornerback signee Earl Little Jr. — the No. 39 prospect in the Class of 2022 On300 — has signed with Roc Nation Sports to represent him in his search for NIL deals.
Roc Nation Sports is a subdivision of Roc Nation, which was launched in 2013 by founder Shawn "Jay-Z" Carter. Roc Nation Sports says it "focuses on elevating athletes' careers on a global scale both on and off the field." The deal was announced in a social media post from Roc Nation Sports. The terms of the deal were not released.
Little currently has an On3 NIL Valuation of $47,000. The On3 NIL Valuation does not act as a tracker of the value of NIL deals an athlete has completed to date. It rather signifies an athlete's value at a certain moment in time. Little also ranks No. 61 in the High School Football NIL Rankings.
Roc Nation Sports' roster includes premiere athletes such as LaMelo Ball, Robinson Cano, Skylar Diggins-Smith, Kevin De Bruyne, Romelu Lukaku, Saquon Barkley, Dez Bryant, Leonard Fournette, Danny Green, Rudy Gay, Todd Gurley, Jaire Alexander and Ronnie Stanley. On the entertainment side, Roc Nation represents world-known artists like Rihanna and Shakira.
Earl Little Jr. could 'clean up' in NIL market
According to the group's website client list, Earl Little Jr. is the first incoming high school football prospect to sign with Roc Nation Sports. The deal is expected to immediately boost Little's value in the NIL market, industry insiders believe.
"Roc Nation represents some of the biggest names in sports and entertainment," an industry source told On3. "Being linked with a group like this will help Earl Little strengthen his ability to obtain NIL deals. It also further strengthens the value of potential deals.
"Having a group like Roc Nation in your corner can also be used as leverage in negotiating a more lucrative deal. They know how to build brands and blow out the message."
Another NIL industry insider said he expects Little to "clean up" with deals.
This isn't Little's first brush with stardom.
Earl Little Jr.'s father, Earl Little, is a Miami alum, playing for the school in the 1990s before embarking on a nine-year NFL career with the New Orleans Saints, Cleveland Browns and Green Bay Packers. Little was coached in high school by NFL legend Patrick Surtain. Surtain spent 11 seasons in the NFL with the Miami Dolphins and Kansas City Chiefs. Surtain was a three-time Pro Bowl player during his NFL career.
Little isn't the only high-profile incoming recruit to make a NIL deal this week. On Monday, On3 Consensus five-star cornerback and Michigan Wolverine signee Will Johnson inked a multi-year NIL deal with AFB Hospitality Group.
Little key signee in Bama's class 
Earl Little Jr. is one of the star signees in Alabama's second-ranked 2022 recruiting class.
Little ranks as the No. 85 player in the country, according to the On3 Consensus, a complete and equally weighted industry-generated average that utilizes all four major recruiting media companies. On3 ranked Little higher than most others in the industry as the No. 39 player in the country, the fifth-best corner and the No. 8 recruit in the Sunshine State.