Former Kentucky coach Hal Mumme founds NIL agency for student-athletes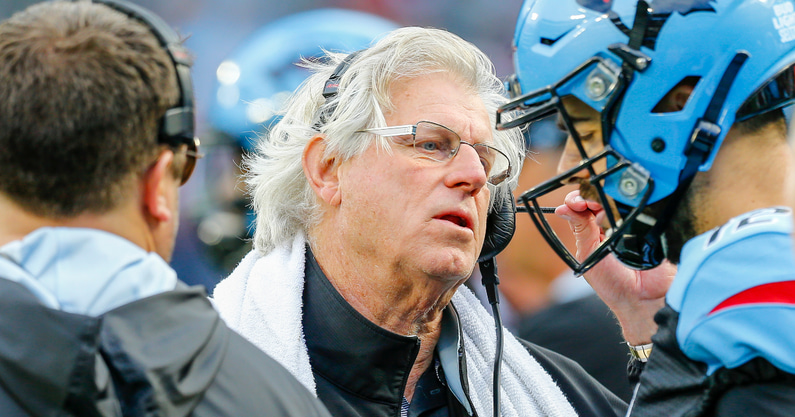 Legendary head coach Hal Mumme is making a move into the NIL game. He and his partners have launched Hal Mumme & Associates, an NIL agency intended to work with student-athletes to get deals with advertisers. The agency also says a key aim of the group is to "provide protection" for university admin and coaches when it comes to compliance issues.
A former wide receiver, Mumme began coaching at Texas high schools in the 1970s. He broke into the big leagues of college ball with Kentucky from 1997-2000. However, he resigned due to an investigation into recruiting violations. He's known as the god father of the Air Raid system and his coaching tree includes offensive gurus like Mike Leach and Sonny Dykes.
Mumme's final record at Kentucky was 20–26, compared to Kentucky's 9–24 mark in the three years before his arrival. He went on to coach at programs such as New Mexico State, SMU and Jackson State. He then began coaching in the Alliance of American Football with Bob Stoops in Dallas. In 2021, he coached in The Spring League.
So far, the website for Hal Mumme & Associates features one client – Washington Huskies softball in-fielder Baylee Klingler.
Hal Mumme & Associates Mission Statement
"At Hal Mumme & Associates our goal is to compensate all student-athletes through leveraging their Name, Image, and Likeness (NIL) with advertisers from around the country. From the superstar quarterback to the freshman on the women's rowing team, we aim to boost team morale and serve the entire locker room.
"Our agency will use over 70 years of experience in college athletics to work with student-athletes and advertisers to make sure all our athletes are compensated at fair market value using yearly non-exclusive contracts. Our student-athletes will also benefit from financial advice and guidance from our accounting and investment team.
"Strictly following NIL laws, Hal Mumme & Associates will provide protection for university administrators and coaches while working in compliance with state and NCAA laws.
"Our athletes will also have the chance to work with non-profit "Andrew 's Purse", partnering with advertisers and charities through a 501c3 agreement. This way our clients benefit from their NIL while making meaningful differences in their local communities."