Hansel Emmanuel has a new NIL deal with Gatorade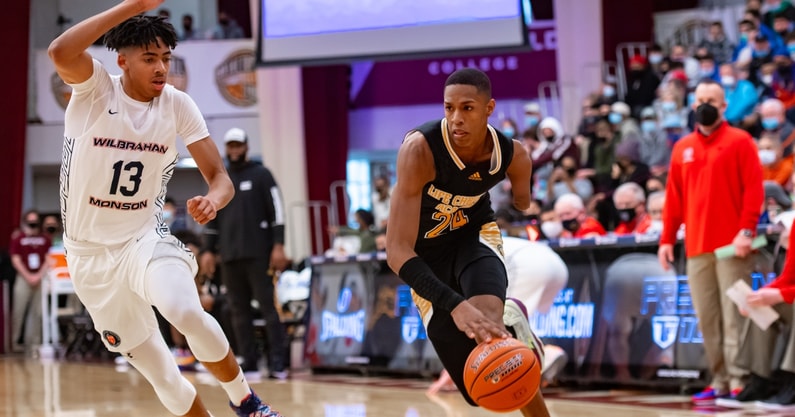 Hansel Emmanuel, the one-armed basketball star, has announced through his Instagram he has a new NIL deal with Gatorade. He also said the deal was powered by Z-Axis Sports, a sports agency representing a limited number of clients.
"Want doesn't come from anywhere but within. I've got a drive to be great. So can you! @gatorade #gatoradepartner," Emmanuel posted to Instagram.
Emmanuel lost his left arm when he was 6-years-old. A wall collapsed and trapped the arm for 2 hours. This led to it being amputated. Now, 17 years old, he hasn't let that slow him down, becoming a dominant high school basketball player.
For his part, Emmanuel doesn't want to be seen as the player who is missing his left arm. He wants to simply be seen as a basketball player and has said as much.
"[I wish] that they only see me as a great player who will go as far as many. That I am a good player," he told the Orlando Sentinel.
While no details are currently available about Hansel Emmanuel's new NIL deal with Gatorade, the move looks like it will be a part of Gatorade's attempts to be more diverse in its sponsorship.
About Hansel Emmanuel
Hansel Emmanuel has built a name for himself as an incredibly talented one-armed basketball player. He's incredibly talented, too, earning offers from schools like Memphis, Northwestern State, and Bethune-Cookman.
A three-star prospect, Emmanuel is the 234th ranked prospect in the Class of 2022. The On3 Recruiting Prediction Machine expects him to go to Memphis, as the Tigers have a 73.8% chance to land Emmanuel.
Given his talent Hansel Emmanuel has incredibly high NIL value. According to the On3 NIL Valuation, Hansel Emmanuel has a $1.4 million evaluation. That's good for 11th in the NIL 100 list.
He also has 4 million followers on Instagram and TikTok. This gives Hansel Emmanuel and On3 Per Post Value of $18.6k.