High school recruiting's multi-million NIL bidding wars seeing 'reset'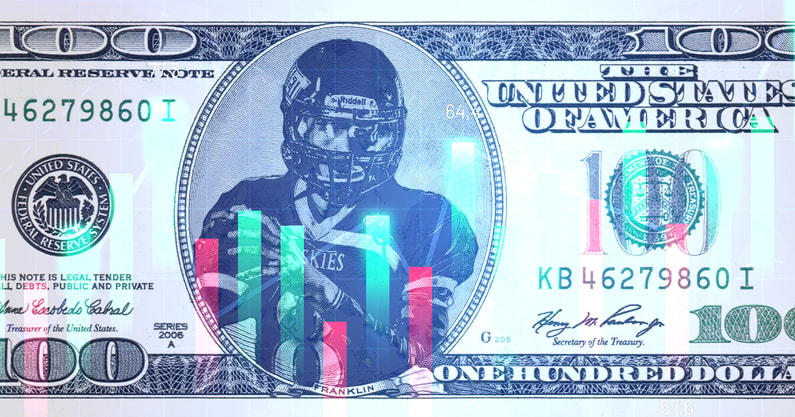 Talk to an elite high school recruit a year ago, odds were some school had presented a million-dollar offer. The recruiting world was buzzing over five-star quarterback Nico Iamaleava's $8 million deal with Tennessee. To win on the trail, lucrative NIL offers appeared to be the path to take. 
A year later, those startling financial packages have dropped down to six figures, according to numerous sources On3 has interviewed in recent weeks. Almost nobody has heard of a seven-figure NIL package being signed in the 2024 recruiting cycle. The right five-star prospect can command a million-dollar agreement, yet spread out over three to four years.
It's still life-changing cash for plenty of prospects and their families. Name, image and likeness continues to factor into commitment decisions. But the same market that fueled a wild commitment-and-flip season last summer has hit an adjustment period.
"Talk about a high school kid, throwing the six figures of money I heard around was pretty shocking," a class of 2024 blue-chip receiver prospect recently said. "There were some schools trying to throw a bag out there, like a serious type of bag. Like some money I've never seen before."
The NIL landscape has naturally matured as it approaches its two-year anniversary. Boosters and institutions scrambled throughout 2021 and into 2022 to establish NIL collectives to pool funds together. Now those organizations are trying to figure out how to run sustainable models while managing a budget and helping field a competitive roster. 
Back in November, a source described market value at the high school level as, "what somebody is willing to pay." That is no longer accurate. Coaches have worked hand-in-hand with collective operators to determine the premium on positions, especially when trying to retain and attract players through the transfer portal. Some collectives have even spent time discussing spending strategies with each other. 
"You're able to read the tea leaves a little bit, and you're seeing a little bit of a reset in the marketplace," an SEC collective operator said. "The marketplace is starting to calm down a little bit."
Quarterback downturn leading NIL adjustment period
If an agent or lawyer could promise a commitment from a top-10 quarterback in exchange for a seven-figure payment last year, an NIL collective was racing for its checkbook. The quarterback market looks significantly different a year later. As On3 Scouting Director Charles Power recently noted, the 2024 quarterback class is one of the weakest cycles at the position in a few years. 
Last year's position group, however, was strong. Some of the biggest brands in college football took quarterbacks who could develop into program builders. Those same schools are not trying to pay for two million-dollar arms. 
And yet, the market has adjusted. A 2024 quarterback prospect told On3 he has yet to hear of a quarterback earning "Nico money" from an NIL collective. 
"When it came out that Nico was making $8 million, it was over four years. He's not making $8 million per year like a lot of people thought he was," the recruit said. "That's still a boatload of money. Just talking with some of the guys who have been in the transfer portal recently, that I know personally, and I've grown up with, they kind of told me that for quarterbacks, it's in the six-figure category per year. Anywhere from like $100K to $500K, stuff like that. There's a handful of guys that are getting a lot more. Those are a small percentage."
Those dollars saved on quarterbacks can be reallocated, too. Projecting talent at the line of scrimmage is just as hard as identifying a quarterback. This spring's transfer portal window saw a premium put on experienced linemen on both sides of the ball. 
A similar pattern has carried over to high school recruiting.
"A coach can look at a lineman and go 'He's really good.' They can watch the film and see him in person and say, 'Here's what I think he can become,'" said an agent working with numerous defensive linemen in this cycle. "Linemen are a lot more predictable. Nobody is saying this guy or that guy is going to start immediately like some other positions. You also don't want to pay a higher price a couple of years later in the portal. 
"Projecting a quarterback, he can be good against high school competition. But in high school, you can throw the ball when the receiver is open. You have to throw it before they're open at the next level."
There always could be a resurgence at the position, which would surely see the dollars spent rise. Quarterbacks are traditional leaders, helping coaches piece together the rest of recruiting classes and spending time with fellow prospects on visits.
"I think teams, depending on the situation, will still pay big for high school quarterbacks if they are going to be the leaders of the recruiting class and they believe they're truly special," an agent working with multiple 2024 quarterbacks said. "They weren't paying every player before. So overall, they now understand that everyone needs to get something."
A collective leader agreed: "​​I think schools will be more selective. Less players will get the premier deals."
Collectives forced to work within budgetary constraints
Speaking with a number of collective operators spread throughout the country, it is clear there has become an unannounced tiered system. Programs are operating on vastly different budgets. The top-funded organizations aim to have a bankroll of $8 million for an 85-scholarship roster, multiple sources indicated to On3. 
If distributed evenly, each player would earn a $94,117 salary. Very few are even operating in that stratosphere and none are dispersing the same amount of funds to each athlete. Positions like quarterback, linemen, wide receiver and defensive back are more valuable to collectives focused on roster building than running back or linebacker. 
More collectives at the Power 5 level are operating in the $3 million to $6 million ballpark. Each is forced to devise different strategies to attack recruiting. Some have decided to just stop spending significant dollars on high school prospects altogether. 
"Kind of the law of unintended consequences, because of the portal, coaches now aren't as dependent on high school recruiting," said an SEC collective operator. "In my opinion, and I've heard other coaches, including our own coaches, talk about it: You don't have to roll the dice as much on a high school kid that's unproven when you can go out, scan the country for a true freshman that either started or played a lot of snaps, has proven that he's a good player, he can play at that level. 
"If you can get him to come to your school, he's burned his portal provision. You got him for the next three years, you can build inventory around him. I think that's probably, also indirectly, affecting the high school market."
Other schools look at pay-to-play payments as a crucial way to make sure the top prospects do not leave after a season. Setting up lucrative packages for the initial year on campus can give collectives time to build out athletes' brands and make the marketable to college communities.
"Paying recruits is a stopgap until we can make their worth in brand deals," a collective leader said. "It makes no sense for a business to partner with an enrollee that nobody knows. An athlete's value after a year on campus has backed off. Then you can set expectations when they're not as reliant on securing cash."
Another SEC collective leader was blunt saying, "We're all thinking we have to soften up the market." The operator referenced the problem of paying a high school recruit more than a player who has spent two or three years at a school. Coaches do not like the message it can send to the locker room. 
Collectives have not been quick to overpay in this cycle either, in most cases because of sustainability concerns. The Jaden Rashada situation at Florida scared off collectives from overpromising, nervous about how public perception could play. More than 22 months into the NIL era, collectives are working to create viable fundraising models. Multiple operators expressed concern about booster fatigue, especially without seeing a quick return on investment on the field. 
"Every collective is about to run into a fucking wall," said a leader from a collective management company when asked about fundraising.
The top recruits in the high school ranks still command value. But instead of these astronomical dollar figures flying around, all parties have become smarter. Through experience in negotiating in the transfer portal, collectives now politely send a different number back to an athlete's representation as opposed to just an immediate yes.
Attracting top talent at some institutions requires NIL packages. Collectives understand blowing up their budget on one or two top recruits is untenable.
"Collectives know not to fucking blow a budget on 10 kids," an agent said. "They'll dance with agents much more now. It's a negotiation, and if you're a really high-level guy, you demand value."