J.J. McCarthy's On3 NIL Valuation surges following Ohio State win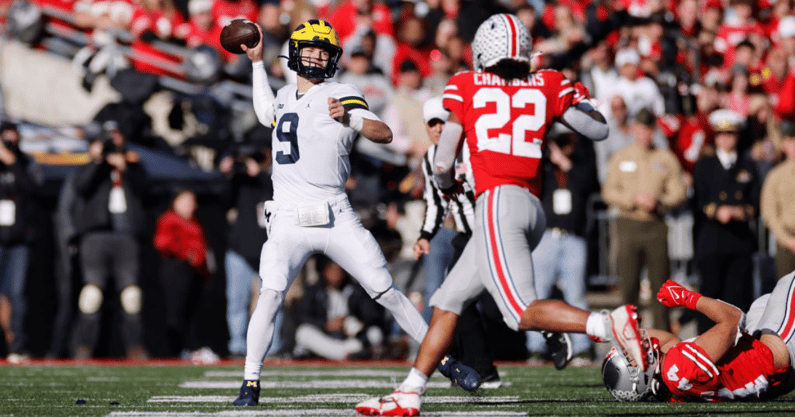 J.J. McCarthy had been waiting for Saturday since his days as a recruit. The Michigan quarterback was vocal back then, claiming Ohio State lied to him and stating the rivalry started between the two during his recruitment.
McCarthy got the final word in Columbus this weekend. The quarterback scored four total touchdowns in the 45-23 win over the Buckeyes, gashing them for 263 yards through the air and exposing their secondary. The Wolverines outscored their rivals 28-3 in the second half.
Michigan's passing attack did not just move the ball, it picked up chunk play after chunk play. McCarthy found a wide open Cornelius Johnson for a 75-yard score late in the second quarter.
While it is the second consecutive win over Ohio State for the Michigan program, it marks McCarthy's first as the starting quarterback. Now the Wolverines will be in Indianapolis this weekend with a clear path to the College Football Playoff.
The quarterback's On3 NIL Valuation surged to $652,000 following his performance against Ohio State, a $94,000 jump. He now ranks No. 55 in the NIL 100, which is the first of its kind and defacto NIL ranking of the top 100 high school and college athletes ranked by their On3 NIL Valuation. He also ranks 32nd among college football players.
McCarthy's social media also saw a major spike. The Game drew 17 million viewers on FOX on Saturday, putting plenty of eyeballs on the former four-star recruit. And it paid off on the quarterback's Instagram, too, which added 32,000 followers. He now has 215K total followers with a $2,700 per-post projection.
Growing NIL brand
For all the NIL opportunties that could be headed J.J. McCarthy's way, he already has found plenty of success in the space.
He secured an agreement with Dunkin' at select Metro Detroit locations earlier this season, with his own item going up on menus. And he's worked closely with Valiant Management, which serves as a marketing agency for Michigan athletes, to secure opportunities with Eberg Capital, The M Den and Randy Wise Automotive Team.
Through Valiant, he launched his own NFT this summer, which included a one-on-one meeting with McCarthy, a group Zoom call, and signed memorabilia.
Putting Michigan back in the Big Ten championship game will surely only boost his exposure. And with a berth in the playoff all but official, national brands and Ann Arbor businesses will be wanting to cash in on the opportunities that come with the national stage.
About the On3 NIL Valuation
The On3 NIL Valuation is the industry's leading index that sets the standard market NIL value for high school and college athletes. A proprietary algorithm, the On3 NIL Valuation calculates an athlete's NIL value using dynamic data points targeting three primary categories: performance, influence and exposure.
While the algorithm includes deal data, it does not act as a tracker of the value of NIL deals athletes have completed to date, nor does it set an athlete's NIL valuation for their entire career.
The On3 NIL Valuation calculates the optimized NIL opportunity for athletes relative to the overall NIL market and projects out to as long as 12 months into the future.