Livvy Dunne's massive On3 NIL Valuation sees growth ahead of season opener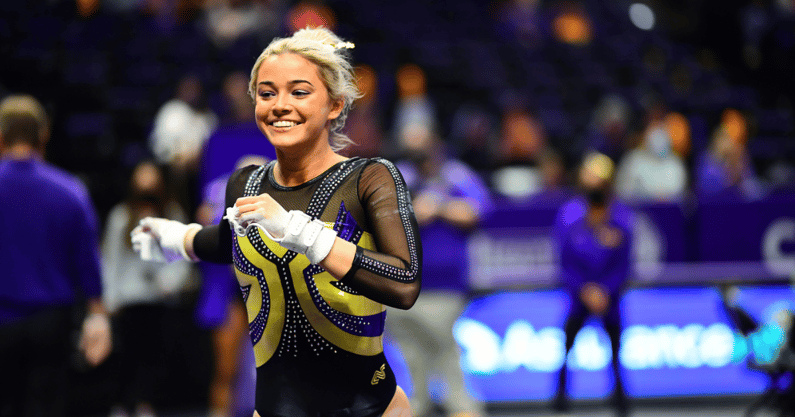 Livvy Dunne has become a household name since the inception of NIL.
With more than 9.3 million social media followers, she's the most followed college athlete. The junior at LSU has worked closely with sports agency WME Sports, crafting NIL deals with major brands like Forever 21, American Eagle Outfitters and Vuori. The deals do not stop there, though.
She's made well into the seven figures in earnings. And now Dunne is set to begin her third college gymnastics season. The sixth-ranked Tigers are set to open the 2023 season Friday night with a trip to No. 3 Utah. LSU went 5-3 last year, finishing second in the SEC.
Her On3 NIL Valuation only continues to grow, too. The LSU gymnast's evaluation climbed $103,000 to $2.7 million this week. It has seen a 13% growth over the past 10 weeks, too.
Dunne holds the highest valuation of any female athlete. She also sits at No. 6 in the On3 NIL 100, which is the first of its kind and defacto NIL ranking of the top 100 high school and college athletes ranked by their On3 NIL Valuation.
During her freshman season, she earned All-America honors on the uneven bars, including a 9.90 score at the NCAA championships and a career-best 9.925 on the event. She also competed in the floor exercise last season.
Livvy Dunne's NIL brand
While it's easy to just call Dunne the most followed NCAA athlete, the numbers make it even more eye-catching. The gymnast has more than 6.6 million followers, including 336,900,000 likes on her TikTok account.
Her reach does not stop on just one platform. Dunne has another 2.6 million on Instagram alone. And she continues to see a week-to-week uptick in her social following. She was recently named one of On3's figures that shaped NIL in 2022.
The deals have not stopped trickling in either. Just this week, she inked a partnership with ESPN, promoting Monday night's College Football Playoff championship game. In less than 24 hours, the TikTok has over 1.2 million views.
She also holds notable agreements in place with Grubhub, Linktree and study app Bartleby.
About the On3 NIL Valuation
The On3 NIL Valuation is the industry's leading index that sets the standard market NIL value for high school and college athletes. A proprietary algorithm, the On3 NIL Valuation calculates an athlete's NIL value using dynamic data points targeting three primary categories: performance, influence and exposure.
About On3 NIL Valuation, Brand Value, Roster Value
While the algorithm includes deal data, it does not act as a tracker of the value of NIL deals athletes have completed to date, nor does it set an athlete's NIL valuation for their entire career.
The On3 NIL Valuation accounts for an athlete's roster value and brand value. Roster value is the value an athlete has by being a member of his or her team at his or her school, which factors into the role of NIL collectives. Brand value factors in an athlete's personal brand and the value it could bring to regional and national brands outside of the scope of NIL collectives.